I remember sitting on my bedroom floor anxiously packing for college, stuffing nearly every item I owned into multi-sized suitcases. I did not have the slightest idea what I should and shouldn't bring to Bates – what I would miss from home, and what I wouldn't need. As a girl from Texas, shorts made up the majority of my wardrobe, so I packed the lot. I was also sure to include some of my favorite stuffed animals into the pile.
In an effort to help you in your packing endeavors, I have curated this list of items that I found useful during my first year on campus. (Note: all of this is merely a suggestion and based on my own personal experience!)
Starting off strong: a medicine bin/first aid kit. You will be unpleasantly shocked at how often you fall ill while in college. It's unavoidable and inescapable. Because of this lovely petri-dish that we live in, having a mini CVS in your dorm room will be far more useful than you can presently imagine. Some items I recommend bringing are: 
Thermometer (your roommate and floormates will ask to use this more than once)

Dayquil/Nyquil (was on this morning/nighttime regime for about two weeks in the fall)

Tylenol/Advil/Motrin

Theraflu 

Mucinex 

Pepto Bismol

Tums

Cough drops and cough syrup (yeah, you'll get some mysterious cough you can't get rid of)

Rubbing alcohol (for wounds or to clean spontaneous piercings acquired with floormates) 

Cotton swabs

Band-Aids

Neosporin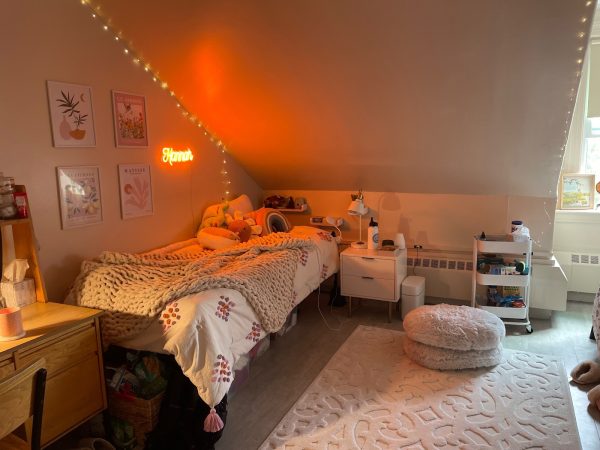 Next up: reusable bags. Alright, this one was (and still is) a bit of an adjustment in my shopping life. Stores in Maine do not offer shopping bags (AKA paper and plastic bags) for you to use. You must bring your own bags or purchase reusable ones in store. Because of this, I recommend that you bring your favorite tote bag to campus, and keep it handy (don't worry, you'll forget to bring your reusable bags to stores a few times – it's normal!).
(Note: a small duffel or backpack for overnight trips or your AESOP trip is also helpful to pack.)
Pack your reusable water bottle! Very handy, you will use this A LOT. Bring a few if you can!
In the same category: utensils. There are some days where you may not want to venture out of your dorm for dinner, when you will eat microwave mac and cheese, leftovers or a cake that someone gifted you for your birthday. For these occasions, having your own reusable utensils around are lifesaving (and this also eliminates the need to steal dishware from Commons. Shockingly, this is quite the issue).
Oh yeah, mugs! If you are a beverage drinker, bring some mugs! Many students borrow (and never return) Commons mugs, and it has become quite the issue at Bates.
In order to give your dorm room a more welcoming and inviting atmosphere, I recommend that you pack some personal items to remind you of home. Here are some things that I brought to liven up my freshman year room: 
A Houston Astros pennant (a great conversation starter. Turns out most people outside of Houston do not enjoy my home team's recent World Series victory)

Stuffed animals 

Posters (to display my Star Wars obsession)

Lights 

Art that my younger sister mailed me throughout the year 
You get the gist. Bring some items that make you happy, and you'll be golden.
Next is a list of dorm essentials, curated via trial and error:
Paper towels

– spills will occur.

Fan

– unless you live in Chu or Kalperis Hall, you won't have air conditioning.

Desk lamp/bedside lamp

– the overhead dorm lighting is very bright, and not so friendly on the eyes at times.

Command hooks and Command velcro strips

– hooks for daily items such as towels and clothes, velcro to hang up wall decor.

TWO pairs of twin XL bed sheets

– try to bring two. 

Batteries (AA and AAA)

– you'll never know when you'll need them, but I promise, you'll need them.

Mattress topper – you'll use this for all four years, it is worth the investment, and you will get much better sleep. If you're not ready to buy one right now, check out CozyCat, a student-run mattress topper rental service.
Disinfecting wipes

– along the lines of cleansing up spills and other messes.

Tissues

– you'll need them when you're sick or enduring allergies.

Power strips

– the dorms never have enough outlets.

Hangers 

An alternative (or addition if you need more space):

big plastic storage bins

to place under your bed. I did not have much closet space, so I stored certain items in bins underneath my bed.

Scissors and tape

– these will be used by both you and your roommate frequently. 

Mini vacuum

– sand gets everywhere during the winter, and a great solution is to vacuum your floors frequently (though you will never truly escape the sand, it's omnipresent during the winter months).
For people who are not accustomed to cold climates, here are some things that I found to keep me warm during the winter months:
Boots

–  you'll need some for snow and rain – look for something versatile that can withstand the elements is ideal. A campus favorite are Blundstones.

Wool socks 

A

warm winter jacket

– mine is from Helly Hansen, but any will do (as long as it's toasty, but be sure to layer underneath!).

Raincoat

–  while this is not a winter item, it definitely is a must. Umbrellas are also a great option, but sometimes Maine wind will not react kindly to them.

Ski gear

–  if you have any sort of ski attire, bring it! You never know when you'll get the chance to visit Lost Valley, Sunday River, or Sugarloaf (my personal favorite). If you don't have any, never fear: Lost Valley offers affordable rentals, and you can get some gear (like helmets and ski goggles) for free from the Outing Club's E-Room. But it's nice to have on hand if you own it.
Alright, onto dorm bathroom essentials. While some of these may seem obvious, they can be easy to forget (you would also be surprised by the amount of people who may not use these items, though they should…or perhaps I'm just a bit of a germaphobe).
Shower caddy

– it's easier to have this as a one-stop-shop as opposed to lugging all of your bathroom needs down the hall.

Toothbrush cover

– get this. Please.

Shower shoes

– also get these. Please. 

Two bath towels

– for the same reason I said to bring two pairs of sheets, you never know when you'll need them or when someone will need to borrow them.

Laundry bag

– notice how I said bag. I started off the year with a hamper, but a bag is much easier to carry to wherever your laundry room is.
Rounding out this article with the last section: random little items that I enjoyed. These are items that made my freshman year a bit more exciting, or that I found to be randomly useful:
Polaroid camera and film – my roommate and I began asking new dorm visitors to pose for a photo and sign it. Each of these photos made it to the back of our door. At the end of the school year, we gave most of the pictures back to our friends, and it served as a little keepsake from freshman year. 
Whiteboard – if you are not residing in Parker Hall (each room in this dorm comes with a whiteboard attached to the outside of the door), then I recommend bringing a whiteboard to attach to the outside of your dorm room's door. Throughout the year I created polls, signs, and drawings (and other visitors did, too).
Snack basket – a personal dorm favorite. I kept a basket of snacks under my bed, with my favorite item being breakfast bars for when I was too sleepy to trek to commons prior to my 8 a.m. classes. 
Keurig or a kettle – perfect for the coffee and tea drinkers of Bates! My roommate and I used ours quite frequently. 
Bedside table – this is not an item that most people will need. I, however, enjoyed mine. Mine was from Pottery Barn, and a perfect way to keep a lamp, my phone, and some personal items at my bedside. 
Rug – alright, this is a big one! A rug helps tie together the whole room, and is a great way to help keep your room toasty and comfortable in the winter (I was in Rand my first year, which does not have carpeted floors). This can be something you talk to your roommate about upon move-in day, or ahead of time if you're really on the ball. My roommate and I split the cost of our rug.
Jewelry organizer/case – this is a great way to keep jewelry tangle-free and organized!
Noise-canceling headphones – a lifesaver for studying in loud dorms.
Stain removing pen – you will use this more than you originally thought! Tide pens and Shout wipes are a great investment. 
Doormat – during the winter months, sand gets tracked into every building, including dorm rooms. 
Beach towel – this is great for occasions when you need a towel, but you do not want to use one of your bath towels. Instances include: spontaneous beach trips.