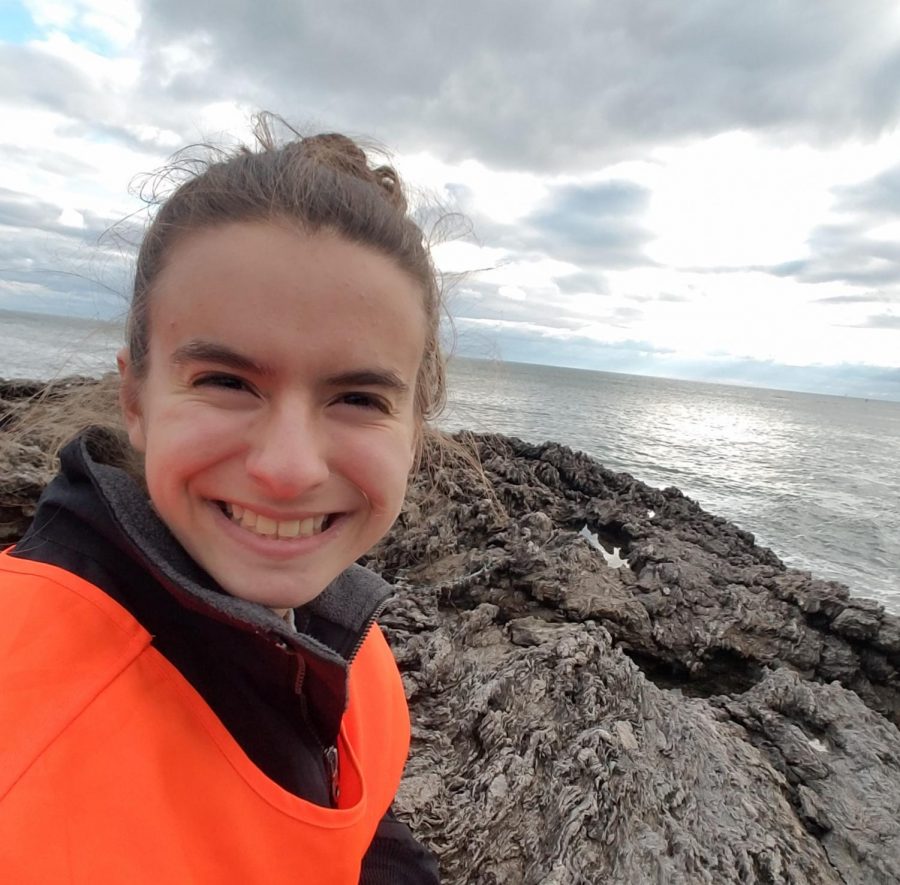 Vanessa Paolella '21 is the current Editor in Chief of The Student.
At Bates, she majors in geology with a strong interest in environmental geochemistry, minoring in chemistry and Asian studies on the side. She is currently analyzing more than 70 years of Androscoggin River water quality data for her senior thesis and hopes to publish an article detailing her findings. Beyond academics, Vanessa competes on the cross country and track and field teams at Bates, where she has earned one All-American award for the Distance Medley Relay in 2019 and attended two other NCAA Championships.
A native of Dingmans Ferry, Penn., Vanessa has spent the last three summers in Maine as a research assistant for the geology department at Bates, a hydrogeology intern for the Maine Department of Environmental Protection, and most recently as an intern reporter for the Sun Journal.
She is the former Managing Editor (2019-20) and Managing Sports Editor (2018-19) of  The Student.
Vanessa Paolella, Editor in Chief
Dec 07, 2020

Bates Pushes Move-In to Feb. 12, Most Students will not Receive Refund

(Story)

Dec 02, 2020

Bates Contributes to Retirement Funds, Raises Minimum Wage due to Improved Financial Situation

(Story)

Nov 19, 2020

PHOTO STORY: Harvest Dinner, a Decades-old Tradition, Lives on in 2020

(Story)

Nov 18, 2020

After Historic Election, Student are both Excited and Wary about the Future

(Story)

Nov 06, 2020

Photo Story: Sara Gideon Rallies Bates Students to Vote

(Story)

Nov 02, 2020

ELECTION 2020 SURVEY RESULTS

(Story)

Sep 16, 2020

Fall Athletes Return to Practice after Months of Anticipation

(Story)

Sep 09, 2020

Quarantined Students Recount Confusing and Frustrating Process

(Story)

Sep 08, 2020

Rise in Cost of Attendance Evokes Renewed Concern Among Students

(Story)

Aug 31, 2020

Domestic students, science majors elected fewer classes pass fail in winter 2020

(Story)

Aug 24, 2020

Ninety-four students test negative for COVID-19 in first round of testing

(Story)

Aug 20, 2020

STORIES OF THE DECADE

(Story)

Aug 13, 2020

August 13 student Q&A highlights

(Story)

May 10, 2020

Bates to Announce Plans for the Fall by June 30

(Story)

Apr 22, 2020

"Bringing Bates to You" Helps Bridge the Gap to Prospective and Admitted Students

(Story)

Apr 06, 2020

Commencement and Reunion Weekend Cancelled amid COVID-19 Concerns

(Story)

Apr 03, 2020

Perla Figuereo '21 Makes BCSG History as the First Woman of Color Elected President

(Story)

Mar 27, 2020

Fulbright Program Suspended as Bates Alums Scramble to Return Home

(Story)

Mar 23, 2020

Jack Allard '16 in Critical Condition during Battle with COVID-19

(Story)

Feb 26, 2020

Student Government Updates

(Story)

Feb 26, 2020

Water Outage Interrupts Everyday Routines

(Story)

Feb 26, 2020

Athlete Spotlight: Cal Schrupp '23

(Story)

Feb 05, 2020

Hedge Closure Disrupts Campus Life

(Story)

Jan 22, 2020

Bates College Student Government Asks the Hard Questions on Tuition Hikes

(Story)

Jan 22, 2020

Nordic Skiing Begins Season on the Right Foot at Harvard Carnival

(Story)

Nov 06, 2019

"Acknowledge that our Souls have Power"

(Story)

Apr 03, 2019

Bates "Plague" Sends Nearly 100 to Health Services

(Story)

Apr 03, 2019

Kelsy Ross Leaves Bates Athletics

(Story)

Jan 24, 2018

Nordic Ski Teams Compete at St. Michael's Carnival, Placing Eighth

(Story)