"Acknowledge that our Souls have Power"
Renowned sculptor and performer Vanessa German visits Bates, installs art exhibit
On Oct. 25, Vanessa German celebrated the opening of her art installation Miracles and Glory Abound in the Bates Museum of Art with a performance for students, staff, faculty and community members.
German held the audience in thrall as she began her opening performance. No words were spoken, no music played as she flowed from one action to the next, bringing a finger high above and dropping her chest down to the floor in a broad array of movement.
A sudden explosion of her voice broke the silence. In the next hour, German laid herself bare as she performed, voicing intimate details about herself and calling upon others to share in her vulnerability.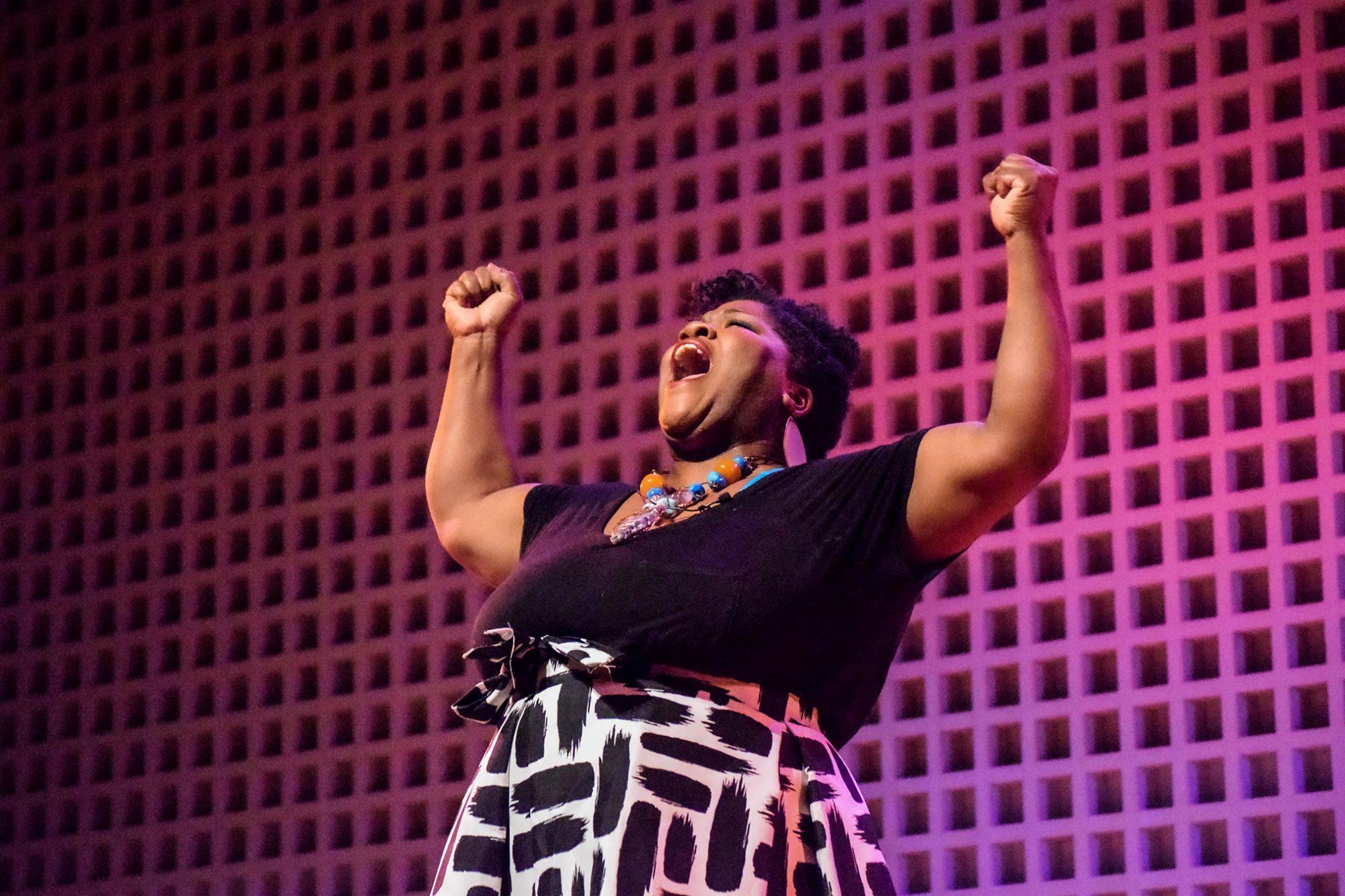 German is a multidisciplinary, self-described "citizen artist." As a performer of spoken word opera and sculptor, her art portrays themes of social and racial injustice, but also love and hope.
After her opening , German welcomed Ahimy Soto-Garcia '21. "Can you twerk?" German asked Soto-Garcia. She responded that she never had before. "Not yet," German proclaimed. And in front of an audience of more than 100, both women danced and twerked, celebrating their bodies with joyful abandon.
"You kind of just have to go with the flow sometimes and I think that's what she was preaching about," Soto-Garcia said.
German created an impromptu poem for Soto-Garcia, asking her for a name, a color and a purpose. "Marvel. Orange. Peace," she replied. German wove a poem, sprinkling rose petals on Soto-Garcia as she spoke.
After this heartwarming moment, German began a passionate recital of a poem about the exuberating power of dance, but also the frustration and despair of war and violence.
"Scream it out for the whole world to hear," she shouted. "Everyone is made to dance!…I believe that instead of going to war, we should dance…and people would only be able to be killed in battle on stage. In the show, every little seventh grader who got shot and killed in New York; all the 15, 16 year olds, 22 year olds who got shot and killed on a street corner in Chicago; all those women who got raped to death; all the children who drowned and washed ashore some Mediterranean island, trying to get themselves to a safe place; all the people who ain't made it on that long trek from Central America. All of them they would all just stand up and they would take a bow."
Following this heart wrenching performance, German again invited a student to join her on stage to lighten the mood. This time, Nicholas Florio '22 volunteered.
"Have you ever tried to control a vagina?" she asked. Holding hands, German and Florio "dirty danced" to a cheerful, romantic melody to the rambunctious laughter of the audience. She even cajoled him to lift her up in a clichéd partner maneuver.
"Do you know the last time I held a white man's hand? Neither do I. When was the last time you held a black woman's hand?" German asked. "It's enough just to be."
Through these interactions, German let herself be vulnerable and invited Florio to do the same.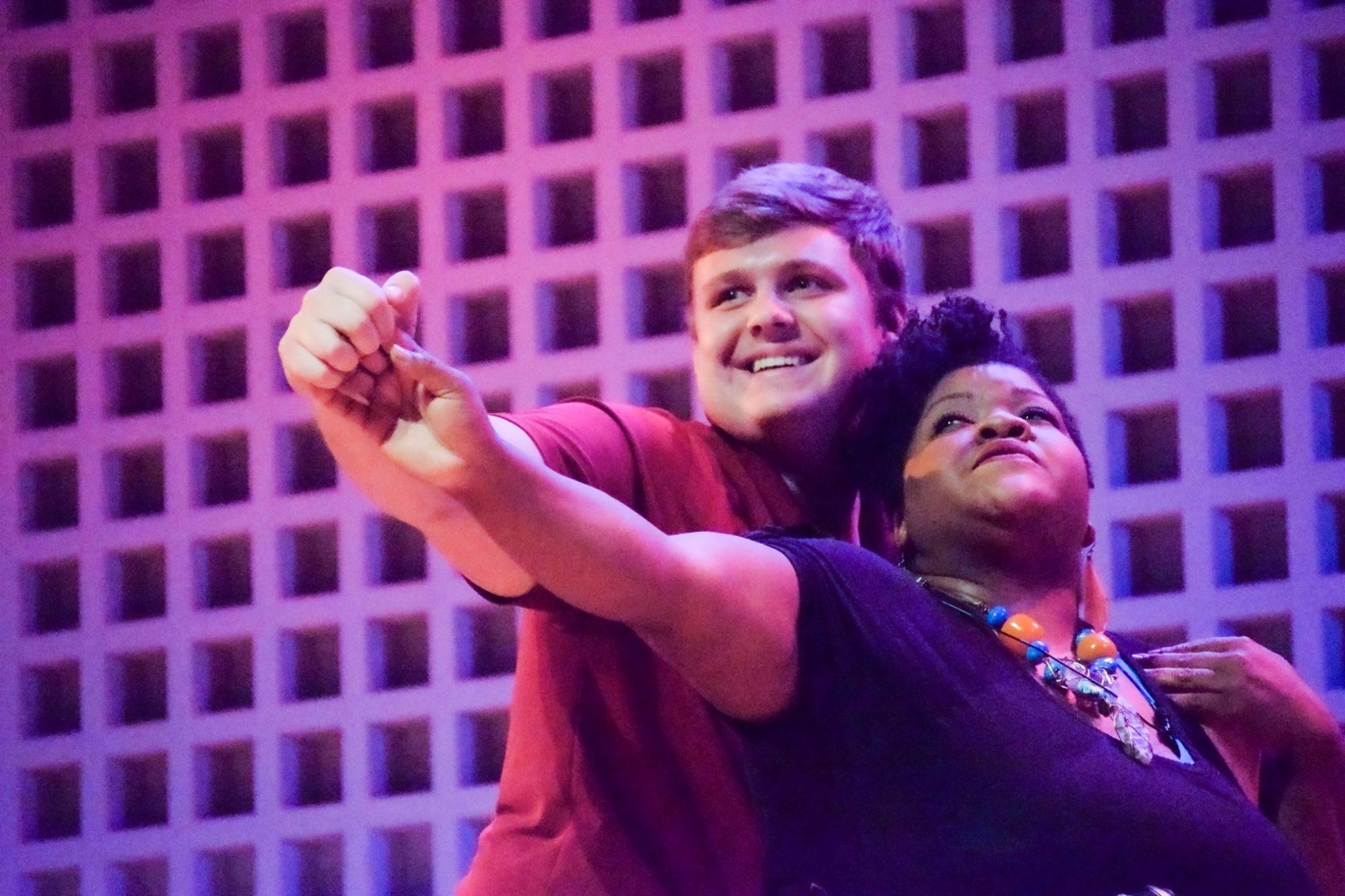 "During the performance I was just going with the flow and following Vanessa," Florio said. "The biggest moment that stood out was the dirty dancing part where I had to pick her up."
With these extreme shifts in tone, German elicited a wide range of emotions. Joy. Happiness. Anguish. Regret.
"I've heard from many people that they can't think of the last time they were at a performance where they laughed and cried," Dan Mills, Director of the Bates Museum of Art said.
In addition to her performance, German left Bates with a lasting gift: Miracles and Glory Abound.
This site-specific installation is the result of a collaboration with the Flint Institute of Arts in Michigan and the Figge Art Museum in Iowa. Bates is the third host of this exhibit which took more than two years to plan and execute. Since the initial partnership was formed, the David C. Driskell Center at the University of Maryland has also joined and will host German's work after Bates.]
By working together, Mills said that they were able to commission a project more ambitious than any one institution would have been able to do by itself.
All of German's figures are African-American women adorned with quilted fabric and objects found around her neighborhood in Homewood, a predominantly African-America suburb of Pittsburgh. These objects are extremely varied–keys, boxing gloves, ceramic figurines, baby doll limbs and more. Often, German tells an entire story just with the numerous head adornments on each sculpture.
"There are elements [of the installation] which are quilt patterns around the edge of the boat," Mills said. "Quilting, fabric, textiles, if you think about it, it's really traditionally women's work, it's traditionally undervalued, culturally."
As Miracles and Glory Abound has moved, it has evolved to include features not previously present. At Bates, nine trees and two waterfalls have been added since its first site, creating a park-like atmosphere. Together, the entire installation took German and her crew the better part of a week to set up.
With the support of the Bates Learning Associates program, German met with numerous students in and outside of class while at Bates. She spoke to students in Advanced Acting and Black Feminist Activist and Intellectual Traditionsm, as well as Visual Culture senior thesis students and members of the Bates Arts Society and student museum group.
"The museum brings a world of ideas to its exhibitions, collections, and educational programming," Mills said. "We use that term to describe that it's both global in terms of the artists we bring, but that the art we bring is full of ideas and is something that we integrate into courses across disciplines and in the cultural and social life of students and in our surrounding community. Vanessa, I think, is a wonderful example of that."