A thin layer of snow blankets Sugarloaf Mountain in Western Maine, and the days grow shorter and colder in Lewiston. As the leaves make their way to the ground and jackets weasel out of tightly packed closets, we begin to transition to winter.
This only means one thing: ski season is close. 
It's no secret that I've fallen head over heels for Maine skiing. Sugarloaf signs adorn my dorm room walls, and a replica of my favorite double black run (Gondi Line) hangs above my bed.
I've found my place in the Northeast through skiing; here's how you can do it, too.
Mountains
First things, first, let's break down the three mountains that I've navigated thus far: Lost Valley, Sunday River and my personal favorite – Sugarloaf. 
Lost Valley: Located in Auburn, Maine, this mountain is an 8-minute drive from campus and offers free lift passes to Bates students (simply show your Bates ID when getting a lift pass and you'll be set). More of a "hill" than a "mountain," Lost Valley is the perfect place to learn how to ski or for a quick visit during their Monday-Friday night skiing hours. This resort is aiming to open for this season on December 15, 2023.
Sunday River: Almost exactly an hour from campus, Sunday River is located near Bethel, Maine, and boasts eight peaks connected via a series of high-speed lifts. Offering terrain for all levels of skiers, this mountain is a great place to bring friends. Because of its proximity to campus, it's well worth the journey to Sunday River, even if just for a half-day. It was recently announced that Sunday River will be opening Jordan Bowl (one of the eight peaks) on Tuesday, November 14, 2023.
Sugarloaf: While Sugarloaf requires the longest trek out of the three mountains I've mentioned thus far (at an hour and 45 minutes Northwest of campus), it is more than worth it. This is my home mountain, my absolute favorite spot in Maine. I've spent 20 days at this mountain so far and can say that it is (in my opinion) the best of the three Maine mountains I've explored. Sugarloaf is a great place for all levels of skiers; I first came to "The Loaf" when I could ski nothing more than the friendliest of greens and finished out my season soloing a double black. Sugarloaf is where I built up my skiing confidence and met some great people along the way. As I said, I ski solo, and the people I've met while on the mountain have been some of the most warm, welcoming Mainers.
Since I'm the most familiar with Sugarloaf, I'm going to list a few more reasons why I feel as if this is such a great mountain: 
Sugarloaf is the Northernmost mountain out of the three I've mentioned, thus it often offers the best conditions (less ice, better snow).

The terrain is often less "skied-off" due to it being less populated. Because it is situated in more of an isolated, northern area, it garners less traffic from out-of-state visitors (and also makes for shorter lift lines).

While Sugarloaf only has one main peak, it has the highest elevation out of the Maine ski resorts, which makes for longer runs and less time spent on a lift.

Fun fact:

Sugarloaf boasts the 15th hardest run in both the U.S. and Canada

: White Nitro.
If you purchase the New England College Pass, you gain access to three mountains: Sunday River and Sugarloaf in Maine, and Loon in New Hampshire. I'm yet to make the trek out to Loon Mountain, but I've heard great things. 
There are a number of other wonderful mountains that I have not yet had the opportunity to visit, but that I've heard great things about Mt. Abram, Saddleback, and Black Mountain.
Season Pass vs Lift Ticket
This purchase boils down to how often you think you are going to make it out to Sunday River or Sugarloaf. As I mentioned above, skiing at Lost Valley is free for Bates students, so I will be diving into the cost of passes at Sunday River and Sugarloaf. (If you are 18 or younger, you can purchase a "teen" ticket at both Sunday River and Sugarloaf, which can be around $20 or so cheaper. For this article, I will be covering the cost of an "adult ticket," which is valid for people aged 19 to 64.)
Day pass:

during pre-season, which is November and early December, adult tickets are priced anywhere from $67-$88 on average, with a few weekends rolling in at $94. Around December 16, prices increase to around $112-133 on weekends, and $79 on weekdays. As the season progresses, the most expensive day-pass ticket costs $135.

Half-day pass

: in my experience, if you go to Sunday River past 1 pm, you do not have to pay the full price of the day pass. Since Sunday River and Sugarloaf are both owned by

Boyne Resorts

, this may apply to Sugarloaf as well. As half-day passes are not explicitly sold on the resort's website, I am not certain about the details.
Day Pass:

during pre-season, tickets are $41 on weekdays and $46 on weekends. Just like Sunday River, prices also increased on December 16 to $73. From December 16th, passes are $73 on weekdays and $120 on weekends. The most expensive day pass price is $120.
New England College Pass
I believe that the New England College Passes are a great investment if you are planning on skiing at a bigger resort more than three times this season. As listed above, the day passes can run over $100, and that cost can add up quickly.
College Gold

: this season pass runs $449, and grants you full access to Sunday River, Sugarloaf, and Loon with zero blackout dates. 

College Silver:

the most popular of the two options, this pass runs $339. While this pass has a few blackout dates (dates that are not covered by the pass, meaning you would have to purchase a day pass if you wanted to ski on a blackout date), it is a great option. The blackout dates for this pass are

Dec. 26-31, 2023; Jan. 13-14, 2024; Feb. 17-19, 2024, and Feb. 24, 2024.
Both passes also come with benefits and discounts, such as retail and lodging discounts. If you have the College Gold pass, you can purchase up to six discounted passes for friends. 
Skis/Boards
Rentals:
Renting gear is a great option if you are just starting. I rented my gear for the season last year, and it was wonderful.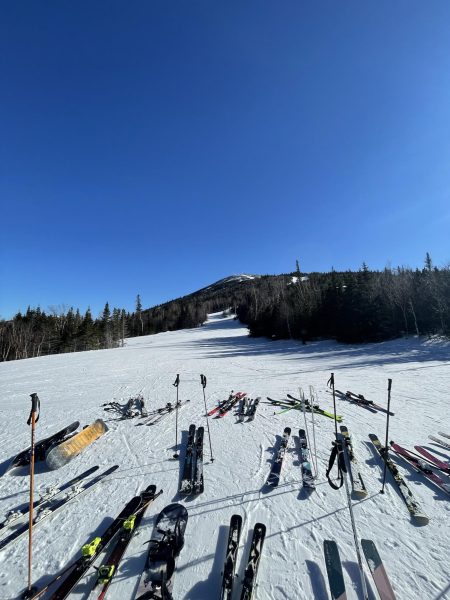 Seasonal:
Last season, I rented from Allspeed, and I had my skis from November to April. For adults, renting skis and boots for the season costs about $275. Allspeed is located in Portland, about a 45-minute drive from campus.
Day Rentals:
Lost Valley

: for a full package (skis, boots, helmet, poles), it costs $50 to rent for a day.

Sunday River

: for an adult ski or snowboard package, it costs $62 to rent for a day.

Sugarloaf

: for a complete adult package, it costs $59 to rent for a day.
Purchasing Gear:
This summer I purchased skis and boots from Arlberg Ski and Surf and was incredibly happy with the gear and service that I received. Arlberg has two locations – one in Portland and one in Freeport (a 30-minute drive from campus). There are several other great places to purchase skis – both used and new – throughout Maine. You can also purchase skis at both Sunday River and Sugarloaf, and attend "demo days" to test out skis before purchasing them. 
Tuning:
If you are looking to get your skis sharpened or waxed, Lost Valley offers repairs and tuning. They offer a variety of waxes ranging from $19-$35.
Clubs on Campus
Bates Outing Club: I highly recommend getting on the Bates Outing Club email list so you know when they are offering organized ski trips. The BOC often offers trips to most of the mountains I have mentioned above and can be a great way to get out there or connect with fellow skiers.  
Bates Club Skiing: if you are looking to learn how to race (like I am this season) or want to compete in Slalom or GS, this is the club for you! Regardless of your level, you will improve your skills and get a lot of practice at Lost Valley. Since they are an official club sport overseen by the athletics department, I recommend reaching out to a club officer if you are interested in learning more about what this club is all about.
All in all, a great season awaits us in Maine. We are projected to get a large amount of snowfall in the Northeast, so get ready for an exciting time on the slopes!