The Bates Student Sits Down with New Mens' Lacrosse Head Coach Dan Annino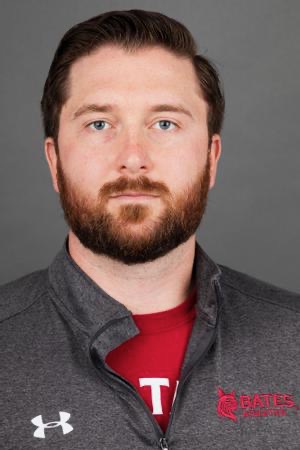 Dan Annino sat down with The Bates Student earlier this week to talk about his new position as the men's head lacrosse coach, replacing Peter Lasagna, who had served as head coach of the program for the past 22 years.
 First of all, how did you get into lacrosse? 
"Yeah, so lacrosse was definitely in the family so to speak. My father played, my grandfather played, and my grandfather was also a high school football, wrestling and lacrosse coach for a long, long time. So it was kind of in the blood, so to speak, and I definitely grew up with a lacrosse stick in my hand from a very young age."
What's your favorite memory of playing across as a kid?
"Oh, man, I have a ton. I think some of my earliest memories playing the game were fromplaying in youth leagues. My father was my coach when we were all just little bobbleheads running around and we were playing some of those games where at the time you feel like you're in the Super Bowl and you look back and you realize it was just, you know, a group of kids running around, trying to have some fun. But it felt like the biggest thing in the world and some of those memories on a dirt patch field somewhere were are some of my favorite from from learning the sport."
Where'd you play in high school?
"I grew up on Long Island in New York, Seaford is my hometown and I played at Chaminade High School. I played lacrosse and football there."
Yeah. So then you went on to Amherst, right?
"Right, I played at Amherst, and had some great experiences there as an athlete, and then went off into the corporate world for a brief stint, and then made my way back into the game and started my coaching career as an assistant on the staff at Amherst College. So during my time there as an assistant, we did make a run to the national championship game." 
 So, you've been an assistant there, you were at Johns Hopkins as an assistant and also coached some of the Haudenosaunee youth teams. How were those experiences?
"It was an awesome experience. I'm really grateful for all of the experiences I had in in the coaching world, you know, between my, my time at at Amherst, being able to learn from and coach alongside my mentor in John Thompson, and then to just have an opportunity to go down to Baltimore and coach at Johns Hopkins, which is probably the most storied program in college lacrosse with all the history and all the tradition there. It was such an incredible opportunity. And then, really, probably one of the more meaningful opportunities that I've had was working with the Haudenosaunee Nationals and coaching at the Brogden Cup, which is an international tournament including the Haudenosaunee team. Being able to work with some of those young men and learn from their experiences with the game, which is so ingrained in their culture and learn a little bit about the gift of the game that the Native Americans and the Haudenosaunee people had really gifted us with the sport of lacrosse. So being able to be able to get in touch a little bit more with the roots of the game through those young men and through their families was so valuable for my perspective around what this game actually means." 
So tell me a little bit about the hiring process: how were you approached and how did that play out? 
"When this opportunity became available after Coach [Peter] Lasagna, put a cap on what was an incredible career here at Bates and across the lacrosse world. His retirement was pretty big news in the lacrosse world because he's been such a big figure in our sport for a long time. And then certainly my familiarity with Bates and competing against Bates for the seven years or so that I spent in the NESCAC. I knew it was a really, really, really special opportunity, and a special program. So I wanted to throw my hat in the ring right away, and was really fortunate to get an opportunity and spend some time with athletic director Jason Fein and Celine Cunningham, who were leading the search process along with the rest of the search committee, which included a handful of our current student athletes on the team. I was fortunate enough that they saw something in me that they thought could could bring some value here to Bates, but I was pretty hooked right away from  going through that process as I got to learn a little bit about about this team and step foot on campus in in mid June or so, really sealed the deal for me. By then, I knew this was the place I wanted to be." 
Coming after a guy like Coach Lasagna, who had been with the program for 22 years, how did you approach stepping into his shoes and leading the program forward? 
"Yeah, absolutely. I mean, it's certainly big shoes to fill, probably too big to ever be filled. But, you know, I just knew I wanted to bring who I was, and be authentic to myself as a leader, and myself as a coach. I was fortunate that by bringing that to the table through the interview process,  the search committee saw some value in me.  I didn't want to, by any means, try to be Loach Lasagna. I couldn't do that if I tried, but I certainly wanted to honor everything he built in this program by just giving it everything I could. I was really fortunate to come into a group of guys that were willing to try new things and willing to buy into a new way of doing things. But, I knew I couldn't just try and step in and replicate what Coach Lasagna has done because he's earned everything that he's had the ability to do through an incredible career."
On that note, how do you think your assistants or players would describe your, like, coaching style? 
"I certainly I bring a level of intensity and an intention to detail on some things, but I also feel like, and I'd hope our guys see that everything that that I do as a coach, and everything that we try and do as a coaching staff, is to give our guys more tools to play the game that they love. It's something that's so special about being a collegiate athlete, and being a student athlete is to continue to invest yourself and your time into something that has been a big part of your life for presumably a long time. Hopefully, our guys see me and our coaching staff as a resource for them because at the end of the day, that's all we are, right? We're trying to give our guys the tools to be the best that they can be. And behind the scenes some guys might be more perceptive of it than others. But I think certainly our older guys and guys that have been around the block a few times, hopefully feel that we're giving them the tools to be the best they can be on the lacrosse field, but a lot of those lessons are going to translate over to what they're going to be able to do long after they hang up the cleats." 
So what are your goals? Both for this year? Particularly? And hopefully, like in the long term? 
"Yeah, absolutely. I mean, one of the things that excited me so much about this opportunity was that I cut my teeth as a player and as an assistant coach battling against some really, really special Bobcat teams, and some teams that competed at the very top of the country. I was fortunate enough to skirt by without having to face off with the 2017 Bobcats team that was as historically good as they were, as I think they were undefeated through the regular season. But they had some really good battles and I know that this program has the capacity to compete with any program in the country. So long term, like, our goal is to compete at the top, our goal is to win national championships. But in the short term, what we laid out with our leadership group this year was we have to focus on taking care of our own backyard before we can look any further down the line than that. So the goal that we set out for ourselves first and foremost this year was to win the state of Maine. We got some NESCAC rivals here in Maine, and we got some out of conference opponents here in our own backyard. If we want to look anything further down the line than that, as far as the league or the nation goes, we got to take care of business here here in Maine, first and foremost." 
 So with that goal in mind, what challenges do you expect to face? And how do you think you're going to overcome them? 
"Yeah, I mean, we're gonna face challenges every day. I think that's one of the beautiful things about sport, you're constantly being challenged and you constantly fail. I think it's part of changing our perspective around what quote-unquote, failure means, right? Like, I if talked to any of our guys or goalies or shooters, and just asked like, "Hey, how many goals have you allowed in your whole life as a goalie?" Right? Like, man, I couldn't even count right? Or if you asked one of our offensive guys, like, "how many shots have you missed, or how many shots have been saved in your whole life?" Man, I couldn't even count. But one of the special things about a place like Bates is how incredibly talented and successful the student body is here as a whole. And the body of student athletes is here as a whole. There are too many guys on our roster that have faced failure through their life, though academically, they haven't faced a whole lot of failure in their life in the same way that they face on the lacrosse field everyday at practice. So we've got to change our perspective around what some of those things are. We're going to face all of our challenges head on. But again, as you look at here in our own backyard, you have a Bowdoin team that had a pretty incredible year last year and is a top 10 team in the country right now. The Colby team that's always strong, and a NESCAC, slate of games, where you've got to bring your best every week if you want to compete. So we're gonna face challenge a lot. But hopefully, we're learning that that's something that should excite us, rather than the other way around."
So the last question, what are your overall impressions of the Bates campus and community so far? 
"Yeah, I mean, I think you use one of the words right there, and just that community feel, even for my first time on campus, during the interview process over the summer, when campus is quite a bit quieter than it is this time of year. You could feel that that sense of community and you know, I think, a phrase that I learned recently by hopping on the Black Student Athlete alumni panel that was hosted by one of our guys Denzel Evans the other night, the phrase, "communities within communities" was used a couple of times, and I think that's such a great way to describe this place. There's so many different backgrounds and perspectives and opinions and lifestyles and all these amazing things and all these opportunities to build those communities. But all those communities live within what is one really, really special community. That is the Bates College campus. And that tangible feeling that as you walk around campus is not something that I've really experienced anywhere else. That is the community aspect. It's something that gets talked about a lot here, and I think for good reason because it truly is a special piece of the experience here at Bates."