Sankofa Lights Up Schaeffer Theater Celebrating Black Joy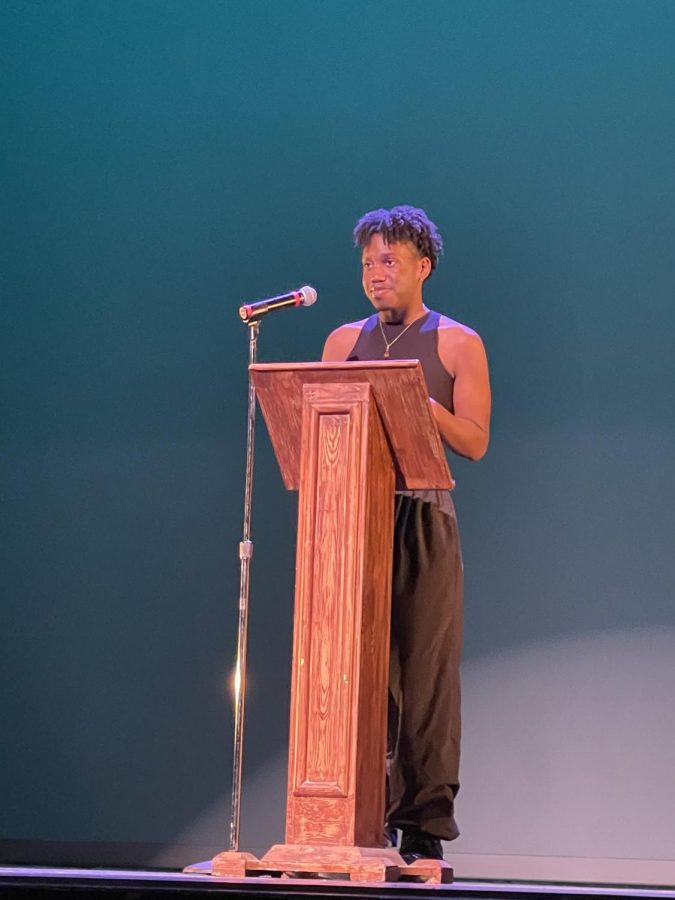 I'm going to be honest with you: I have shown up to a lot of events at Schaeffer Theater without having signed up for a ticket online, and I have never been challenged about this. The house managers have always known that there would be plenty of empty seats and let me in without question.
When I arrived for Sankofa on Monday evening — over 30 minutes before the performance started — the woman checking tickets clicked her tongue at me, said it was unlikely I'd get in and added me to the end of a wait-list that already stretched halfway down the page. As the lobby began to fill, I felt both worry that I wouldn't get to see the performance and sheer awe at the eagerness and excitement it was generating even in the lobby. It was not yet 8:00 p.m. and the air was already thick with potential energy.
I did, fortunately, end up getting into Sankofa to witness that potential energy make itself kinetic, via explosive joy, power and performance. Sankofa is an Akan word that means "retrieve" and "embodies remembrance, memory and community," according to this year's program. The annual performance, according to the Bates website, is "the Black Student Union's annual cultural showcase, made up of members of the African diaspora," which "aims to reflect Black grief, Black resistance, and most importantly Black joy through poems, dances, speeches, and songs."
"Sankofa has a rich history at Bates as a byproduct of the efforts made by previous Black students to create a safe space to celebrate the richness of the cultures present across the diaspora, and Black joy," Sam Jean-Francois '23 said, who was central in the effort of planning this year's performance.
However, "Sankofa hasn't happened since my freshman year which is wild to consider seeing as I'm now a senior," they said. This was mostly due to the COVID-19 pandemic, which has coincided with other challenges for Bates's BIPOC communities. "We've witnessed great losses to many of our support networks on campus, including the Office of Intercultural Education and emergency funding which many students relied on to travel home during the breaks," Jean-Francois said.
After those challenges and frustrations, Jean-Francois and their student collaborators — including Aaliyah Moore '24, Starr Bradley '24, Bora Lugunda '25 and their self-described "best friends Emily, Jenniflore, Marisela, Abraham and Elysia" — thought it was more important than ever for Sankofa to be able "to provide BIPOC students with a moment, even if just an hour, to feel joy."
And feel joy they did — as did we all. Schaeffer was loud with excitement and thrill from the moment Jean-Francois stepped onstage to deliver the opening remarks, including thanking his ancestors "for always leading the way." From there, Sankofa leapt deftly from act to act, from poetry to skits to music to dance to Kahoots, with sometimes surprising, occasionally jarring and always exhilarating speed and dexterity.
Beneath the joy, Sankofa was infused with a deep sense of profundity. When the curtain opened on the Crosstones, Bates's oldest all-gender a capella group and the opening act at Sankofa after Jean-Francois's '23 remarks, the entire auditorium spontaneously rose to their feet to sing "Lift Every Voice" with them. That deep, unplanned moment of reaching out for connection felt profound, almost spiritual.
After the Crosstones' performance came the first installment in a series of skits, performed by Kemunto Ongera '23, Sokona Mangane '23, Jean-Francois, Bora Lugunda '25, Uche Anyanwu '25 and Rashad King '25 and centering on a college student (Lugunda) who is overzealously excited about her upcoming semester abroad in South Africa. She thinks she is going to be able to "reconnect with Mother Africa;" her friends and family aren't so convinced. "You're not going to be in the jungle communing with the antelope," one quips. "You're going to Capetown." Clever and witty and most of all just plain funny, these skits were an audience favorite.
The first skit was followed, in stark contrast, by King performing a 1963 speech by James Baldwin that grapples with the righteous egalitarian myths of America's founding despite the barbarism of slavery central to the country and economy. "We have made a legend out of a massacre," said Baldwin in King's strong voice.
Following Vann was another installment of the skit, and then Lugunda took the stage alone to perform a beautiful original poem ruminating on "the colors of the places we call home;" she was followed by Jean-Francois reading their original poem "Gynecology," which grapples with "the violent form of study" and its history of exploiting Black bodies. Then there was another  skit; and then Amara Ogbonna '26 performed a traditional dance with grace and study to rapturous applause.
She was followed by the return of the Crosstones to the stage, performing "Natural Woman" by Aretha Franklin with a solo by Ilana Rosker '23, and then by Lauren Reed dancing to "Stolen Fruit" by Tank and the Bangas. Reed is well known in the Bates dance community, and for good reason: she is wonderfully talented, and dances with beauty and power.
Reed exited the stage to make way for a theater-wide Kahoot spanning international Black history, with a staggering 236 participants (I placed 27th, which I consider a decent achievement), and finally a performance by student DJ Uche Anyanwu '25, who brought the whole audience to its feet for a round of dancing and cheering.
Sankofa ended with a group bow — which Jean-Francois cites, of all the beauty and power of the performance, as their very favorite moment. "To end it with all of the performers returning back to the stage for a final bow was a feeling of warmth I can't even begin to help you imagine," she said. "We could see how much the audience enjoyed the show, and how proud and appreciative they were of the fruits of our labor. It was euphoric."
That euphoria imbued the whole performance, not just its ending, and served to bind everyone in attendance both on and offstage in a sense of warm, supportive, tight-knit, loving community. 
"The love and support I felt from the audience was beyond restorative," Jean-Francois said. "If there is one thing I hope the audience left with I hope it was the joy of being a part of a community is it. That's the center of activism, and reminds us that resistance is the embodiment of joy."
Disclaimer: Joseph Vann '25, who performed a speech at Sankofa, is the Assistant Features Editor for The Bates Student.