Field Hockey, Football, and Soccer Teams Fundraise for Breast Cancer Awareness
On Saturday, the field hockey, football, and men's and women's soccer games all featured fundraising efforts in support of Breast Cancer Awareness Month. Various varsity teams staffed the events to raise funds for research to end the disease.
According to the American Cancer Society, besides skin cancers, breast cancer is the most common form of cancer found in American women; the average risk of a woman in the United States developing the disease sometime in her life is about 13%.
All four teams played Williams College, with teams raising money for Foundation4Love and the American Cancer Society.
While all teams came up short against Williams, the Bates community raised a combined over $4,000 for breast cancer causes.
The Student Athlete Advisory Committee (SAAC) set up booths at the different games for their fundraising effort, which co-Presidents Gabi Meisel and Bridget Thompson organized extensively.
"We've done fundraising historically, but this is probably the first time we've made a concerted effort to do breast cancer fundraising, with SAAC at least," Thompson told The Student.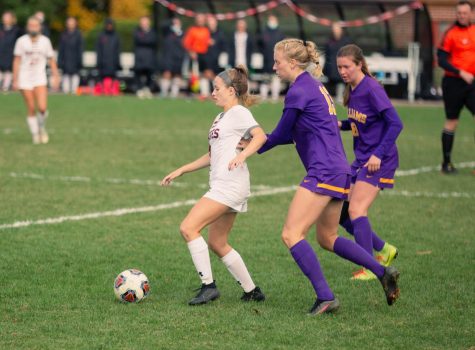 For both Meisel and Thompson, fundraising for breast cancer research and care was personal: in May of 2020, Meisel's mother was diagnosed with the disease, and Thompson's aunt has dealt with it, as well. 
"[My mom] is 100% breast cancer free now which is really amazing, but I had mentioned to Bridget in the beginning of the year that I really wanted to do this and it's important to me," Meisel said. 
One thing the group struggled with during the planning process was figuring out exactly how to raise money, Thompson said.
"We faced some obstacles along the way; one major thing is the plausibility of different forms of fundraising," she said. "In the past, Venmo, for example, was an easy way to raise money quite quickly but it's no longer allowed, at least our accounting department here doesn't allow it. So that's a big obstacle, especially coming out of a pandemic where people just aren't carrying cash anymore."
Thompson added that the group struggled when they previously tabled at football's game against Wesleyan. She, Meisel, and the rest of the SAAC organizers decided to instead create a raffle where winners could walk away with pink Bates baseball caps. 
Meisel is pleased with the response she and Thompson got from SAAC members; she told The Student that "people were really receptive." 
"It meant a lot to see SAAC reps who volunteer and want to be a part of this cause," she said. "They're taking the time out of their day to help. Getting people excited and passionate about helping and having this community outreach and trying to do efforts that are actually going to [impact] the bigger scheme of things not just in the Bates bubble is important."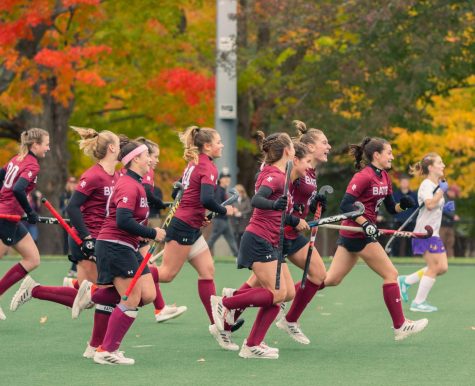 Besides SAAC fundraising, the field hockey team hosted a fundraiser event for Foundation4Love, which is a group in collaboration with New England Cancer Specialists that aims to help those battling cancer with different wellness programs.
Leah Robert, the co-founder and president of the organization, told The Student that the nonprofit's goal was "to offer complementary and integrative services that will help manage cancer related symptoms for standard cancer treatments."
She added that the group is "pleased to be working with Maine's largest oncology cancer practice who offers tremendous medical care, but also sees the importance of how holistic and healing services can be an integral part in somebody's cancer journey."
Claire Cote, mother of field hockey players Anna Cote '25 and Paige Cote '24, made a speech to the team at the event. She is currently the chief operations officer at New England Cancer Specialists, and was diagnosed with early stage breast cancer in June.
The team, which had a table at their game on Campus Ave Field, ended up combining efforts with the SAAC fundraisers. The two groups managed to raise over $1,000 for Foundation4Love. 
The men's rowing team also spent the weekend fundraising; their proceeds went to the American Cancer Society through the Real Men Wear Pink initiative. 
Alexander Burbelo, one of the organizers of the fundraiser for the team, said the effort was "something of incredible personal significance to both Coach Steenstra and myself."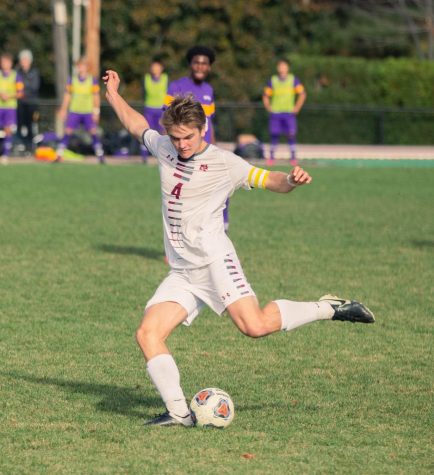 His responsibilities included "planning and coordinating the main fundraising event here among our team at Bates, liaising with the Real Men Wear Pink organization, designing and ordering the pink merchandise for our team to wear, and handling donations at the event."
Burbelo is pleased with the response they have received from the community.
"We've been lucky enough to receive a tremendous amount of support from students, faculty, staff, and parents, and are incredibly grateful for each and every donation," he said. "This will be my fourth year as a member of the men's rowing team, and I'm proud to be surrounded by an incredibly committed and large senior class."
The team tabled outside of Commons on Friday during the lunch rush, where they accepted donations through cash and Venmo. Many members of the team showed up to take part, all wearing pink shirts to advertise their cause. They also donned pink racing uniforms when they hit the water in the Head of the Charles Regatta (HOCR) on Sunday.
They were able to raise $3,054 for the cause, and placed fifth at Sunday's regatta; the team had their second-best performance at the HOCR in program history, with a time of 15:12.441.
Burbelo was proud of the commitment the team has shown to the cause, and hopes that the donations will do good.
"Virtually all of our donations are directly thanks to the generosity of the Bates community," he said. "Breast cancer is something that continues to affect so many people, and this campaign is our way of demonstrating our commitment as a team to helping those in need."
Leave a Comment
About the Writer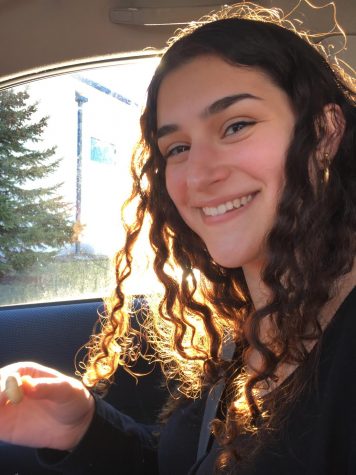 Ellie Wolfe, Editor-in-Chief
Ellie Wolfe is a senior from Northampton, Massachusetts, majoring in history and minoring in Spanish. She is currently working on an honors thesis investigating...