10 Questions with Vanessa Williamson '05
Vanessa Williamson '05 is the associate head swimming coach and a 2005 Bates graduate.
She graduated as an eight-time All-American in the butterfly and individual medleys. She had a successful career coaching at the high school and club levels in California for five years before joining head coach Peter Casares' coaching staff in 2012. 
Williamson found success at Bates almost immediately. According to Casares, "Her first year training that group led to many successes and she immediately followed it up her second year as Vanessa not only coached three NESCAC champions in the sprint events but Bates' first ever NESCAC record holder, Logan McGill, in the 50 free." 
Williamson was promoted to associate head swimming coach in 2016 and has thrived in the role. Casares attributes her success to her ability to create a positive team culture, "Her ability to not only train athletes, but keep them happy and motivated has played a huge role in her athletes' successes."
In anticipation of the Bates swim team's first meet on Saturday, November 6, The Student interviewed Williamson to discuss everything from her coaching style to her favorite Commons meal.
When did you first begin swimming?
I started competitive swimming at age ten at the YMCA in Auburn. Age ten is considered late to join a swim team but my best friend at the time was doing it and encouraged me to try.
When did you realize you wanted to be a coach?
I dabbled in coaching my senior year at Bates by helping two local high schools, but I didn't know I really wanted to coach until after my post-graduate swim career. I learned a lot about swimming under an Olympic coach and while training with Olympians. I knew at age 24 that I wanted to pass on all that knowledge.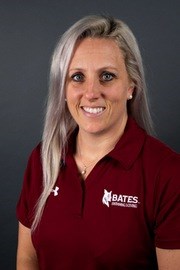 What is the most challenging thing about coaching the swim team?
Swimming has a certain grind to it, and at times swimmers can forget why they put so much into this sport. I try to write practices that will reinforce why they're doing it and to make swimming fun. Swimming back and forth for up to sixteen hours a week can get repetitive, but keeping the swimmers engaged and having fun reminds them why they love this sport.
What is the most rewarding thing?
Honestly, it could easily be when a Bobcat swims faster than an opponent or when he/she looks up at their time on the scoreboard and is absolutely psyched, or when a diver is stoked they accomplished a difficult dive, but it's more when a Bates athlete loves being here and enjoys coming to the pool to be with their teammates. They are creating memories at every practice, and every meet, and I know they won't necessarily remember what times they went – but will remember the times they had.
What do you hope to accomplish this season?
I hope to accomplish a full season. I hope these athletes can create those memories at the championship meets we are accustomed to, and we are able to put Bates on the map again. We feel we potentially have the most talented group of swimmers and divers this year and with this senior class as leaders, this team's culture has already been amazing.
Besides swimming, what is your favorite sport?
With the Olympics and Paralympics televised this summer, I really enjoyed watching all of the summer games. Goalball was a favorite [of mine] to watch at the Paralympics.
What is one thing you wish people knew about swimming?
Swimmers can hear you cheering while they're racing.
What is one piece of advice you can give to student athletes?
Use your resources. Bates academics can be challenging and often hard to do on your own. While I was a student at Bates, I got tutored in math my freshmen year and used the Writing Center a lot. I wish I studied more with my peers and didn't understand the benefits of that until my senior year. Students at Bates are supportive, and helping others out also helps you out too.
What is your favorite Commons meal?
Pad Thai.  But there are a lot of close seconds. It's tough walking into Commons and not filling my plate with everything possible.
What is your favorite place on campus?
I spend a lot of time in Tarbell Pool where it's always bright and 82 degrees but I also enjoy walking through campus with my dog, or winding through the walking paths on a bike with my daughter.
Leave a Comment