The 24 Before with Liam Kelly, Wide Receiver on Bates Football
In almost any sport, it is impossible to mimic the intensity of "game speed" without playing in an actual game against true competition. This could not be truer in football. You could practice as hard and often as you possibly can and never fully simulate the level of controlled violence that you experience in a football game. This has only made the unexpected 22-month offseason that much more difficult for the Bates football team.
While this hiatus from competition has been a rather large inconvenience for players, the team is no stranger to adversity. Facing two unexpected coaching changes in the past four years and being stuck in a transitional period has only tightened the bond between players in the locker room and prepared the team to turn the tides of Bates football.
It would be an understatement to say that this season's home opener is one of, if not the most anticipated game of many players' football career. Following back-to-back victories to close out the 2019 season and the cancelation of the 2020 season, we have all been training with tunnel vision toward the next opportunity to build upon a new era of success.
With the highly anticipated day in sight, as a student-athlete and member of the football team, I decided to chronicle the roughly 24 hours leading up to the game. It has been far too long since any of us have been in the preparations for the rigors of game day. Thus, in sharing my experience, this is an attempt to synthesize the responsibilities student-athletes must tackle leading up to the start of the athletic season:
Friday
10:53 a.m.: Get out of my one and only Friday class, go to lunch and sit with a few teammates.  The only thing we talk about is the opponent – it is clearly evident that we are all highly anticipating tomorrow's game.
11:40 a.m.: Head back to my dorm room and play video games with two of my roommates for a while, which provides a nice, relaxing break before getting to my schoolwork that's due on Saturday. I want to leave my schedule as clear as possible in between tonight's walk through and the game.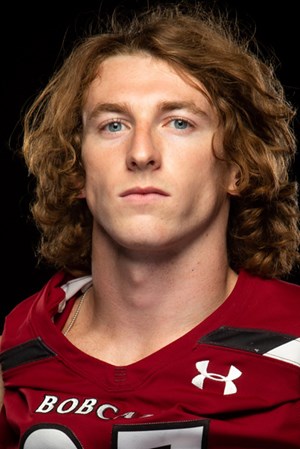 1:10 p.m.: Get to my schoolwork – it is now less than 24 hours before the game and, though anticipation has been high for months now, I'm really starting to feel the adrenaline that comes on game day.
3:19 p.m.: Done with school work – time to head over to the locker room.  It's all football for the next 24 hours!
3:30 p.m.: Came into the locker room to find a quote in my locker, and each of my teammate's lockers. This fires me up; emotions and anticipation has never been higher!
4:30-6:30 p.m.: Go through a walk through in the Gray Cage to make sure we are all sharp on plays for tomorrow. This is followed by a meeting with the offense in the second floor of Commons.
6:40 p.m.: Have a team dinner on the mezzanine in Commons. Highlight: singing "Happy Birthday" to our teammate, Nicky Florio.
7:45 p.m.: Back in my dorm room, hanging out with friends, watching TV and looking through the playbook. 
9:45 p.m.: Lights out.
Saturday – Game Day
7:10 a.m.: I set my alarm for 8:30 but wake up around 7:10 and can't go back to sleep, so listen to music and stretch for about an hour as a way to kill time.
8:40 a.m.: Breakfast with my teammates. Everyone is in their travel suits, we look like a unit and I love it.
9:12 a.m.: In the locker room, listen to music and mentally prepare in the calmness before the storm.
10:07 a.m.: On field for a light run around to get loose. 
11:02 a.m.: Off the field and back to the locker room.
11:26 a.m.: Suited up and ready for war, just waiting on the green light to get back on the field for a pre-game practice!
12:03 p.m.: We take the field by positional group.
12:30 p.m.: Full team returns to the locker room…
12:48 p.m.: Full team takes the field and it's go time!
Post-Game
5:43 p.m.: Game is over. After spending time with my teammates in the locker room, I catch up with family members and friends that were able to come out and support our team. Though spirits are low after the hard fought loss, I am very thankful to those who came out to the game, my teammates for competing the way they did, my coaches for doing their all in preparing us for this day and just being able to play the game of football. Having the opportunity to finally compete again with my teammates only reaffirms the love I have for them all. I cannot wait to go to battle next weekend in Vermont.
Leave a Comment