Bates Football Comes up Short Against Amherst
Like every bachelor party trip to Las Vegas, Miley Cyrus and Liam Hemsworth's marriage, and Demi Lovato's cultural relevancy, all good things must come to an end. After 679 days, Bobcat football suffered its first loss on Saturday. 
Six hundred and seventy-nine days without a loss? How is that possible? Some people might say that the win streak doesn't count due to the entire 2020 season being cancelled by a global pandemic. Those people would be haters. The truth is, heading into Saturday's matchup against Amherst, Bates football had not lost a game in nearly two years after a heartbreaking defeat in the CBB rivalry to Colby back in October 2019. 
Since then, the Bobcats unapologetically eviscerated Bowdoin and pulled off a comeback against Hamilton—a game so legendary the lack of an honorary day off from classes in its memory still defies the imagination. Using whatever momentum was left from those two victories, combined with a month working under new Interim Head Coach Ed Argast, the Bobcats came into the game with hopes of ending a twenty-one-year losing streak against the Mammoths. 
On a beautiful Saturday afternoon, Batesies filled up the Garcelon Field bleachers hoping to watch the Bobcats extend their unbeaten run as post-pandemic life attempts to return to normal. Delta Variant — and Amherst football — be damned. 
The Bobcats' opening drive featured senior quarterback Brendan Costa '22 cashing in his extended NCAA eligibility in hopes of earning a place in Bobcat football history. Costa, who threw for over 1400 yards in 2019, kicked off the 2021 season with two incompletions in Bobcat football's favorite weekly tradition—an opening drive three and out. 
After a 46-yard punt by sophomore Archie Green Jr., Mammoths quarterback Chad Peterson '23 connected with senior wide receivers Joe Masterson and Michael Immerma to put Amherst in scoring position. The Bobcat red zone defense then decided to cosplay as Swiss cheese, letting Kellen Field '22 waltz in for an 8-yard touchdown rush. The Bobcat defense had trouble stifling the Amherst offense, as defensive struggles reared their ugly head once again from a defense that amassed a mere nine sacks last season. 
One barely had time to visit the concession stand before the Mammoths were back on the scoreboard. With Amherst up 14-0 in a matter of minutes, the excitement of the new season had seemingly worn off as a solemn attitude pervaded throughout the once joyous Bobcat faithful. 
It seemed that the Mammoths were preparing to spoil the Bobcats' return to the gridiron in ruthless fashion. 
After the offensive blitzkrieg, the game took on a much slower pace, with both teams trading a series of punts before Amherst was on the march again. As Peterson landed the Mammoths to the red zone for the second time that quarter, the Bobcats' unbeaten streak began to come into doubt. Thankfully, Anthony Costa '22 came up with a clutch interception to deny the Mammoths' chances at another score. 
As the game entered the second quarter, the Bates offense began to wake up. Brendan Costa drove the 'Cats down the field where kicker Simon Redfern '22 put the ball through the uprights for the team's first points in nearly two years.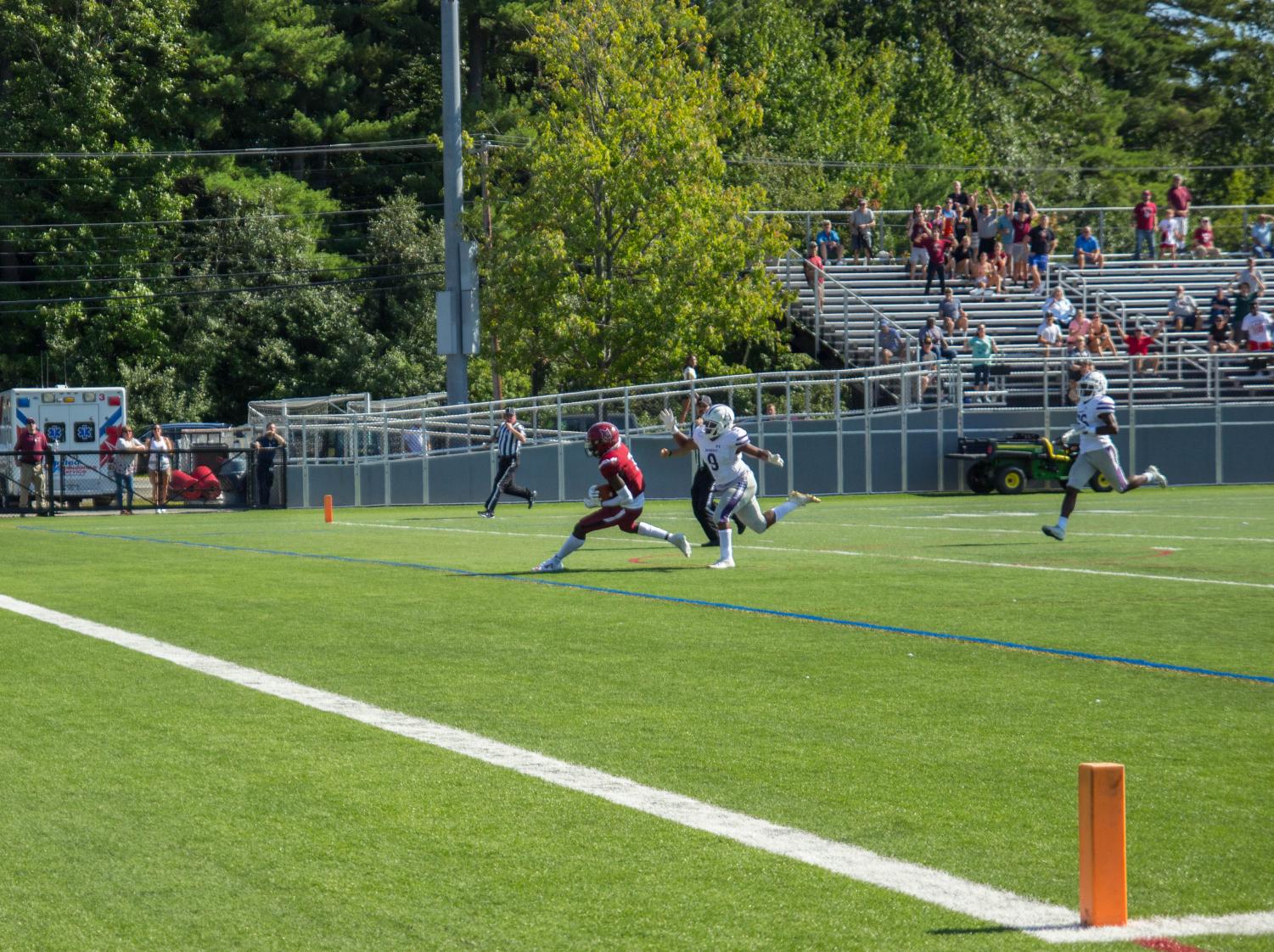 Redfern's field goal would kick off an offensive onslaught by the Bobcats who, after a pair of turnovers by each team, were in the red zone for the third time in the afternoon and were looking to make it count. Brendan Costa linked together a pair of throws and runs to put Bates on the doorstep before finding Sean Bryant '22 in the end zone for the 'Cats first touchdown of the season. 
Momentum was clearly favoring the Bobcats in the waning moments of the first half. Peterson's early success was drowned out by a defensive surge that prevented Amherst from securing a first down in their second consecutive drive. 
Bates took over at their own forty-yard line after a measly 29-yard punt by Michael Mitchel '22, eager to get some more points on the board. After a gutsy call saw the Bobcats convert on fourth down, one could feel that a scoring play was imminent. 
On the very next play, Brendan Costa loaded his arm up like a medieval trebuchet and fired a missile of a pass into the lithosphere that came down from the heavens just in time to fall into Mohamed Diawara's '23 waiting arms for a 49-yard touchdown strike.
Whether it was because of unusually warm 78-degree afternoon in mid-September, the numerous beverages students consumed before kickoff, or the fact that a Division III quarterback just looked like prime John Elway, it didn't matter—Garcelon was louder and rowdier than anywhere in Maine as the Bobcats took a 17-14 lead to halftime, newly invigorated by their second quarter performance.
With spirits at record high as the Bobcats walked back to Garcelon from their locker room in Underhill arena, one thing was apparent: they needed a defensive stop. Unfortunately, getting the Bobcat defense to come up with a clutch defensive effort was much like getting a snail to do calculus—it ain't gonna happen. Peterson marched the Amherst offense right down the field before taking the ball into the end zone himself for a fourteen-play drive that took over five minutes off the clock.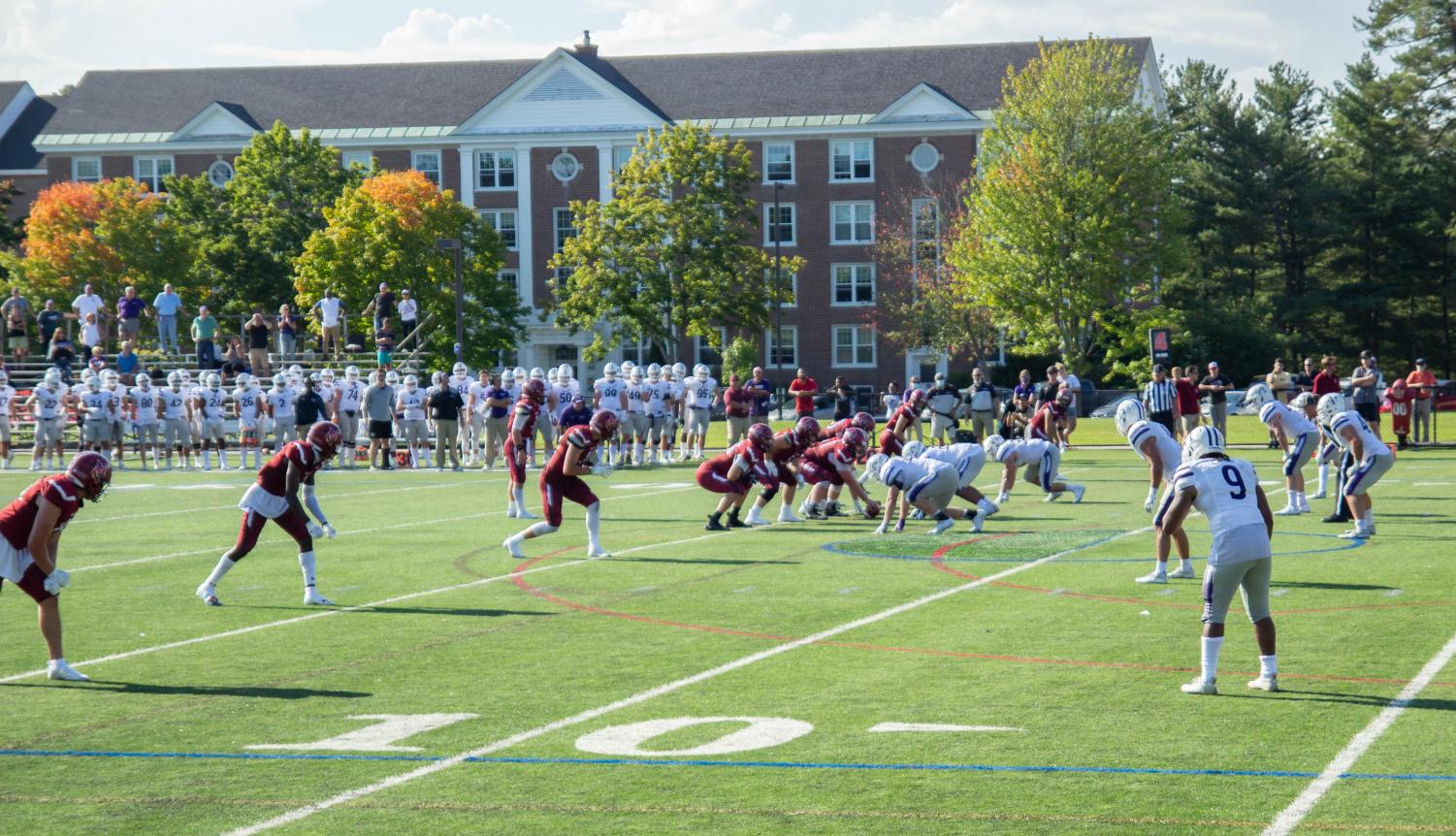 The Bates offense wasn't going down without a fight though, as Costa responded with a long drive of his own that culminated in another field goal by Redfern, making the score 21-20. Bates and Amherst fans held their breath as the game entered the fourth quarter with just one point separating the two teams. 
This was uncharted territory for both squads. Usually, by the fourth quarter of a Bates/Amherst football game, Amherst third stringers are getting in a few practice reps and most of the student section leaves to get a jump on giving each other Mono in an off-campus basement. But this was no ordinary game—the Bobcats and Mammoths were locked in a war that was coming down to the wire and everyone was sticking around to watch the epic conclusion.
Amherst was more than up to the task as Peterson connected with Masterson again for a 32-yard touchdown reception that stunned the capacity crowd of over 1,500 Saturday afternoon. Conor Kennelly '23 converted his fourth PAT on the day to extend Amherst's lead to eight points. While the touchdown was certainly a blow, the game was still within a touchdown and two-point conversion with more than enough time for some late game heroics. 
For a brief moment in time, it looked as if Bates was about to stage yet another epic comeback when Costa drove the Bobcats seventy yards down the field into the red zone with a little over six minutes remaining. However, a series of incompletions from the Amherst nine-yard line and a quarterback scramble placed the Bobcats on the Amherst fifteen on fourth down. 
Costa then tried to find Diawara for his second touchdown of the day, but narrowly missed his target. A deep anxiety overcame the Bobcat faithful as Bates had just six minutes to muster any sort of momentum before their winning streak would come to an end. 
The chances of a Bates comeback were in the hands of the defense as Amherst took over on downs from within their own twenty. Unfortunately, like a 2am "you up?" text, the prayers for a timely defensive stop went unanswered.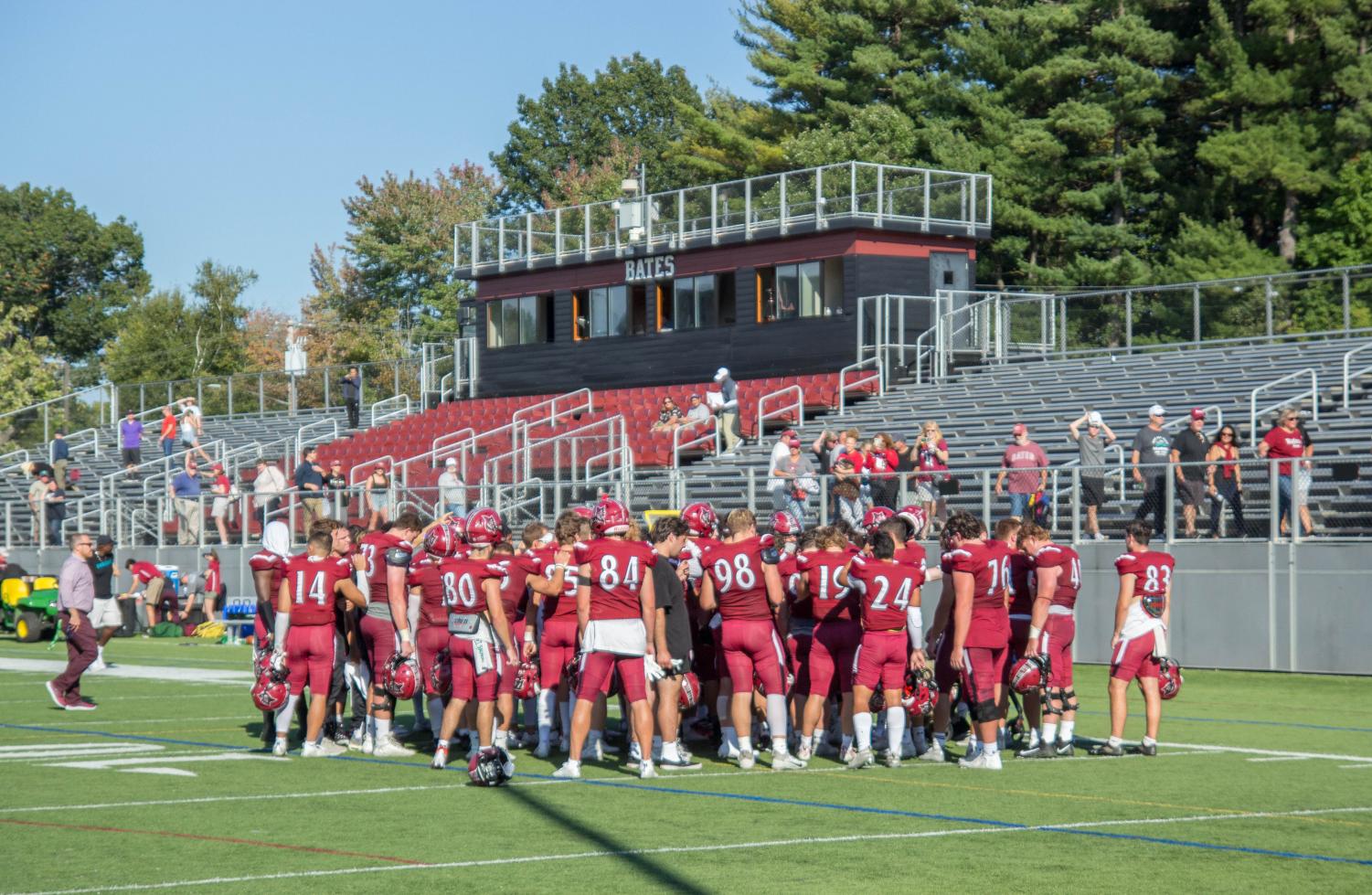 Peterson once again drove Amherst deep into Bates territory, taking precious time off the clock in the process. After Kellen Field rushed to the Bates 22-yard line, Kennelly had a chance to put the game out of reach with a 39-yard field goal attempt. Kennelly's kick sailed through the air, ready to break the hearts of Batesies everywhere; then, as if through divine intervention, the kick veered left and missed wide by a couple feet. Garcelon erupted. The comeback still had a chance. The win streak was, if only for a few more minutes, still alive. 
The Bobcats took over on downs deep in their own half with just over a minute left—plenty of time for a Lewiston miracle. Brendan Costa completed two first down passes to bring the Bobcats to midfield with just under a minute left in regulation. Then, just when the stakes couldn't possibly get any higher, the Bobcat offense simply ran out of gas. 
Costa was sacked for a loss of four yards before following it up with two incompletions. Finally, on fourth and fourteen, Costa found Sean Bryant '22 but came up just short as Amherst retook possession to seal the Bobcat defeat. 
Despite a new head coach, a roster plagued by injuries, and the absence of a single win in twenty years against Amherst, this game felt uniquely competitive. The Bobcats did not show up for the sake of it, they actually came out and competed against one of the more superior football programs in the conference.
This level of competition is a welcomed change of pace from a football team that failed to win a single game for nearly two seasons. While the winning streak may have come to an end, the competitive spirit of the Bobcats is sure to endure for many weeks to come. 
The Bobcats look to get their first win of the season as they play Middlebury in the road opener on Saturday, September 25 at 1:00 p.m. in Vermont. While the losing streak to Amherst endures, now at 21 consecutive losses, the Bobcats will hope to begin a new winning streak and get back to their pre-pandemic successes in a post-pandemic world.
Leave a Comment