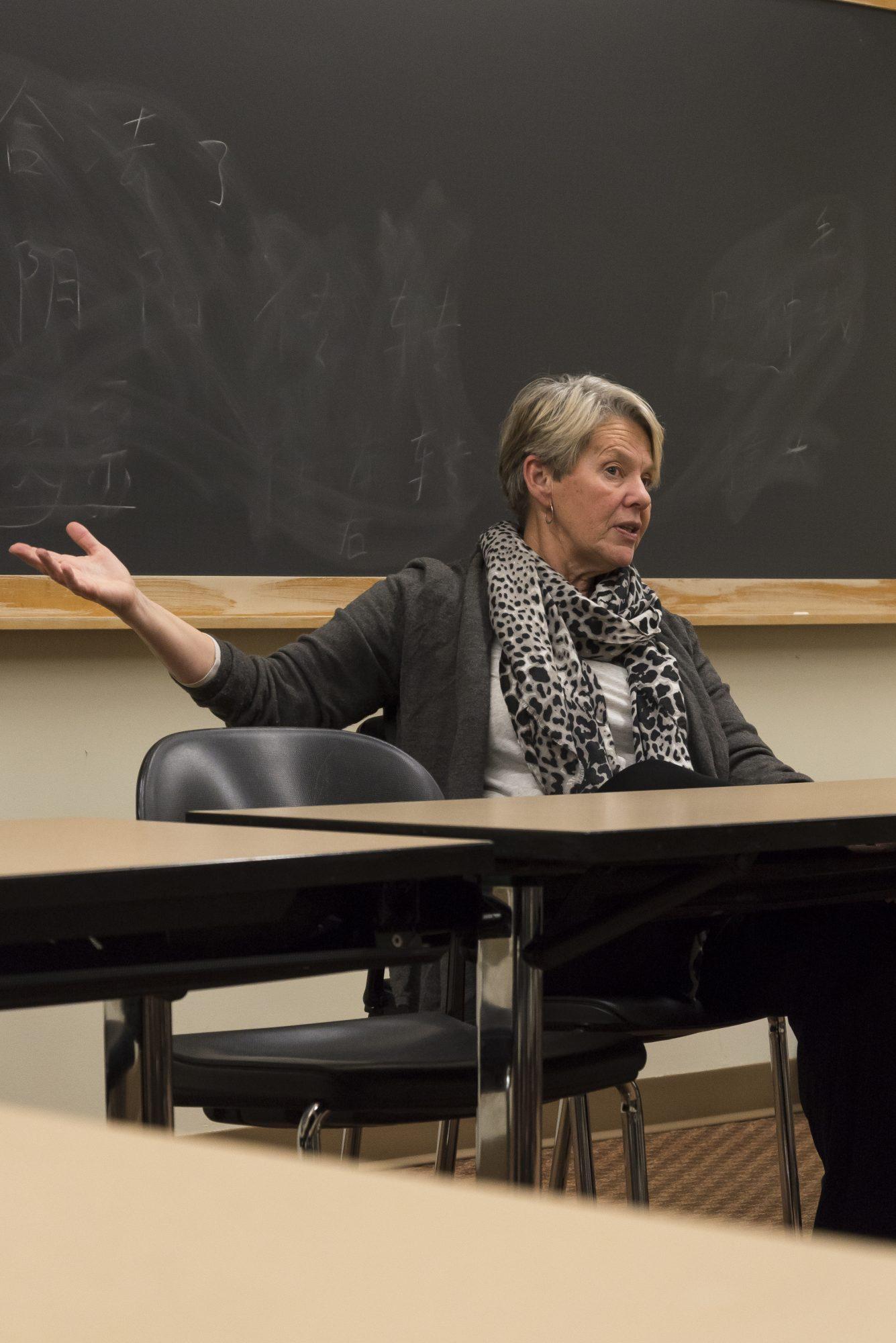 On Wednesday, Oct. 30, the Bates Democrats hosted a conversation with Betsy Sweet, a candidate running against United States Senator from Maine, Susan Collins, in the 2020 election.
The event was an opportunity to hear not only about Sweet's policy proposals and goals, but also her personal stories and experiences. For over three decades, Sweet has been an advocate at the Maine Statehouse, driven by her goal to help other people and have a positive impact on the world.
"Ever since I was in college, the only career goal that I had was to make a difference in the world somehow. I grew up as the youngest of five kids and my dad always said to us, 'Make sure you leave a place better than you found it.' He meant make the bed and sweep the floor, but I thought he meant change the world – permission, I got permission!" Sweet explained.
Before answering questions from Bates students, Sweet told the group about her background and what she would bring to the table as a senator for Maine.
She began her career knocking on doors for the Equal Rights Amendment in 1978. She then became involved in women's peace organizations and moved to Maine to work for the Maine Women's Lobby.
Since then, Sweet's mission at the statehouse has been to expand democracy, which is what motivates her to run in this election as well. In 1996, she helped write a bill to create clean elections in Maine through a public financing system that takes corporate money and influence out of politics. Maine is one of two states that currently has this policy, and Betsy Sweet hopes to take it to the federal level.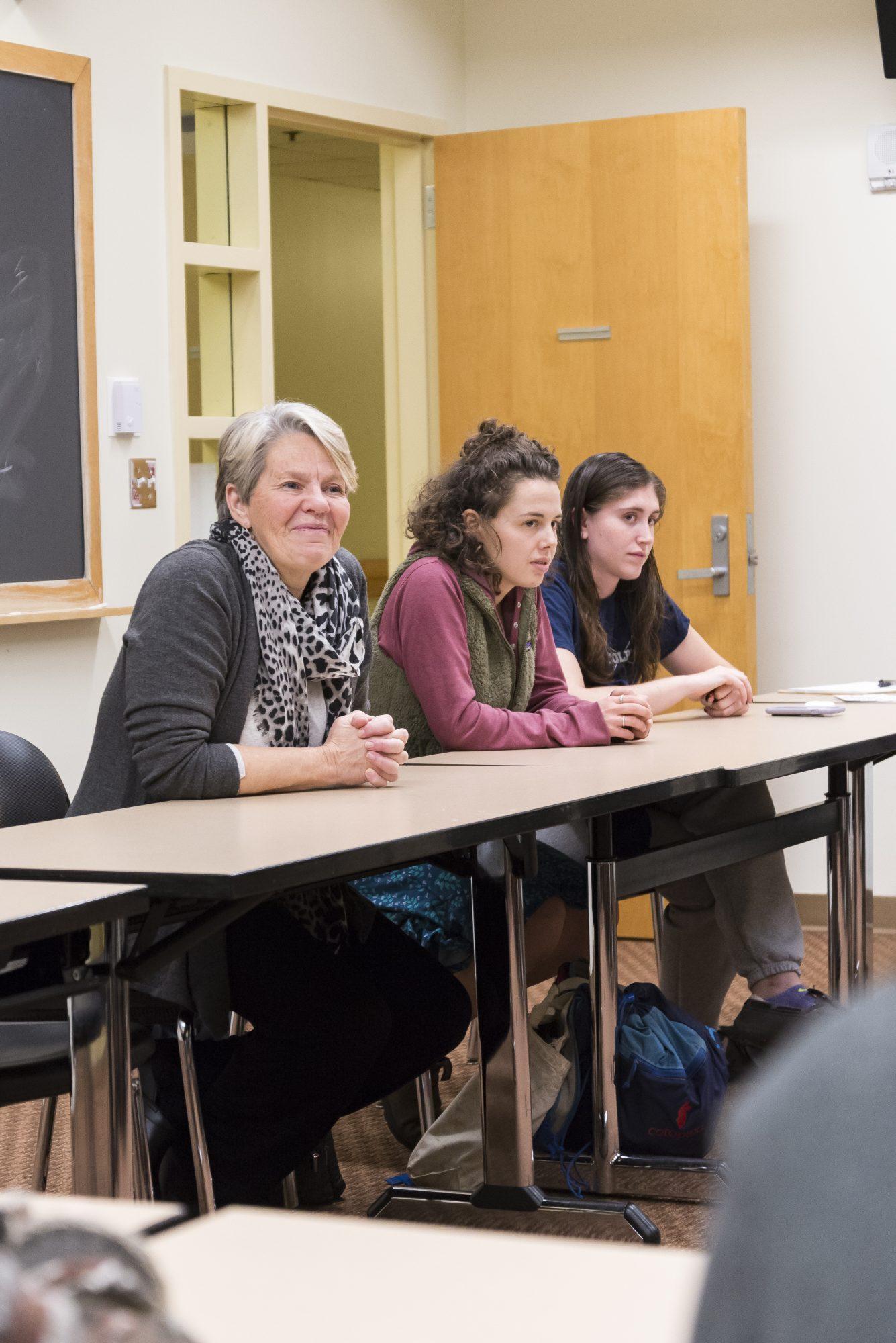 Sweet believes that money in politics is one of the biggest threats to our democracy at the moment.
"It's like we don't have elections anymore," she said. "We have auctions. Who's the highest bidder? I can guarantee you that the highest bidder is not us. It's the people who want to protect their interests and their profits… Right now, we give twenty billion dollars a year to fossil fuel companies and subsidies instead of alleviating student debt, finding healthcare, or fixing climate change. No, we're giving twenty billion dollars to companies that are killing us. Something is wrong."
She argues that the hours and effort dedicated to donations change who you are and what you think about as a politician.
One of the proposals that Sweet's campaign recently put forward is a constitutional amendment aimed to help fix what Sweet views as a broken system. The amendment would overturn the Citizens United court case, create a model for clean elections on the federal level, and limit campaigning seasons to twelve weeks. Sweet is shocked by the amount of money that even her own race for senate will cost.
"They're saying that this race for Maine senate is going to cost 100 to 150 million dollars!" she exclaimed, "We only have 1.2 million people in this state and a lot of them are kids. That's obscene to me. Think of what we could do with 150 million dollars in Maine… we could eliminate student debt, we could get healthcare, we could fix our roads, we could do so much. We could feed hungry kids, we could have daycare."
After providing a description about herself and what she is fighting for, Sweet gave Bates students an opportunity to ask questions. Sweet clarified her stances on various hot-button issues and also shared stories from constituents that helped inform her points of view.
For example, when asked about gun safety, Sweet told us about her friend's son whose decision about where to apply to college depended on the likelihood of a mass shooting. He ultimately did not apply to his first choice school because he could imagine a mass shooting occurring there. Sweet talked about how sad it makes her that the fear of gun violence runs so deep within our generation that it affects our life choices.
In addition, when asked about healthcare, Sweet spoke about a woman she met who had recently received a cancer diagnosis. Even though treatment was available and presented a significant chance of improving her prognosis, the woman decided not to go through with the treatment because she refused to spend the rest of her days fighting with insurance companies and worrying about paying copays or prescriptions.
According to Sweet, she sees herself to be in a "sweet spot" in the 2020 election because she does not have ties to a network of donors or interest groups. She has not yet held elected office, but she has played an integral role in passing legislation and worked with both sides of the aisle. The Democratic Primary for this Senate race will be held on June 9, 2020.