Every day at Bates, close to half of the student population has to juggle the commitments of a varsity sports team in addition to their academic obligations. These student-athletes must foster great time management skills in order to balance homework and studying with practices, games, and hosting recruits. Their ability to use their time so efficiently should be commended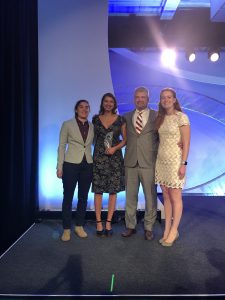 Given annually since 1991, the NCAA Woman of the Year award honors graduating female student-athletes who have excelled in the classroom, in their athletic endeavors, in service, and in leadership.
This summer, Amelia Wilhelm '18 learned that she was one of thirty nominees and the first Bobcat to be nominated by the NESCAC since 2010. Wilhelm was an enthusiastic member of the Bates Rowing team throughout her four years at Bates and contributed to three NCAA Division III Rowing Championships.
She was also a passionate chemistry student with a desire to help others learn. From working as a peer tutor in the Acedemic Resource Commons (ARC) and helping out as a teacher's assistant in Lewiston, to leading admissions tours and supporting underclassmen as a Junior Advisor and Residence Coordinator, Wilhelm's generosity and love of teaching saw no end.
Amelia credits her teammates and her coach's philosophy of "making good people better" in large part for encouraging her to engage with others in this way.
"Being a student-athlete surrounded by women who are driven and relentless both on and off the water has inspired me to leave an impact on the team, the Bates community, and the Lewiston community in my own unique way," she explained.
Amelia believes that every member of the rowing team, from the senior class who graduated before she arrived to her peers in the Class of 2018, played a significant role in giving her an example to follow as well as pushing her to forge her own path.
Head rowing coach Peter Steenstra was not at all surprised when Wilhelm was nominated for the NCAA's Woman of the Year award.
"Amelia is a very dedicated person in everything she does, whether it be academic, athletic or out in the community," he said.
He believes she contributed to the team not only through her hard work as an athlete but also through her positive influence.
"She's the kind of athlete every coach wants on their team because, in addition to making their own improvements, they make their teammates better as well," Steenstra added.
After being selected as one of the nine finalists in September, Wilhelm attended a ceremony in Indianapolis on Oct. 28th. Before this ceremony, all thirty honorees participated in a number of programs and panels aimed at empowering female athletes.
Speakers presented on Title IX as well as NCAA programs for inclusivity. The athletes also spoke to young girls in the community about playing sports in college.
"I loved hearing about their stories and their dreams to play soccer or volleyball or track and field–no prospective rowers, although I tried to explain the sport–in college, and I believe that these organizations are doing great work to supply those girls with the resources to fulfill those dreams!" Amelia said.
Although Keturah Orji, a track and field athlete from the University of Georgia, ultimately took home the award, both those in attendance and those cheering Amelia on from Bates' campus were extremely proud of her accomplishments and the well-deserved recognition.
"I've really felt loved and appreciated throughout this whole process, and I hope that I am reminding everyone else around me that I love and appreciate them because there's no way I would be who I am today without the support of my friends, teammates, teachers, and even friends' parents!" Amelia commented after the ceremony. Bates is a very special place in that it allows students to pursue multiple interests and have a genuine commitment to each of them. Amelia Wilhelm '18 is a great example of someone who made the most out of her Bates experience, diving into all aspects of campus life.