Bates Re-envisions Sports Medicine
It is hard not to notice some of the changes in the sports medicine department at Bates this year: new faces, new techniques and an explosion of activity evident to all who pass by the trainer's room in Merrill.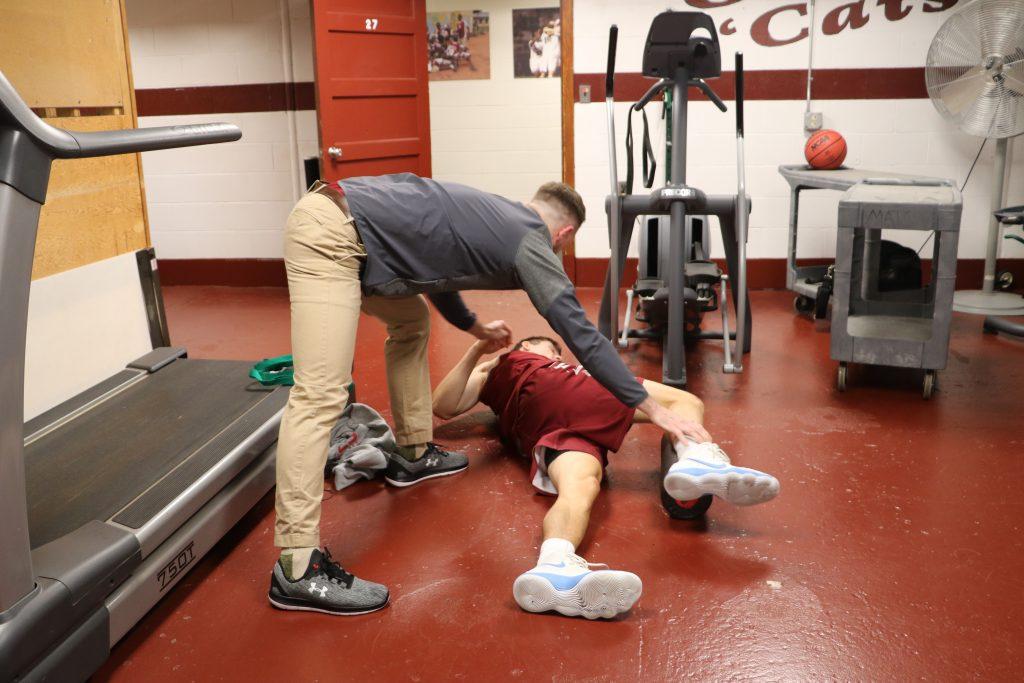 This year marks a new beginning for sports medicine at Bates. With only one returning and four new staff members, the core of the program has gone through a major shift in just the past few months alone.
Last summer, Bates athletics decided to strengthen the sports medicine department at Bates by expanding the staff from four to six total members–which they are still in the process of doing–and elevating the position of head athletic trainer, now Nick Cooke, to the Assistant Athletic Director for Athletic Performance.
Cooke is a Maine native who received his masters degree in athletic training from Purdue University. He spent the past ten years working at Hobart and William Smith Colleges, first as an assistant athletic trainer and then as the head athletic trainer, a position which he held for seven years.
"I'm excited to be a part of [the] building process," Cooke said. "Looking around, there's a lot of new faces in athletics at Bates, I'm not alone, and I brought a lot of new faces with me here to sports medicine but I think all of [these new people] come with the same mindset of 'let's provide a great student service, let's be able to do our jobs with the student-athletes in mind, and try to help enhance that experience, so we can enhance all of our teams.'"
In order to better serve athletes at Bates, Cooke explained that morning hours for the training room in Merril have been expanded to better fit the schedules of student-athletes recovering from injuries. Additionally, he has worked to help incorporate physical training exercises into the routines of recovering athletes; the evidence of this can often be seen as student-athletes perform seemingly odd tasks in the hallway of Merrill.
"Bates has a good foundation," Cooke said. 'Their direction and ideas in athletics right now is really to build a much wider platform where the students are at the center."
Cooke stated that they will focus on three approaches: prevention, evaluation and rehabilitation.
"Essentially the way that I approach sports medicine is: let's take anything that might be a small issue and make it go away before it's a big issue," Cooke said. "And then we prevent that major issue that causes student-athletes to miss significant time…If somebody needs treatment, we want to be able to address that as promptly as we can and really get to work on it right away."
Part of his plan to better support student-athletes is to hire student workers. These student workers will help perform some of the most basic tasks that athletic trainers are responsible for, such as setups for games, managing water coolers and ice for team practices, allowing the trainers to focus on more specialized tasks with individual athletes. In the future however, Cooke hopes to be able to teach students other useful skills, such as wrapping.
"In sports medicine, we are fortunate to be able to reach a wide range [of student-athletes]," Cooke said. "Having students to help support us and what we're doing can be very valuable and also provide an opportunity to those students to see sports medicine from a different angle."
Overall, in the long run, Cooke hope to be able to build Bates' sports medicine program to be a model for other similar institutions.
"That ceiling's really high," he said. "I know we're not even close to it approaching yet, but I look to the future and say, alright, these are some things we can already make some improvements on and these are improvements we can make for next semester, next year and the years after that. My job is to look out and to say, how can we turn this program into this high functioning program that, quite frankly gets looked at as a model for other programs. That's my end goal."