Time Management for Athletes: Advice for Balancing Athletics and Academic Work
The essential skill of balancing many facets of life in harmony is referred to as "time management." For the majority of college students, time management proves to be a difficult and stressful task. Balancing friends, significant relationships, schoolwork, class time, and extracurricular activities can often feel challenging, if not impossible.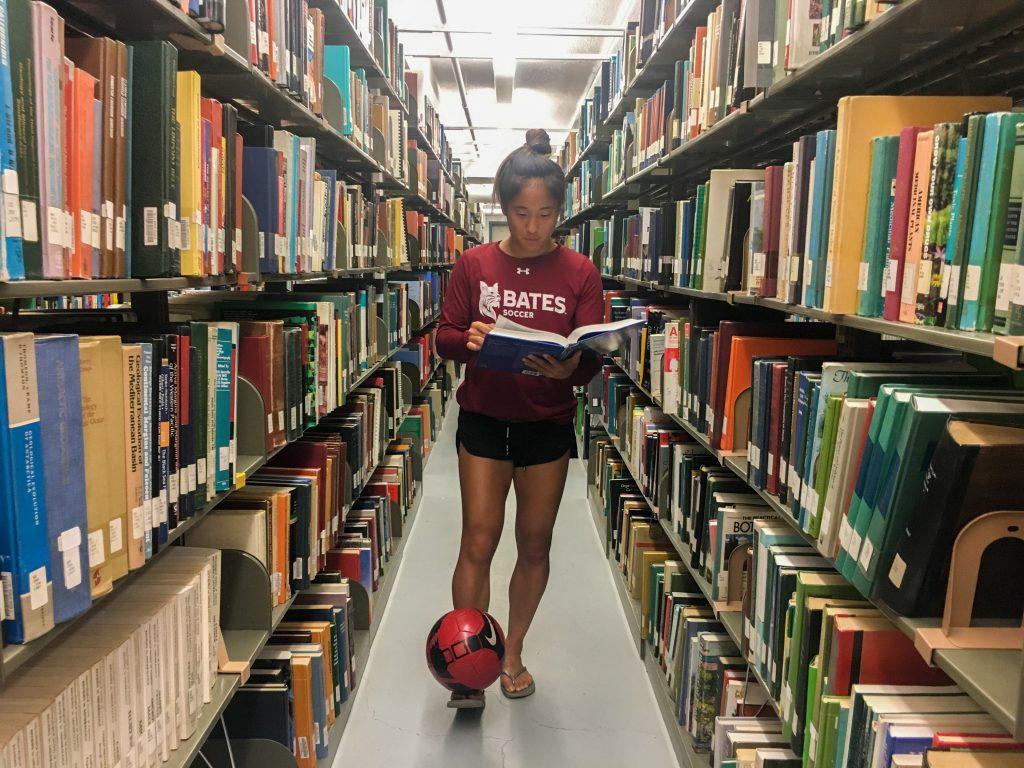 The prospect of adding a collegiate varsity sport to that collection of responsibilities may seem rather inconceivable to many. However, despite there being only 24 hours in a day, many Bates student-athletes find ways to make it work.
In a small college of 1,800 undergraduate students, more than half of the Bates student population participates in a sport in some capacity, while more than 30 percent play a varsity sport. Although time management can be harder for those who play sports, many Bates student-athletes have figured out beneficial strategies to grapple with the problem.
"It can sometimes be hard to manage sports and academics, especially with the practices and meets being such a big time commitment," said Loren Andrews '22, a member of the varsity cross country and track teams. "Over the years, however, I've come to appreciate this structured schedule. It's really helped me to learn how to budget my time better, and to work more efficiently."
Student President and football captain Walt Washington '19 spoke about the importance of priority in terms of managing time. "What's due tomorrow should be done way before what's due Friday," said Walt Washington. "And that may seem a bit too commonsensical, but when we get overwhelmed we try to overcompensate for everything we have due, and the best way to attack is to take care of everything in order of proximity."
Washington also highlighted the importance of taking breaks during busy days. "Whether it's 30 minutes playing a video game or watching a funny video on YouTube or scrolling through Twitter or reading political news," said Washington. "Whatever you like to do, take a second and do that and your mind will thank you later on throughout the day when you're feeling as if you have no time to yourself."
Pieter Cory '22, a member of the men's swim team, said, "While this balance of a required education and optional activity has been nothing short of challenging, the rewards and satisfaction that come as achievement in both aspects are simply incredible." Although swimming is a winter sport, training sessions began the very first week of classes. Like swimming, many single season athletes train year-round for their sport.
Strategies such as prioritization and relaxation help athletes cope with stress that comes with time management on a daily basis. "There is one secret to student-athlete success—time management," said varsity golf member Julien Lewin '20. "I have been able to be successful in both academics and athletics because I prioritize my schedule. My philosophy to an efficient and effective lifestyle is a work-life balance."
Varsity golf team member Preston Haugh '21 has a slightly different viewpoint. "My biggest time management tactic is incrementally doing my work, so I am not stuck with a massive workload at any given time. I have more time to do the things I enjoy, such as competing on the course and socializing with my buddies."
At Bates, students pride themselves in being well rounded individuals. Whether on the court, course, pool, or field, student-athletes understand the importance of success in the classroom. Bates student-athletes have set the precedent for efficient time management. The Bates community can benefit from the various strategies that Bates athletes implement on a daily basis to effectively time manage.