This Saturday, Sept. 15, the Bates women's cross-country team competed in what may very well be the most fantastically named dual-meet in the history of the sport. Running at Pineland Farms in New Gloucester, Maine, the Bobcats went head-to-head in a 5K against Tufts to see how both teams stood at the beginning of their seasons.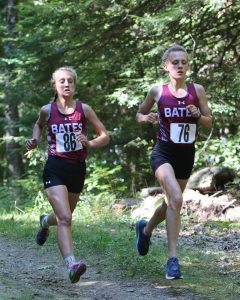 The weather was warm and humid, and the course is famous in the NESCAC for its winding trails and challenging hills, so the race proved to be a testament to the strength and fortitude of these tough runners.
After a tremendous effort from the Bobcats, Bates unfortunately found itself edged out by Tufts in the final score. In this particular meet, the race was scored ten runners deep on each team, resulting in a higher than average score of Tufts 91, Bates 119 (in cross-country, the lowest score wins). Had the "Super XC Shootout" been scored to the conventional depth of five runners per team, with the sixth and seventh finishers serving as displacers, the score would have been Tufts 25, Bates 32.
The ten placers on the Bates team, in finishing order, were Katie Barker '19 in 2nd (18:08), Olivia LaMarche '20 in 4th (19:01), Abby Hamilton '21 in 5th (19:07), Sarah Rothman '19 in 9th (19:23), Tara Ellard '22 in 12th (19:42), Vanessa Paolella '21 in 13th (19:44), Wendy Memishian '19 in 17th (19:54), Ayden Eickhoff '19 in 18th (20:01), Hannah Austin '19 in 19th (20:02), and Loren Andrews '22 in 20th (20:15). All of these runners had extremely solid showings, as did the rest of the Bates team.
Yet despite missing out on a win, the meet was still quite positive for Bates women's cross country. The score was considerably close, even when measured ten deep, which shows the fine depth that the team has at its disposal — this depth means that the team is strong throughout, with individual racers all having the potential to contribute to excellent performances in the future. In addition, the aforementioned tough course conditions did not prevent the Bobcats from putting forward a commendable performance, with the entire team displaying determination and a competitive spirit that should continue to help them as the season progresses. As Hannah Austin '19 put it, "Everyone worked together, and a lot of people have already improved this year… Even though we didn't beat Tufts, I feel like it was a really solid day for everybody."
Perhaps most importantly, this Saturday's meet was the first opportunity for the first-year Bobcats to compete on their home course of Pineland Farms. While the race may not have been perfect, it was certainly a beneficial experience for these new Bates runners, setting them up for many more efforts in the program. First-year Mary Cocoran commented that the meet was "challenging but fun," and her fellow first-year teammate Meg O'Brien agreed that "it was difficult but also rewarding."