Isuken Food Truck Drives New 'Commensality' to Lewiston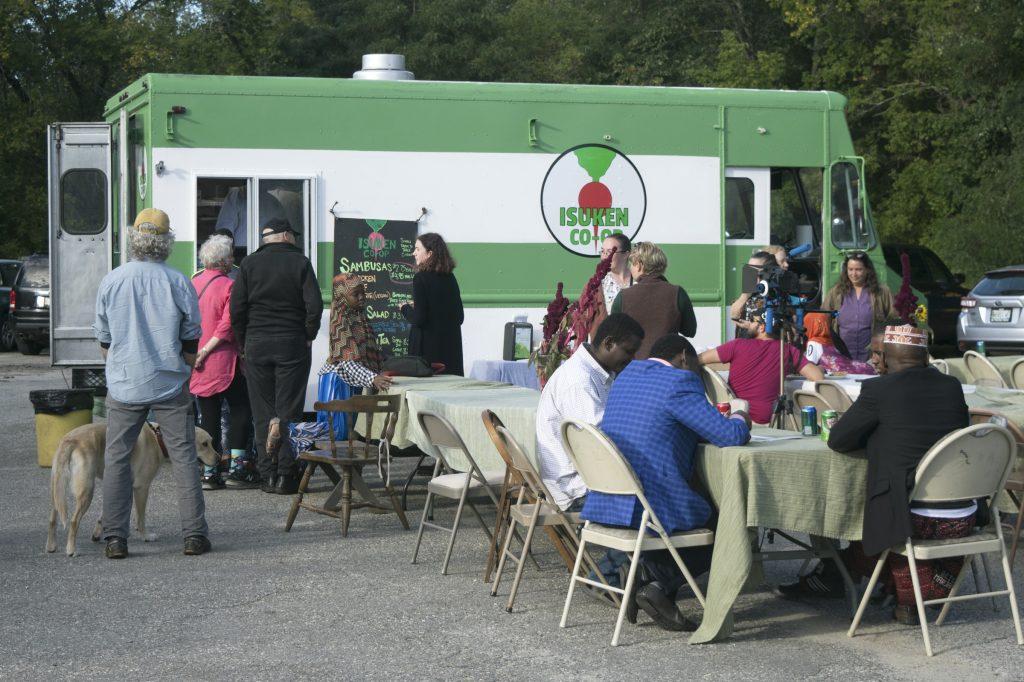 On Sept. 20, 2018, the Isuken Co-op Food Truck held its much-anticipated grand opening on 966 Sabattus Street in Lewiston, where it shares a space with New Roots, a local Somali Bantu farm stand.
After two years of planning, the Isuken Food Truck is the first ever Somali Bantu farm-to-fork food truck in the US. According to its website, Isuken means "unity and together" and is a fitting title for the five-member cooperative, as its members are all equally involved in making decisions, sharing responsibilities and sharing the rewards of the business.
On the day of the grand opening, the food truck was bustling with activity. Jonah Fertig-Burd, the director of Cooperative Food Systems at the Cooperative Development Institute, came to enjoy food with his family.
"I've been working and providing support to Isuken Co-op as they've developed over the past two years," said Fertig-Burd. "[I've been] helping them form their co-op, develop a business plan, explore what their market is, and what they want to do as a co-op. And after that, I helped them raise funds, get the food truck—so really just kind of providing support and training on the way."
His recommendation from the menu? "Sambusas." He went into further detail: "I like the beef sambusa a lot, but all of the sambusas are good…Sambusas are going to be a big winner. It's a good food truck item."
Also attending the opening was Professor Elizabeth Eames from Bates' Anthropology Department. Last year, two of her classes collaborated with the Isuken Cooperative in its preliminary stages, providing consulting and film footage of the business process.
As with most small businesses, the road to accomplishing the end goal had its unanticipated hardships. Professor Eames explained, "Last year in the Comparative Economic senior seminar… we worked with this group when they were thinking of creating a farm-to-table restaurant in town. But then, meanwhile, the space they had picked out for themselves got sold out from under them and so they invented this idea of creating a food truck instead, which seems brilliant."
For Professor Eames, the opening of the food truck has a significant impact in terms of the wider community. "It brings people together to celebrate the bounty of the land and the community itself, to share conversations with people you know and don't know. Anthropologists call it 'commensality,' where you eat together, and eating together forms bonds. So, throw that word 'commensality' in there if you want," she said.
One student from her Comparative Economic seminar, Keenan Shields '18, shared his experience working with Isuken: "We did a number of small, informal consulting-like things. My group researched different locations that they could potentially go to, and researched some of the licensing and permit stuff that they would need. There was another group that did publicity, and another group that did menu and aesthetic research."
Finally, I had the chance to speak with Mohamed Dekow, one of the founders of the Isuken Cooperative, about what initially sparked the inspiration for the food truck. "A number of community leaders, including myself, came together. We understood the gaps and the need of the communities [of Lisbon and Lewiston]. This here," Dekow said, gesturing to the food truck and surrounding area, "is a piece of what was missing from the community."
According to Dekow, "The biggest challenge to start this was the community displacement and the complaints of the barriers of language—the fears 'We don't know the language' and 'We're afraid that this won't happen,' and until we found CDI, Cooperative Development Institute, we didn't know as leaders exactly what to do with the right elements to form the co-op."
In the future, Isuken plans to cater over the winter and attend events throughout the summer and fall. When asked about working with Bates, he replied, "We are looking forward to working with Bates College, of course, because it was one of the tools that we used, because they've been filming all of this, they showed great support through the Kickstarter and [helped us] gain the $14,000."
Before returning to eat with friends and family, Dekow shared what one of the most rewarding parts of his experience has been. "Really, we are one of the community. And we live in a place where it has been accomplished," he said. "We took the responsibility of understanding that we are one of the community, and we are taking our responsibility to keep the accomplishments of existing in this city and to provide an example for others to see what has been done."