A New Wave in Off-Campus Activity
When you think of the surf lifestyle, the Northeast—and Maine—probably is not the first thing you think of. However, surfing at Bates has a substantial following and is only growing.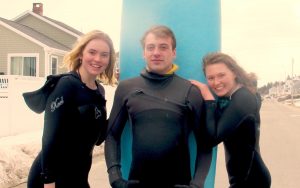 "It is definitely more popular than I thought it would be," Andy Karr '21 said. "I think a lot of people come from places where they didn't necessarily have the opportunity to surf, but they have the skills to surf from other activities they do, like skiing."
"Higgins is kind of the Bates hub for surfing," he continued. "It's only 45 minutes from campus, and it has some very accessible waves. They are more of a mushy wave, but they can barrel when they get bigger, and the beach is pretty open to swells."
Of the many avenues to go down to learn to surf at Bates, the first is through the Outing Club.
"Last year when I went to the first Outing Club meeting, I immediately got a great energy from the people leading surf trips," Talia Sperduto '21 said. "I talked to Eli Nixon and he was really excited to get some first years out to the beach."
However, because of how the swells form in Maine, in the winter the waves are bigger and just too challenging for beginners. If one does not start to learn to surf right at the beginning of the year, another opportunity might not present itself until the spring.
Generally, the Outing Club usually sponsors larger trips.
"Last fall break the outing club did a surfing trip to Nova Scotia. We had three vans and about 30 people. The trip was a total success and a bunch of us came back having caught upwards of 20 tubular waves. It was a blast!" Domi Frideger '21 said. "Before coming to Bates, I didn't know I would be surfing so much, but the breaks here can actually start firing and do so on a regular basis. The biggest problem with the surfing here is turning into an ice cube when the water is only a couple degrees above freezing. When you catch that perfect wave though, it's all worth it. Shacka!"
The Outing Club also has resources for people who want to go surfing by themselves, whether that be boards and wetsuits or just other people who want to surf. However, one thing that the Outing Club is lacking in is instruction. That is where another avenue comes in.
The Bates surfing community is rather evenly distributed with very experienced surfers and complete beginners. A large part of the growth in surfing at Bates come from some more experienced surfers taking their friends out and teaching them. Karr is a large part of that community.
"He provided a pretty unique experience for me and my friends as in he kind of became a mentor to me, but he also showed me a whole different side of myself that I didn't really know before I started to surf," Sperduto said. "I also love just getting in the car without homework, for pretty much a day or five hours. Focusing on one thing and nothing else is a really beautiful thing. When I'm surfing, I'm just focused on getting the wave and feeling the ocean around me."
Looking ahead, Karr and Sperduto hope to keep bringing their friends along.
"If there is a three to four foot swell and I have a free afternoon, I'll definitely go surf. But if there is a really good wave coming I will do almost whatever I can to get out there," Karr said.
Karr also hopes to start surfing some bigger waves this year. "Maine has the best big wave potential of anywhere in the East Coast because of the deeper water," he said. "My goal this winter is to surf some of the biggest waves in Maine."
As for Bates, maybe there is the possibility of a surfing club in the near future. Either way, surfing at Bates is a fantastic way to build relationships and explore Maine.