On Sept. 28, in the historic Alumni Gym at Bates, the Middlebury Panthers (7-2, 1-1 NESCAC) took on the Bates Bobcats (5-3, 1-2 NESCAC) in a primetime matchup. Both teams have prolific histories and are contenders for the NESCAC Championship this year.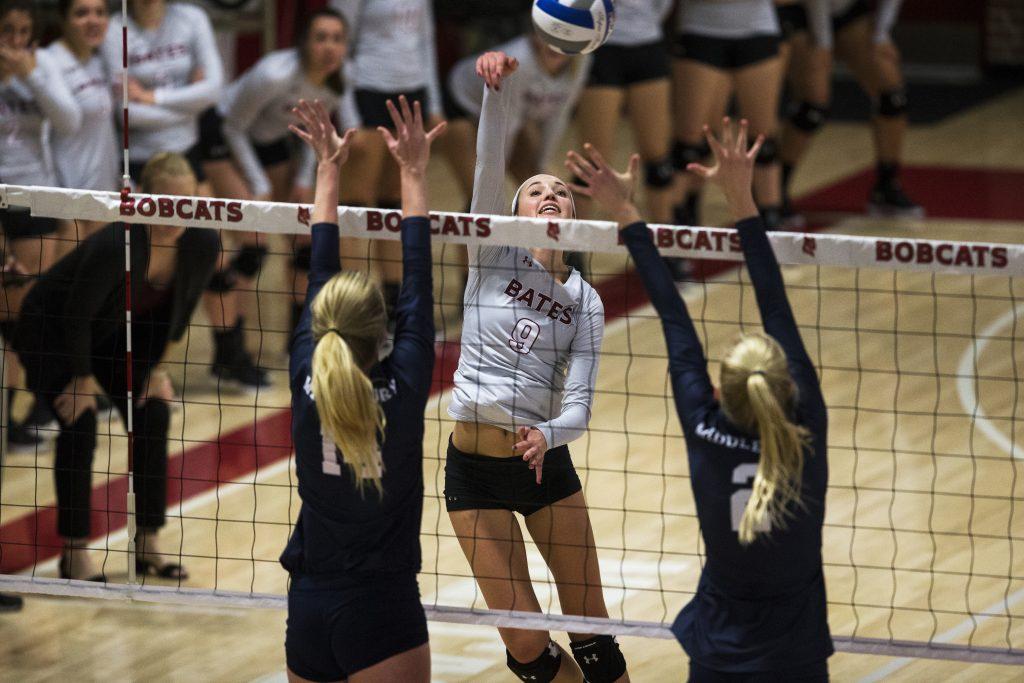 At the start, the game was dead even at 15-15 before the Panthers were able to score a couple points in a row and take the first set 25-20. In this set, Taylor Stafford-Smith's '20 high flying kills combined with teammate Gabi Eustache's '20 miraculous diving digs brought lots of excitement to the game. In addition, team captain Julia Panepinto '20 brought her energy to the game with some impressive assists.
Sydney Phillips '22 and Ruby Lightbourn '21 added versatility to the Bates attack. Angel Echipue '21 had some beautiful serves in the first set, some of which amounted to aces. She, along with teammate Stafford-Smith, formed a brick wall at the net to hold off a strong Middlebury offense.
Sets two and three did not go as well for the Bobcats. The team struggled to maintain their chemistry and composure as the Panthers seemed to take full advantage. Middlebury went on huge scoring runs with powerful kills and incredible blocks that proved too much for the Bobcats to handle.
After the game, Bates Volleyball Head Coach Melissa DeRan shared her thoughts on how the team can continue to improve moving forward. She explained that "it's certainly been a difficult year so far in terms of injuries. But, we continue to put our heads down and rely on the next woman to step up. Once we are able to be healthy and practice the way we want to, our season is going to really take off."
"Each year we progress and each year our goals get loftier," she continued. "We have a group of very committed young women who work extremely hard for each other. They have created a very strong culture; now we just need to continue to work on the nuances of the game and the pieces will start to fall in place for us."
Panepinto explained that "as a junior on the team, it's exciting to see how much the program has grown. Each year we gain more dedicated, gritty, talented women that have only made us better. I love every one of my teammates and with some hard work this week, we are going to get some NESCAC wins. We will be a late-blooming team and the second half of the season has just begun."
Sydney Phillips '22 explained that "[I] love spending time with the girls on and off the court. I'm having lots of fun playing with them and I expect us to get better and better as the season goes on."
As players recover from injuries, with the newly added talent this year, the Bates Women's Volleyball Team will be a team to look out for in the NESCAC, especially down the stretch as playoffs approach and the stakes are raised.