Alumni Update: Julia Rafferty '14
While many student-athletes at Bates graduate ready to leave behind the hectic schedule of a student-athlete, Julia Rafferty '14 had no such intention. Now, more than four years after graduation, Rafferty continues to structure her life around the collegiate-athlete schedule, but this time as an assistant coach for the women's soccer team at Tufts University.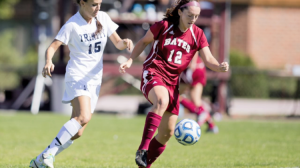 While she was at Bates, Rafferty majored in psychology and wrote her thesis on sports psychology. She was a four-year starter on the women's soccer team and a two-year member and starter on the women's basketball team during her junior and senior years.
"Raff didn't care about the score of a game, because it was always 0-0 in her mind," head soccer coach Kelsy Ross said. "Her unwavering competitiveness was the equalizer when matching-up against more talented opponents."
Rafferty knew for a long time that after graduation she would like to continue to be involved in athletics as a coach. To make her dream a reality, Rafferty pursued coaching jobs, even driving more than ten hours the day after graduation to interview and eventually land a part-time job as the University of Mary Washington's assistant soccer coach in 2014.
Less than a year later, she found out that Tufts University was searching for an assistant coach for their women's soccer team. After talking with the head coach, Martha Whiting, Rafferty said they just clicked. She now finds herself in the midst of her fourth season as an assistant coach and her third year as the Assistant Director of Compliance at Tufts.
There were many challenges that Rafferty knew she would face as a collegiate coach: late nights, long hours and multiple jobs to name a few. One thing she did not expect was how the transition from player to coach would affect how she approached getting everyone to buy in.
"As a player I would never ask something of one of my teammates that I wasn't willing to do myself," she said. "I would try to be the hardest worker out there and then it made me feel comfortable asking someone else to work harder. In coaching, you can't just go out there and crush sprints as your way of proving yourself. So for me, the hardest thing was finding ways to show them that I'm bought in and I'm working hard, just to show that this is something you really care about and are really passionate about, without exerting physical effort."
Rafferty said that her time at Bates as a captain of the soccer and basketball teams was the best preparation she had for tackling this personal dilemma.
"I was a captain going into my junior year, so since sophomore year on I was trying to work on improving our team culture, working with our coaches and my teammates. There were a lot of challenges in that, there was some push back, there were some great moments where I found success, so going through that so early on helped me start to realize what works, what doesn't work, what makes people tick and how to deal with different types of players who have a different mindset than you."
"I think that is the great challenge of coaching, how to get as many players as possible to buy into your vision and your philosophy," she continued. "Having to start doing that as a student-athlete really helped me when I went into coaching."
Rafferty advises students looking to take a similar path as her to talk with people in the field as much as possible and go for it with all their heart.
"You just have to commit to it. I think the best thing that you can do is network and talk to as many people that are in the field already. Just put yourself out there as much as you can. Sometimes you have to put three jobs together at once but if it's something that you're passionate about and you love, you won't think twice about those things."