Reminiscent of a year ago, the Bates men's soccer team found themselves in double overtime this past Saturday, Sept. 29, against the Trinity Bantams. Thanks to a game winning goal by team captain Peder Bakken '20 109 minutes into the game, Bates walked away victorious, besting their draw against Trinity last year.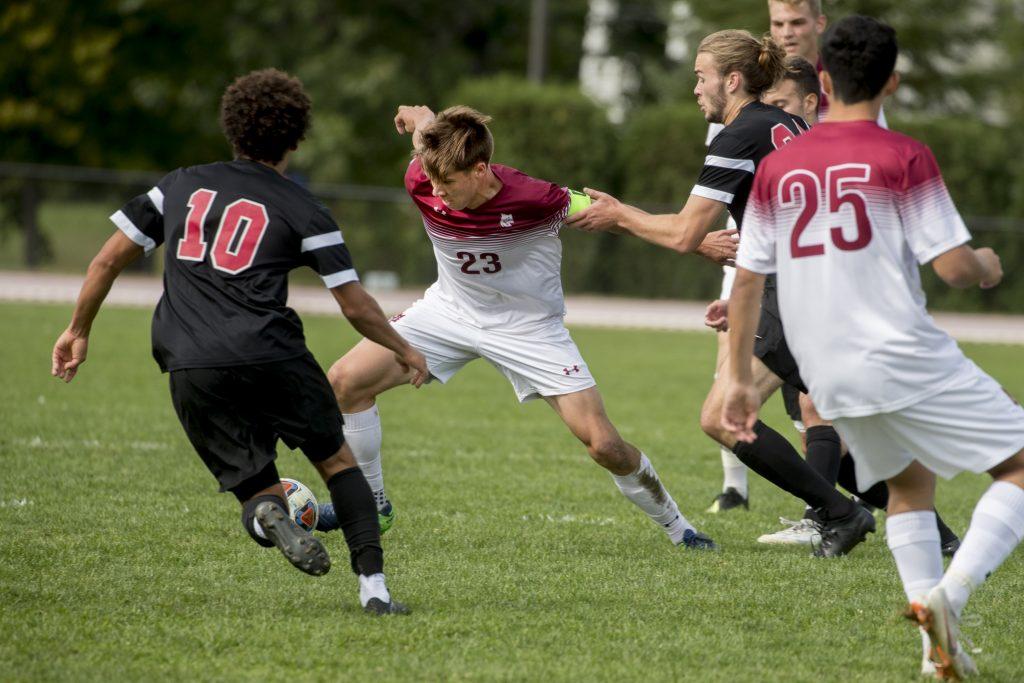 Bates was the first on the board at the Trinity soccer field in Hartford, Conn. with a goal in the first half by Austin Sansone '20, who was assisted by Bakken.
"It felt great to get my first goal of the season, but it never would have happened without a tremendous ball from Peder," Sansone said.
The Bobcats' lead only lasted so long before Bantams' player Alistair Matule tied up the game in the 59th minute. Keeping their intensity for the remainder of the match, Bates held off Trinity and continued to attack until the end of regulation. The first ten-minute period of overtime proved to be fruitless, but the team's efforts were rewarded with Bakken's game ending goal in the final minutes of the second overtime period, making the final score (2-1).
Coach Tyler Sheikh, in his first season as the Head Soccer Coach at Bate, commented on Saturdays match: "We prepare and play the games for these high stakes moments, so we are pleased the bounce went our way this time."
This "bounce" propelled the team to a three-game winning streak and one of their best season starts in over a decade. Unfortunately, the team came up short in a hard-fought loss the following day at Amherst (1-2), ending their streak. The single goal in Sunday's game came from Bakken, making it his third of the season. As of Sunday, the Bobcats have an overall record of 5-3 (NESCAC 3-3).
Despite Sunday's defeat, the results and caliber of play from team members old and new so far have been encouraging. Nobody can say for certain what makes this year different from any other, but fans and players can tell that this season is going to be special.
"Everyone senses there is something different in the air this year," Captain Aleks Marceau '19 said. "[It was] cultivated through years of hard work in the off-season that no stats sheet will ever capture. We are witnessing the perfect storm of raw talent, top to bottom belief, and 31 guys that love to be part of this family."
When discussing what led to their achievements up until this point in the season, a common denominator cited by players and coaches is the collective group effort and team cohesion. Bakken put it this way: "As the saying goes 'it takes a village.'"
"We need to make sure that we continue to have every guy on our roster [brought] in because that is what it takes to be successful," he continued.
With seven regular season games to be played, the team is optimistic and looking forward to the rest of the season. According to Coach Sheikh, "Nothing is a guarantee in soccer except Bates Soccer will always work hard. As long as we bring that requisite focus I think we can push or beat anyone in the country."
The Bates men's soccer team will be on the field again Wednesday Oct. 3 at Maine Maritime, and this Saturday, Oct. 6, at 2 p.m. on the Russell Street Field.