Field Hockey Tops Endicott with Strong Second Half, Falls to No. 1 Middlebury
While many students went home, visited family, or traveled with friends over October break, the field hockey team stayed at Bates to play some of their final games of the season.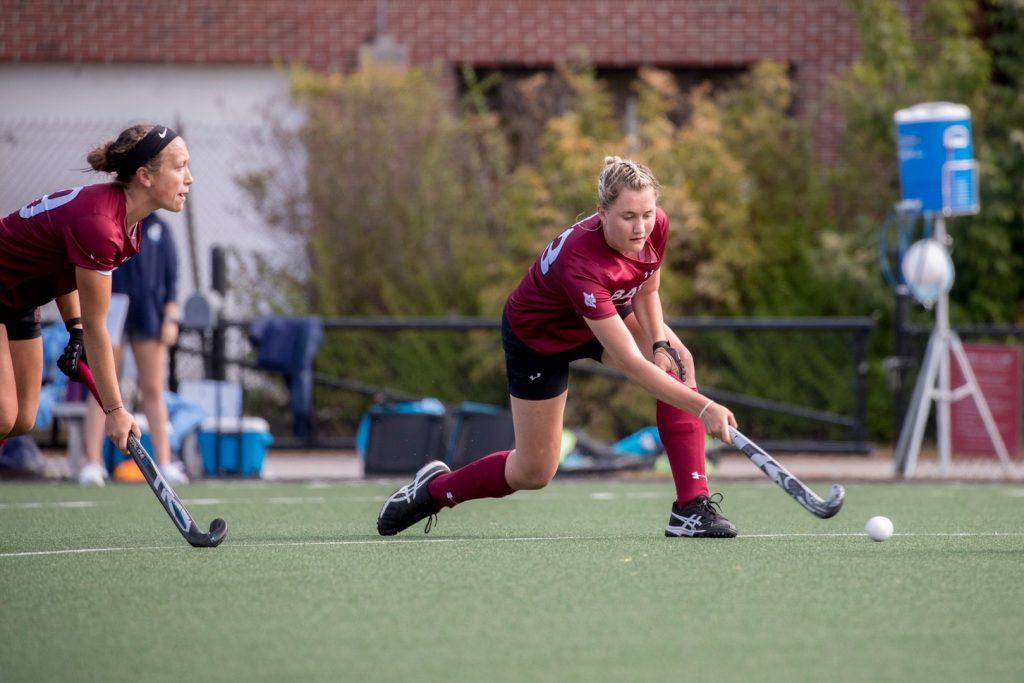 On Oct. 18, Bates bested the Endicott College Gulls 3-0 in a home game on Campus Avenue Field, but lost a tough match 0-3 to Middlebury College's No.1 ranked team on Oct. 20. Overall, the Bobcats currently stand with an overall record of 6-8 and a conference record of 2-7.
Under the lights last Thursday night, Bate played a strong game against Endicott, outshooting them 20-6 and denying them even a single shot on goal. The Gulls were able to hold their defense for the first part of the game; however, the Bobcats were relentless, scoring three goals in the second half to earn the win.
"Since our Connecticut College game, we have been implementing a revised defensive approach, and we have gone 4-2 since that adjustment," Head Field Hockey Coach Dani Ryder Kogut said. "In the first half of the year, we were scoring goals, but giving up far too many [each] game. In fact, we have scored more goals this season then in the last two decades, or as far back as our online stats go…Our attack put up three goals against their program that had only been allowing an impressive 1.59 goals per game. As a team, I would say the game was a huge success."
Team captain Grace Fitzgerald '20 scored the first goal with the help of Victoria McGee '20 just over two minutes into the second half. The Bobcats were able to continue this momentum, earning another point less than ten minutes later from Taylor Lough '19. Bates continued to dominate the second half of the game, but was unable to land another goal until the very end when Lough was able to score a second point, assisted by Riley Burns '22.
"When we were tied at the end of the first half, I think that our mentality changed," Lough said. "We knew we were a better team and just needed to be hungry to put the ball in the back of the net in order to get the win…I also think we were taking more shots because of this, and ultimately getting more attacking penalty corners."
Two days later, Bates fell in a hard fought game against the Middlebury Panthers on their home field in Vermont by the same margin as their win over Endicott. Right from the start of the game, Bates was working at a deficit; Middlebury was able to slip their first goal past Bates' defense less than a minute after match began, giving them an early edge. From there, Bates played hard to catch up to the Panthers, making two strong attempts on goal, but were ultimately unable to defend against another two goals by Middlebury.
Despite this, Coach Ryder Kogut said that this was a positive outcome for Bates.
"Although the score from our Middlebury [game] this past Saturday does not reflect it, we had a tremendous game," she said. "The only other programs in the country that have limited Midd to three or fewer goals are Trinity, Babson, and Tufts, who are all nationally ranked…We were able to take a lot of confidence and positives away from the Midd game even though it was a loss.
"Even heading into our last regular season game, our team has a strong belief that there is more season ahead of us because we all can recognize our untapped potential in the win-loss column," Coach Ryder Kogut continued. "Games like Endicott and Babson earlier this season show that our team is capable of winning against top ranked teams."
The field hockey team will compete against Colby, Oct. 24 at 6 p.m on Campus Avenue Field, vying for a spot in the NESCAC tournament beginning next week.