Bates Throwers Discuss their Craft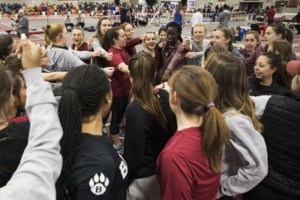 As a mid-distance runner for Bates' track and field team, I train for races by running workouts on Merrill's indoor track. Every workout I run past where the throwers train but am unaware of the the intense technical and strength practice that is taking place each day.
Katie Hughes '19 and Adedire Fakorede '18 are captains for this year's track and field team and have been throwers since they were first-years at Bates.
Hughes, from Pittsfield, Maine, is a psychology major and education minor. She has been involved with the Bates track and field community since her sophomore year of high school when she attended throwing clinics run by head coach Al Fereshetian.
"Ever since I started the clinics in high school I knew that I wanted to go to Bates because I thought it would be very cool to throw for Fresh," Hughes says. "Fresh is the best coach I have ever had. He is so knowledgeable and if there is something that he does not know he is going to learn it. I am just so much more confident and relaxed when he is around."
Hughes placed fifth in the shot put and sixth in the hammer throw at the NESCAC Championships during her sophomore outdoor season with marks of 36-7.75 and 131-9 respectively. Last year at NESCACs she placed third in the hammer and fourth in the shot put, earning personal records of 143-8 and 38-10.35 in both.
Hughes spent her fall semester in Copenhagen and is very excited to see to be back at Bates to compete with the team for what should be another successful indoor and outdoor season. As a junior captain her main goal is to make sure that the track and field team becomes a cohesive unit of distance runners, sprinters, jumpers, hurdlers, and throwers.
"Hearing from Coach Fresh and Jay all fall about how strong the men and women looked, keeping up with the cross country team and knowing how that was going to transition into the indoor and outdoor season was awesome and got me really excited about this year," Hughes says. "We have only been in season for two weeks but over time as we get into the track meets I hope to see our team chemistry keep getting stronger."
In terms of personal goals, Hughes is eager to reach personal records in all of the throwing events including the shot put, hammer, weight throw, and discus.
"The goal is always to do better each week," she says. "You want to build off one performance and make each one better. I came into this year knowing that I am not going to start off at exactly where I ended last season because it has been seven months since I have thrown."
Hughes, as well as all the Bates throwers on the men's and women's teams, practice at least five times a week. Once competition season starts they also have morning individual, or small group, morning sessions with Fresh in order to receive one-on-one attention to improve and adjust technique. The team practices the weight throw on Mondays and Thursdays and the shot put on Tuesdays and Thursdays. Coach Fresh works with the pole vaulters on Tuesdays and Thursdays so on the days that he is not with the throwers, they receive help from Coach McNeal and Coach Kirkland. Lifting is also a crucial component of their schedule.
Last year Hughes was the only woman's thrower but this year she is joined by first-years Genesis Paulino '21 and Ellie Strauss '21.
Like Hughes, Fakorede has had a positive experience with the Bates throwing squad and is eager to start a new season as one of the team captains.
Fakorede, an econ major from Newark, New Jersey, has been throwing since his freshman year of high school.
"In high school I had absolutely no idea what I was doing," Fakorede remembers. "It was sick to have a coach like Fresh to refine everything and teach me the importance of technique. Without him I definitely wouldn't have achieved anything I would have in college and is technical prowess has helped me with other sports that I do such as powerlifting. I really implement his ideologies into my training."
During his sophomore indoor season as a Bates thrower, Fakorede participated in the NCAA championships and earned All-America honors with his third place finish in the 35-pound weight throw. He returned to NCAAs last indoor season, earning his second All-america honors placing fourth in the weight-throw. Fakorede is the sixth Bates men's thrower to earn at least two All-American finishes in the event.
"Being able to compete at NCAAs is a huge opportunity and is not something to be taken for granted," Fakorede says. "It is definitely a big stage with other athletes in the country who have been working their hardest but I am trying not put too much pressure on myself this year because in reality it is just another meet."
When she was a first-year, Hughes remembers watching Dire compete at NCAAs. "Seeing throwers like Adedire and Nick Margitza'16 achieve great success gives me something to aspire to. Having that so tangible right in front of me makes me think 'Ok I can go to national someday.' Continuing to have Dire over the past years has definitely made me a better thrower." The impact that the throwers have on each other speaks volumes to the positivity and support of this team.
This year Fakorede is joined by first-years John Rex '21 and Zack Smith '21, along with returning throwers Zach Bernstein '20, Zach Campbell '19, Tom Endean '18, Tyler Harrington '19. Including the women's first-years, there are a total of four first-year thrower this year.
"I definitely see [the first-years'] competitive spirit," Fakorede says. "They are really working hard and pushing themselves. They are also being really great students of the sport, making sure they know their positions and asking a lot of questions which speaks to how they are inquisitive and driven."
This past weekend Bates legend David Pless '13, threw the shot put at the Bates Invitational, hosted by Bates College. Both Hughes and Fakorede, along with the other Bates throwers, hold him as the symbol of Bates throwing.
"Pless was a three time national champion in the shot put, combined for indoor and outdoor, and more than that number All-American. He is one of the double plaques for All-American," Hughes says. "Because I live in Maine I had the privilege of watching him throw when he was in college and he is just very impressive."
"Pless just really was a student of the sport and rose up to be one of the top premiere shot putters in the world," Fakorede says. "I think that his character just speaks volumes. He helps us with film analysis and is coached by an Olympian so we have an Olympian looking at our work. It is good to have him on board."
Keep an eye out for these Bates throwers because they are sure to make a tremendous impact on Bates' indoor and outdoor track and field seasons this year.