SAAC Raises Money for Hurricane Relief, Future Goals Include Mindfulness Projects and Field Day
Varsity, club, and intramural sports are a tremendous aspect of a student-athlete's experience at Bates. Although participating in competitions and attending regular practices are a significant part of these athletics programs, as student athletes, it is also important to always consider one's role in the classroom and the community. To help with this, Bates, along with every other schools in the NESCAC conference, has a Student Athlete Advisory Committee (SAAC).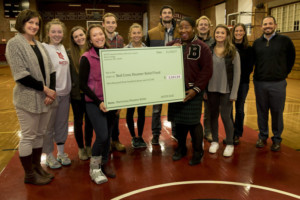 According to its mission statement, "SAAC promotes and maintains among the Bates College student-athletes good sportsmanship, academic excellence, and involvement in the campus and local community….SAAC representatives meet directly with the Director of Athletics and the SAAC Advisor on a regular basis and through that interaction, positively impact the general administration of the athletics program to the benefit of the intercollegiate sports participants."
"My interactions with the SAAC have been extremely positive," Jason Fein, Bates' new Athletic Director, says. "We had a great first meeting where we talked about the direction of the program and the committee. I believe that we need to empower our students to affect positive change in our community. As the administrators, we are here to support their vision for the committee and their ideas for fundraisers, charity events, and building activities are excellent."
Bates has two SAAC Advisors, Rebecca Woods, head coach for the Nordic Ski program, and Alison Montgomery, head coach for women's basketball. Woods and Montgomery facilitate SAAC meetings for the student athlete group members once a month at 7 a.m. in Commons.
For Bates, members of the SAAC include: Avery MacMullen '20, Daniel Trulli '19, Holland Doyle '20, James Bullock '20, Leo Lukens '20, Margaret Silverman '18, Maxwell Hummel '19, Olivia Amdur '19, Robert Flynn '18, Shelbie McCormack '19, Srishti Sunil '18, and Walter Washington '19.
Speaking about her role as a SAAC group member, Oliva Amdur says, "I represent both men's and women's soccer, and if there is any information that needs to be relayed from the students themselves or from the other way around I am the person that they go through. The goal is to really get students more involved and interested in athletics and bring awareness to all aspects of student life including academics, athletics, and community engagement."
Margaret Silverman and Maxwell Hummel represent Bates at the NESCAC conference. At their first meeting, it was established that hurricane relief was a NESCAC wide initiative and therefore, all group members went back to their respective schools and worked with their committee to decide the best possible way to raise money and awareness. Bates' SAAC committee decided to have a campus wide fundraiser that lasted over three days, starting Thursday November 2 and lasting until Saturday November 4 and will donate all money to the American Red Cross.
Bates' SAAC impressively raised $1,311.14 for the Red Cross Disaster Relief fund and presented this organization a check Friday, November 10. Vantiel Elizabeth Duncan '10, a six-time All-American track and field athlete for Bates, accepted the check on behalf of Red Cross.
"The Hurricane Relief Fundraiser for the Red Cross completely exceeded our expectations," Robert Flynn, men's track and field representative, says. "We wanted to raise as much money as possible, and given the short timeframe, we were able to raise over $1,300 for those in need."
"We raised money for a great cause and we activated the committee on using new ideas to improve on an old model. The use of Venmo probably tripled or quadrupled the amount we were able to raise in a matter of 48 hours and the folks from the Red Cross were thrilled to partner with us and want to make it an ongoing relationship," Fein adds.
At their last meeting, SAAC talked about field day, which is a huge planning process for the committee, while also coming up with some plans to help support mental health among the Bates community.
"I think one of the biggest things that the members of the SAAC spoke to, and that they found, NESCAC wide, is that there are a ton of resources, surrounding mental health, that many students do not know about," Montgomery says. "As SAAC we really just want to make sure everybody knows about these resources and really normalize different struggles with mental health. We want to eliminate stigma and present mental health as a spectrum that everybody is on in some way and at different times in our lives."
"Without giving too much away, SAAC is looking forward to several events during the winter semester and during short term. Some of these events include a sports recognition event, a mental health awareness campaign, and Field Day. Field day is one of our biggest events for SAAC, and this year the event could look completely different than in years past. There are many adjustments that are being discussed, but probably one of the biggest is the change of date to a Friday afternoon. This would allow more Bates students to participate and for more structure for the schools," Flynn says.
Additionally, the SAAC representatives spend a lot time communicating with the new athletic director, Jason Fein and have had a lot of discussions about trying to ramp up student excitement for athletics in order to, in Fein's words, "raise awareness of the hard work that student athletes put in each and every day and help the committee spread that to the rest of the campus."
"This will hopefully translate into better relations with all of our campus constituents and more engaging and well attended athletics events," Feins says. A huge part of this includes coming up with new ways to advertise the athletic competitions to the Bates community, as well as incentivizing people to want to come support Bates through fun giveaways.
"One of our goals is definitely to have the student athletes feel like they control their own destiny in some way, and that they have the support of this office in that journey," Fein adds. "We are here to advise and support as students work their way through this 4 year journey, not to direct them in every aspect of everything they do. I want them to know that when they have a great idea and a way to execute it, we will be there to support them just the way that we support them in their pursuits of excellence on the fields of play."