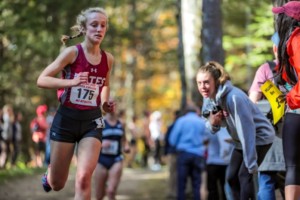 It was a beautiful day at Pineland Farms in New Gloucester this Saturday, October 28, but the hundreds of spectators were not there just to look at blue skies and foliage. This year's NESCAC Championship race for women's cross country was an exciting event to behold, amplified by the inescapable buzz of excitement in the air. Since Pineland is the Bates cross country home course, the Bobcats were ready to get after the six kilometer race.
Bates gave a tremendous team effort, all fifteen runners taking advantage of their knowledge of Pineland's tricky hills and toughing it out with characteristic determination. This resulted in a strong showing of fourth place out of eleven teams, with a score of 90. Williams College took first place (62), Middlebury was second (77), and Tufts was third (82).
Senior captain Katherine Cook '18 was the first runner in for Bates, coming in fourth overall, with an impressive time of 22:05.0 (her 6k personal record). Also cracking the top fifteen were Olivia LaMarche '20, in eighth place at 22:25.4, and Ayden Eickhoff '19 in fourteenth place at 22:49.8 (6k PR).
Helping Bates to place fourth as a team were Abby Hamilton '21, in twenty-first place at 23:12.1 and Katie Barker '19 placing forty-fifth and scoring forty-three points for Bates with her time of 23:45.3. Hamilton led the entire field of NESCAC first-year runners.
Sarah Rothmann '19, in fifty-third place (score 47) at 23:57.5, and senior captain Mary Szatkowski '18, in sixty-first place (score 53) at 24:08.2, rounded Bates's top seven.
In spite of a complication near the end of the race, in which runners found their paths intersecting as some approached the finish line and others ran past the finish line from the opposite direction, the race was an overall success and an excellent display from all the NESCAC teams. Luckily no collisions occurred at the intersection (which had been unplanned), and the race officials were able to clear up any confusion that may have arisen regarding the results. It was a great moment to see the resourcefulness and flexibility of the NESCAC cross country program.
The support from Bates spectators was enormous as well, with many students, parents, and alumni coming to cheer or help out at the race. Their confidence and pride in the team was immense, summed up by alumni Hannah Wilson when she was asked before the race if she felt nervous about how the team would perform. "They've done such a good job all season, I'm sure they'll do well today," she said.
Women's cross country has had a remarkable season so far, and their NESCAC effort adds to their list of strong races. Now, with the NESCAC meet behind them, these Bobcats are getting ready to race their best at the NCAA Regional championships in two weeks, which will take place at the Gorham Country Club, in Gorham, ME.