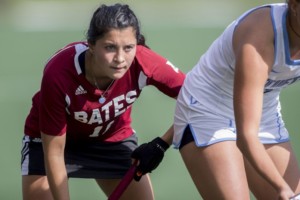 The Bates field hockey team has seen its season come to a close with a tough loss in the NESCAC playoff tournament this past Saturday, October 28. In a hard-fought game against Middlebury, the number two nationally ranked team, the Bobcats were held to one goal while the Panthers scored four.
However, despite the outcome, members of the team still had positive thoughts to share about the game. Caroline O'Reilly '18 says, "I'm proud of how our team played during that game. We really played together as a team throughout the entire game, even when it wasn't going in our favor." Sydney Beres '18 adds, "I think that although we didn't win there were a lot of moments in which we dominated. I think that this game is a great learning experience for the team." Although both these seniors will not be playing next season, they see the potential that the end of this season can have for next year.
Heads were not down after the loss and the future is bright for the Bobcats. Beres says, "I think that the team will never forget the feeling after the Midd game and will want to use that as motivation to work even harder. I know they are capable of winning NESCACs one of these years and I truly believe that Bates field hockey will be able to do so."
This positive outlook on the future of the program was seconded by O'Reilly. "We wouldn't have been able to make it as far as we did this year without the contributions of players in the past," she says. "I think they set us up so that making NESCAC playoffs becomes an every-year thing. The underclassmen are all extremely talented, dedicated, and hard-working, so I'm confident that they will be able to lead the team to more success in the future!"
The core of the team will remain intact, as only four players will graduate. Although all four were assets to the team, there is plenty of chemistry and cohesiveness as a unit moving forward. Because of this, O'Reilly feels that the coming years will be good for the Bobcats based on what was showcased by the team at the end of the season, specifically during a stretch in which they won six of seven games. "Everyone really stepped up both in games and at practice. We all worked really hard to push each other so that we could be successful in the end of the regular season," she says. "I'm really impressed with the underclassmen too, who were able to dominate some of the top players from other teams." With these underclassmen returning, hopefully more seasons of winning streaks against ranked opponents will continue.
Beres believes that ending the season as a nationally ranked team will help motivate the team to continue its winning ways. She says, "This year we proved a lot about our ability. The fact that we were nationally ranked is huge. I'm sure the team will work hard to keep our name on that list."
The potential to beat ranked teams and remain a ranked team themselves is a great motivator for future seasons. O'Reilly concludes, "It's going to be awesome to see how much they continue to improve in the upcoming seasons."