Lost Valley will remain open this season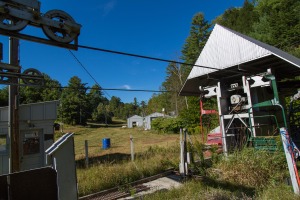 Earlier this fall, Auburn's own Lost Valley Ski and Banquet Resort publicized their financial struggles. The two-chair mountain was unable to earn enough income last winter; despite lots of snow, the bitter cold and rain became a liability and ticket sales plummeted. Co-owner Connie King told The Bates Student that the ski area needed to raise a staggering $50,000 just to open the colored chairlift, and $100,000 to get both chairs up and running. But the community was not ready to give up on this local treasure.
The Friends of Lost Valley, a community lead fundraising organization, launched a "Save Lost Valley!" Crowdrise campaign open to online donations. Support poured out from local skiers and Bobcats alike, in addition to matching donations from Emerson Toyota and Sunday River. Even though the Crowdrise campaign has not reached the $50,000 mark, owners Connie King and Lincoln Hayes are taking a leap of faith. "The decision had to be made right away, or we would of lost big school programs," King said.
In a press conference last Wednesday, Hayes and King outlined their plan of attack. The Sun Journal reports the colored chairlift will open using the $23,000 in community fundraising. This lift will provide access to two-thirds of the mountain.
In addition to community fundraising efforts, Lost Valley is dramatically cutting ticket prices in their Season Pass Madness campaign ending October 15, with hopes to sell more tickets. Individual season passes will be sold for half price at $199—Hayes and King hope this will help the mountain maintain an affordable family atmosphere. Tickets will also come with added perks including a 10 percent discount at the retail store and "2-for-1 lift tickets at Black Mountain, Camden Snowbowl, Herman Mountain, Titcomb, Spruce, and Big Rock." If Lost Valley posts larger profits with the new ticket sales, the second lift will open. The mountain also plans to close on Mondays to cut costs.
Lost Valley is also making some infrastructural changes. Working with Efficiency Maine, a company that helps business become more cost-effective, the mountain plans to purchase new energy efficient snowmaking towers and lighting. The mountain is also planning a board of directors—a goal Melinda Chadbourne, a key member of the Friends of Lost Valley, outlined for the September 17th issue of The Bates Student.
Bates students will keep their backyard ski slope—Bobcats ski for free at Lost Valley, including night skis. Student Activities will also continue to run buses to Lost Valley on occasion. Junior Julia Savage, captain of the Club Alpine Ski Team, expresses the sentiment held by many when they realized Lost Valley would remain open.
"The first emotion I felt was extreme excitement. But mostly, I was relieved," Savage said. "Over the past two years that I have spent at Bates, Lost Valley has come to mean so much to me. It was where I was part of a team, where I could escape from the Bates campus, and most of all where I could fulfill my passion for skiing. Without Lost Valley, I would lose the place that allows me to reset from my day-to-day life, that then enables me to go back to school and study."
Bates is a large part of the Lost Valley community, said King. Students are part of the atmosphere and lifeline of the mountain. "We are working on a couple of volunteer days," King said.
"Moving forward, I hope that Bates students will be more active participants in the Lost Valley community, perhaps in the organization of a winter festival or maybe just in being part of the many volunteer-based organizations that call Lost Valley their home," Savage said.
"I for one am just happy to get back on snow, to go home to a small ski mountain with a gigantic amount of heart."