Bates makes history: People's Climate March
Sixty students travel to NYC over the weekend
It's rare to realize a particular point in time when one is making history. This past Sunday, Batesies had no doubt about it as they marched alongside a staggering 400,000 people down the streets of New York City in the People's Climate March.
The People's Climate March was a movement organized in anticipation of an UN summit meeting on climate change held Sept. 23.
Bates Energy Action Movement (BEAM) coordinated the trip. Students drove down to New York on Saturday in preparation for the march the following day. Bobcats from all class years stayed in different homes in and around the city; a Bowdoin student even offered to house some Batesies.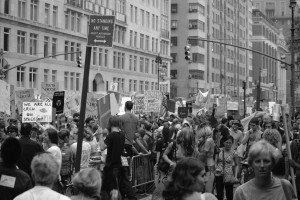 First-year Hope French expressed her amazement at the openness of others to host people in their homes. "This kind of transcends the idea that this event is Bates students going to a march," said French. "It's genuinely just people banding together for a common goal."
This march was not a novelty for BEAM. Unlike other groups on campus that work to locally promote environmentally-friendly tasks, BEAM is "the link to national scale protests" for climate justice, as treasurer Ali McKay '16 explains.
BEAM is also active in the divestment movement. The divestment movement is essentially a call for different organizations, in this case colleges and universities, to distance themselves and stop investing in fossil fuel companies. The People's Climate March was BEAM's first big project of the school year, but organization for this project started in the summer when senior Jordan Becker started planning the trip.
This march's timing is no coincidence. On Tuesday, Secretary General Ban Ki-moon hosted a Climate Summit in where he requested that heads of state, finance, and business among others, to propose new ideas and pledge new actions in the fight for the reduction of emissions. Other topics included the use of fossil fuels and other activities considered detrimental to the environment. Many hope that the summit will lead to meaningful agreements between leaders to take steps by 2015 so that global temperatures will not rise more than two degrees Celsius.
While students paid twenty dollars to cover for transportation services, the march itself was not for profit. The coordinators of the People's Climate March did not ask for a participation fee, merely participation.
The march, which lasted from 11:30 A.M. to around 4:00 P.M., started along West 65th Street and ended on West 34th, with marchers walking along Central Park and Times Square during the procession. The march has now been declared the largest climate march in history, with over 400,000 people traversing 26 blocks the NYPD blocked off for the occasion. To put things in perspective, the next largest march (which Bates College also attended) was last year's Forward on Climate March, where 40,000 people walked.
Among those who attended the People's Climate March were over 300 college organizations and students from all 50 states. Of those college students, 60 were from Bates. In addition to college students, many notable environmentalists were present: Bill McKibben, Leonardo DiCaprio, Jane Goodall, Vandana Shiva, as well as politicians like Charles Schumer, Al Gore, and even Ban Ki-moon.
While many have criticized the lack of coverage on large networks, students still feel that it was a worthwhile endeavor.
First-year Jenny Rosenfield explains, "I've been to other climate rallies and protests before, but I found this one to be extremely important, not only because it was projected to be the biggest climate protest in history but also because it was one of the first to incorporate so many other issues in terms of social justice. Environmental issues are human rights issues, and it was important that the march highlighted that."
This was not the climate march to end all climate marches, but Batesies have left their prints on history.