Embrace the unexpected: A Batesie reflects on time abroad
As the off-campus study application deadline approaches (February 1st), many Batesies are anxiously weighing their options. Study abroad continues to be very popular at Bates – over 60 percent of juniors study abroad every year. Evan Binder '14 reflects on his experience.
Binder, a politics major, spent the fall semester in Namibia, Africa. He is enthusiastic about his experience.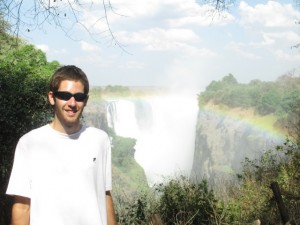 "I loved how my program was focused around giving its students the opportunities to have so many experiences built into the program. We traveled all over the country and got to speak to so many people and see so many things we never would have done on our own. As part of my program, we had three homestays of varying lengths (ranging from a long weekend to two weeks) in different settings (urban and rural). In a typical university setting, we would never have had the ability to do as much as we got to do," said Binder.
Binder differentiates his experience from the more traditional choice to study abroad at a European university. While the latter option serves as a stimulating experience for many students, Binder appreciates the benefits of partaking in a group program in a non-European country.
"I would look for programs that give you an opportunity to do things you would not be able to normally do, programs that offer opportunities you would never even think of on your own. Being at a foreign university seems great, but being on your own limits the different experiences you can undergo, simply because you didn't know they existed," said Binder.
Binder's program stressed experimental learning. While the program had base classes, its core was guest speakers and travel seminars. For example, Binder embarked on a weeklong trip through Southern Namibia studying tourism. [Tourism is a crucial industry in Namibia, constituting 20% of the Namibian GDP].
In accordance with this emphasis on experimental learning, students on Binder's program also pursued internships or volunteered. This allowed students to meet more people and interact with locals (many of whom Binder is still in contact with via Facebook.) This opportunity to venture outside of the program was especially important because Binder's program was unusually small. Binder cites this as his least favorite thing about the program.
"My program was only 8 people, which could admittedly feel a bit claustrophobic. (Normally there are 20 students.) Our location in Windhoek (Namibia's capital) was great and allowed you to get away from everyone for a bit if you needed," said Binder.
Binder learned a plethora of valuable things from his time in Namibia. However, the most important thing he took away from his experience was his newfound understanding of what it means to be an American.
"I learned the value of being American. When people hear you are American, they all have so many questions and so much reverence for you just being there. It taught me to value that I was lucky enough to arbitrarily be born into the wealthiest and most powerful country in the world," said Binder.
Binder actually did not find the transition back into the Bates community particularly difficult. In fact, the hardest thing for Binder has been trying to integrate his experience into the rest of his life.
"In a way, it almost feels as if I left the U.S. and came back without much changing (other than the temperature), and my study abroad experience is removed from that narrative. I would attribute this to it being my own experience, and the only people who genuinely understand go to schools all over the country. You can talk about your country all you want, but it can never replicate being there," said Binder.
Binder loved his program and highly recommends it.
"I would absolutely recommend my program to a wide range of students. The staff is great, the opportunities are limitless, and the city of Windhoek is amazing. I'm considering looking for a job there out of college I loved it so much," he said.
Binder's experience illustrates how influential a study abroad experience can be. Before his experience, Binder had never been to Namibia and now he is considering living there full-time after Bates.
Binder urges students thinking about studying abroad to be fearless.
"Don't be afraid to step outside your comfort zone! Go somewhere you think you would never choose to go otherwise. I know that if I had not gone to Namibia for study abroad, I would have never visited the region later in life," he said.
In conclusion, as you are glossing through pamphlets, and listening to recommendations from other students, family, and advisors, remember to ask yourself what you want out of your study abroad experience. Take advantage of the opportunity, and welcome the possibility that it could change the course of your life.