One can never truly feel at home in a new community until they are given a proper education on its traditions. In fact, learning Bates' rituals is a rite of passage. These traditions range from glorious spreads of food to drinking competitions to inclusive campus-wide dances. Prepare for the indoctrination.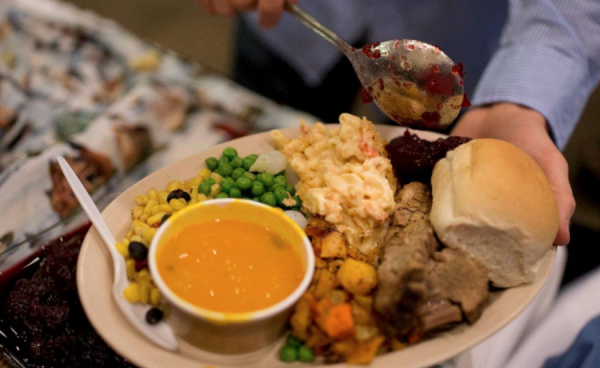 Bates traditions begin with a spectacle for your tastebuds. The Harvest Dinner is a 40-year-old tradition hosted by Commons with ice sculptures, a buffet of Thanksgiving staples, and regional culinary favorites like Italian pudding. Each year happening on approximately November 19th, the Harvest Dinner has a theme to coordinate its special treats with; it's adorable.
The next tradition shifts from stuffing on stuffing to guzzling an inconceivable amount of beer. Arguably Bates' best tradition, Newman Day is a collegiate drinking competition. It originated at Bates in 1976 when a student referenced an apocryphal quote from actor Paul Newman: "24 hours in a day, 24 beers in a case. Coincidence? I think not." Each year towards the end of January, the Friday of Winter Carnival weekend, students take on the daunting task of consuming one beer every hour for an entire day. The tradition has become a sensation, spreading to Princeton University, the University of Virginia, and Kenyon College. 
Thankfully, not all of Bates' traditions revolve around consumption. The Lost Valley Takeover is a delight for skiing and snowboarding enthusiasts as well as anyone who enjoys a nice beer in a ski lodge. Each February during the first week of Winter Carnival Bates reserves a ski mountain for a night with free bus shuttles to and from the resort. Students can rent skis and snowboards to enjoy Lost Valley's 15 trails, terrain park & nordic area. If you want to enjoy the snow but don't want the hassle of skiing, many students go tubing or hang out at the lodge for free food, drinks at the bar, and live music from Bates' student bands.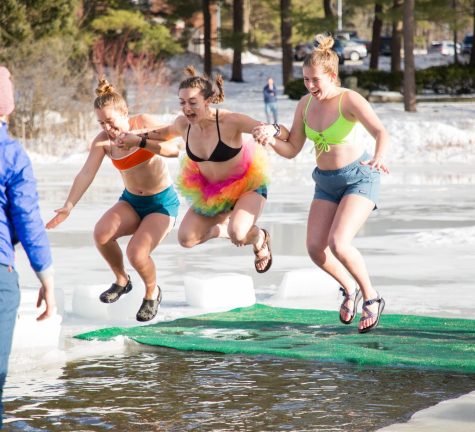 Next, we have the most Bates tradition at Bates: the Puddle Jump. Do you even go to school in Maine if you are not flexing your cold-resistant muscles? Each year on February 10th Bates cuts a hole in Lake Andrews, thanks to the consistently stellar execution and supervision of Campus Safety, for a quick dip into the freezing water. The tradition began in 1975 when three students decided a polar plunge was the best way to celebrate the end of a harsh Maine winter. Wearing their wackiest outfits, students embrace the spontaneity of Bates and remind us to not take anything, even the cold, too seriously. 
Another major milestone in the Bates experience is the Winter Concert. Sage the Gemini, the rapper of "Gas Pedal" and "G.D.F.R.," canceled his March concert last semester, so it has been a whopping four years since Bates hosted a winter concert. In 2019, Bryce Vine ("Drew Barrymore," "Sour Patch Kids," "La La Land") rocked the stage and stole hearts left and right. Considering the amount of money Bates saved from Sage the Gemini's cancellation, the anticipation for the upcoming concert could not be more palpable. 
In addition to concerts, Bates sponsors dances that rival any off-campus house party. Students showcase their inner glam at the Gala, donning their classiest outfits to dance the night away. Typically held in either March or April, Gala employs professional performers as well as student groups. For any self-proclaimed or closeted people-watchers, this is the most entertaining event of the year.
Also taking place in April is Lick-it, Bates' most electric dance. Geared towards the queer community, Lick-it embraces sexual fluidity as students wear lingerie, bring toys, or ditch costumes altogether and arrive half-naked. It is a simultaneously liberating and grounding experience for the LGBTQ+ students here.
Short Term, the 3.5 week semester during May where students take one class, also features some iconic Bates traditions, such as Derby Day. Students dress up in their preppiest gear–Vineyard Vines, derby hats, and sandals–to commemorate the horse races–not because it is an excuse to drink, of course. Following Derby Day on the last Saturday of Short Term is Dinger Day, a relatively new tradition. Students organize a campus-wide softball tournament. People take this very seriously. One year I slid to second base and cut my entire shin. The gnarly scar was worth it, of course, because the referee ruled me safe. 
Congratulations on beginning this rite of passage. Now that you have the education, enjoy the anticipation!