Supreme Court Rules Race-Conscious College Admissions are Unconstitutional
Bates signed a brief in 2022 urging the Court to allow race-conscious admissions, often referred to as affirmative action.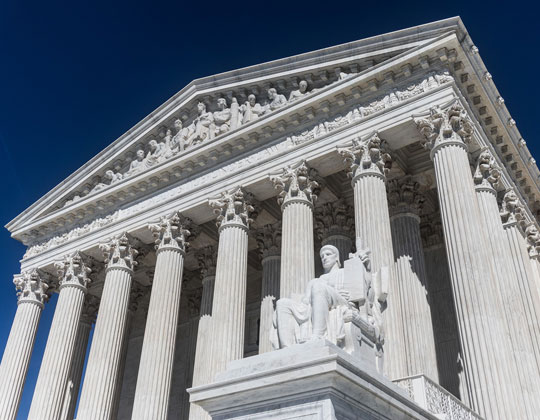 The United States Supreme Court ruled Thursday morning that race-conscious admissions programs at Harvard and the University of North Carolina (UNC) are unconstitutional. Frequently referred to as affirmative action, such programs have helped to increase racial diversity at colleges and universities across the country.
The decisions in the cases Students for Fair Admissions Inc. v. President & Fellows of Harvard College and Students for Fair Admissions Inc. v. University of North Carolina, which were brought by representatives of primarily Asian-American students alleging that they were rejected from elite schools because of their race, are expected to affect admissions policies at hundreds of schools of higher learning, including Bates. The justices voted along ideological lines, with the conservative majority ruling in favor of the plaintiff and the liberal justices dissenting.
Writing for the majority, Chief Justice John Roberts rejected the schools' claim that their programs have sufficient reason to consider race. The race-conscious admissions programs at Harvard and UNC "lack sufficiently focused and measurable objectives warranting the use of race, unavoidably employ race in a negative manner, involve racial stereotyping, and lack meaningful end points," Roberts wrote.
Bates College, along with Bowdoin, Colby and 28 other selective liberal arts colleges, signed a brief in 2022 expressing support for race-conscious admissions practices because, they claimed, enrolling diverse classes is central to the mission and the character of their schools.
"Studies consistently show that diversity — including racial diversity — improves learning experiences, problem-solving and critical-thinking skills, and interpersonal and leadership skills," the brief read. "Research shows that underrepresented students tend to experience less frequent discrimination at more diverse institutions. These benefits are shared by all students, regardless of race. Indeed, diversity benefits not only educational institutions but also society as a whole."
The brief argued that such benefits are "unattainable" without race-conscious admissions.
Racial diversity at Bates has been growing in recent years, with 29% of the Class of 2026 identifying as students of color from the United States, the most in the college's history. However, studies show that racial diversity at selective colleges like Bates will likely drop without the consideration of race in the admissions process.
In an email to the Bates community, College President Clayton Spencer and President-elect Gary Jenkins wrote that they were disappointed by the Court's ruling, which they said "turns back the clock on 45 years of established constitutional principle and significantly restricts the admissions practices used at many colleges and universities, including Bates."
"Bates will comply with the law," the email continued. "Yet, the Court's ruling does not change who we are and what we value."
Spencer and Jenkins went on to affirm that Bates will continue to honor its founding mission of educational opportunity for all.
"We will take this opportunity to do what we do best: think creatively and experiment with new strategies consistent with the law that will allow us to continue to craft a class with diverse identities, life experiences, interests, and perspectives," they wrote.
***
We want to hear from you. How does the Supreme Court's ruling affect you as a member of the Bates community? Leave a public comment or contribute to our ongoing reporting by letting us know your thoughts and feelings at [email protected].
***
This story was updated on June 29 at 12:24 pm to include a statement from Bates College.