President Spencer Reflects on Time at Bates, Legacy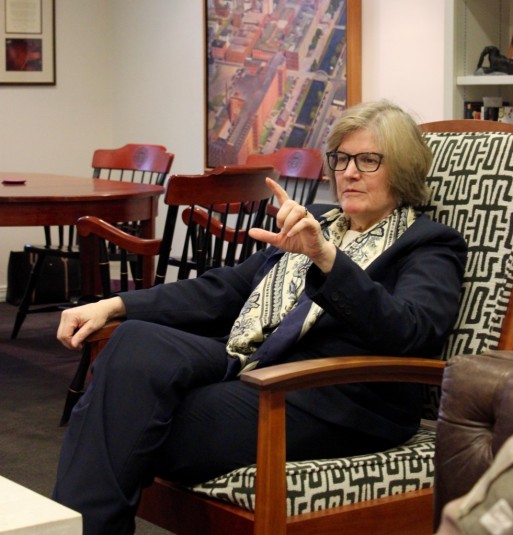 Clayton Spencer sighed and shifted slightly in a leather chair, twirling a gold ring–one of the only pieces of jewelry she had on–around her finger. We were sitting in her office, facing each other with a large coffee table in between us. I had just asked her if she had any regrets in her leadership now that her time at Bates was coming to an end, and she took her time to think about the answer, looking towards her window's view of Lake Andrews and taking a lengthy pause before answering.
"I think all you can do is be brave about putting some stakes in the ground even when you don't know everything," she said. "I don't keep a sort of grocery list of regrets. Because I don't see how that's productive."
Spencer, who started at Bates in 2012, will be departing this summer after 11 years at the college's helm. In a recent interview with The Student, the outgoing president reflected on her accomplishments, shortcomings and legacy.
While her time at Bates has been successful, with a push to grow the college's endowment, a large number of building projects and a sharp decrease in the acceptance rate, there have also been roadblocks. A recent push to unionize among faculty and staff, a growing tension between students and Campus Safety, and, of course, the COVID-19 pandemic have forced a wedge in her time running the college.
One of Spencer's major talking points has been her push to grow the college's endowment and focus more seriously on fundraising. She has been successful in this endeavor—the college's endowment has more than doubled, increasing from $216 million in 2012 to $466 million as of last June. Just this year, the college concluded the Bates Campaign after raising more than $300 million.
"Our endowment compared to the endowment of the peers of our closest reference group, the NESCAC, is significantly [lower]," she said. "We have to run pretty hard and we run on much thinner staffing in both the academic program and in running the college."
Spencer added that she believed there were "certain benefits" to the college's fiscal place within the NESCAC, though many former Bates faculty and staff have criticized what they've deemed to be the college's "scarcity mindset." 
Through the increased endowment, the college has focused on building projects under Spencer, including the new Bonney Science Center, Kalperis and Chu dorms, the Dana Hall renovations and the refurbishment of Chase Hall. The renovations in Chase, which are set to be completed this summer, will see a newly designed Office of Intercultural Education (OIE), which has seen immense turnover in the past few years. Spencer noted the staffing issues seen by the office, but remained optimistic about its future.
"When you have instability at the top, you tend not to have the staying power a level down," she said, acknowledging that when the college's Chief Diversity Officer Crystal Williams left in 2017, many of her employees followed. The college then hired Dr. Noelle Chaddock to serve as vice president for equity and inclusion in 2019, though they left just two years later. After moving the OIE underneath Student Affairs, Bates has begun conducting search committees to hire more permanent staff, Spencer noted. 
"I'm optimistic that we will have more stability," she said. "It's student facing work that is 100% student interaction or very focused on that [it] is demanding, a lot of people don't stay in it forever so you would expect to see more turnover in some of these positions."
Another hot button issue during Spencer's time at Bates has been the push from some faculty and staff members to unionize. Though the college has been accused of union busting by those in favor of the group, Spencer expects the college to respect the vote when it occurs tomorrow.
"The deal is we've made it clear from the very beginning that we'll respect the outcome of any election," she said. "And when those votes are counted, if the union vote wins, we will absolutely make that work."
Despite her assertion that the union will be respected, it appears it will not be entirely up to Spencer. The union will form, if the votes call for it, after she leaves and the college's newly announced president, Garry W. Jenkins, will take over. She seemed excited about the changing of guards, waving her arms animatedly as she discussed the possible changes that Jenkins could make. 
When I asked her if she had any advice for the new hire, who we didn't yet know, because we sat down just days before Jenkins was announced, she looked around the room, her eyes settling on her desk, strewn with papers.
"I would say to have a total immersion experience at the beginning, and that tends to happen naturally, so that you get a feel for the place," she said. "And to swing for the fences."
Though she didn't say so, I don't doubt that she'll be watching Bates, and Jenkins, during his first couple of years at the helm. After she leaves Bates this spring, Spencer's committed to doing something she hasn't done in decades: taking the summer off.
"I'm looking forward to having the summer to myself," she said. "The last time I had a summer off was when my daughter was born and that was 32 years ago. So that'll be fun." 
As for her plans after that, Spencer isn't as sure. She assured me that she had "various irons in the fire and various people I'm talking to about different things." She hopes to "maintain professional engagement" with higher education and plans to stay in Maine, a place she has loved since she began at Bates.
"Most of my professional life, my days have been claimed by my job and career and then I fit the rest of life in order to make that work," she said. "It's been an incredibly joyous and rich life and career, so I have no complaints. But what I'd like to do now is flip the script and say, 'I'd like a little more of my prime time focused on some more personal interests.'"
As we wrapped up the interview, I asked Spencer what she would miss the most about Bates. She paused with the same intensity as when I asked her if she had any regrets. Twirling her gold ring around her finger once more, she began listing off small things: watching the basketball teams play in Alumni Gym, Associate Vice President for Dining, Conferences and Campus Events Christine Schwartz, the senior staff she's worked with for ten years. 
Then she paused one more time and sighed, craning her head once again to look out her window at Lake Andrews. 
"I love the challenges involved, the challenges and the intensity involved," she said. "Sometimes they're wearing, but most of the time it's incredibly interesting. It's a really interesting job with a lot of joy."