Cats on the Prowl: A Snapshot of Students' Study Abroad Experiences
For many, studying abroad is one of the most transformative experiences of their undergraduate lives. Bates students are no exception. According to Darren Gallant, associate dean and director of the Center for Global Education, 219 students went abroad this academic year, and he expects this number to increase in the coming years. The Student reached out to four students to further understand their experiences abroad. 
The following answers have been edited for length and clarity from longer interviews with students.
Mia Brumsted '24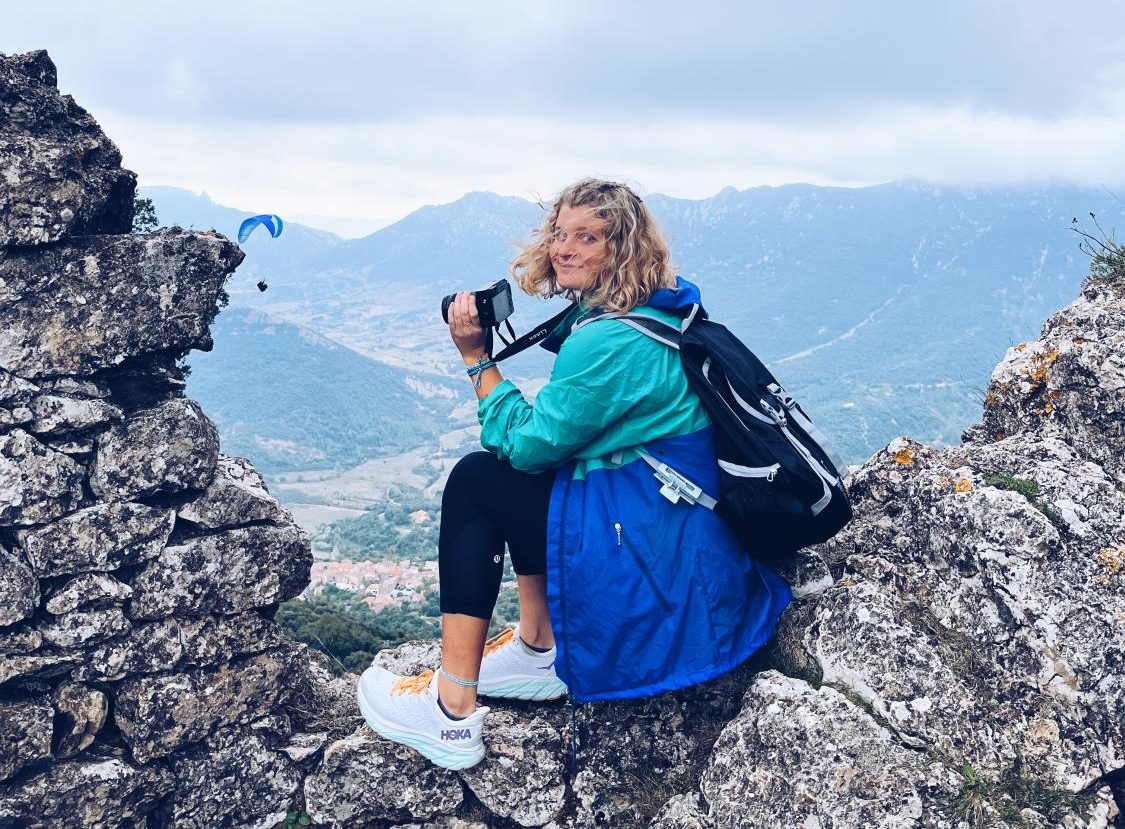 Brumsted is a junior from Shelburne, VT. Majoring in politics with a double minor in education and French, Brumsted studied abroad in the Fall 2022 semester in Montpellier, France. 
How did you choose your program?
"I decided last year that I wanted to do a program in France because I had been taking classes here, so I was feeling familiar with French. I had heard a lot of good things about the program in Montpellier. A big draw was the weather. It was hands down the best experience of my life– nothing else compares."
What was it like connecting with locals?
"It depended on where I was. If it was on a weekend and [I] was out at a bar, it felt much easier because everyone just genuinely wanted to talk to everybody. That's where I met most of the international students that I connected with, just organically and randomly. I wasn't really making friends with the French students at the university. It felt like it took a lot more guts to go up to a French person and like a French student."
What's one thing you want people to know about Montpellier or your program?
"Go to Montpellier. I think people automatically think "study abroad in Paris" when they think of France, but I could not recommend Montpellier enough. It's the perfect sized city; it's not too big, it's not too small. It has one of the biggest student populations in France, so I felt that it was really safe and comfortable just being surrounded by so many people my age. The weather is beautiful. If that sounds up your alley, you should go to Montpellier or just study abroad in general. When I think back on my undergrad experience, studying abroad is going to be the first thing I think of."
Mfon Diduff '24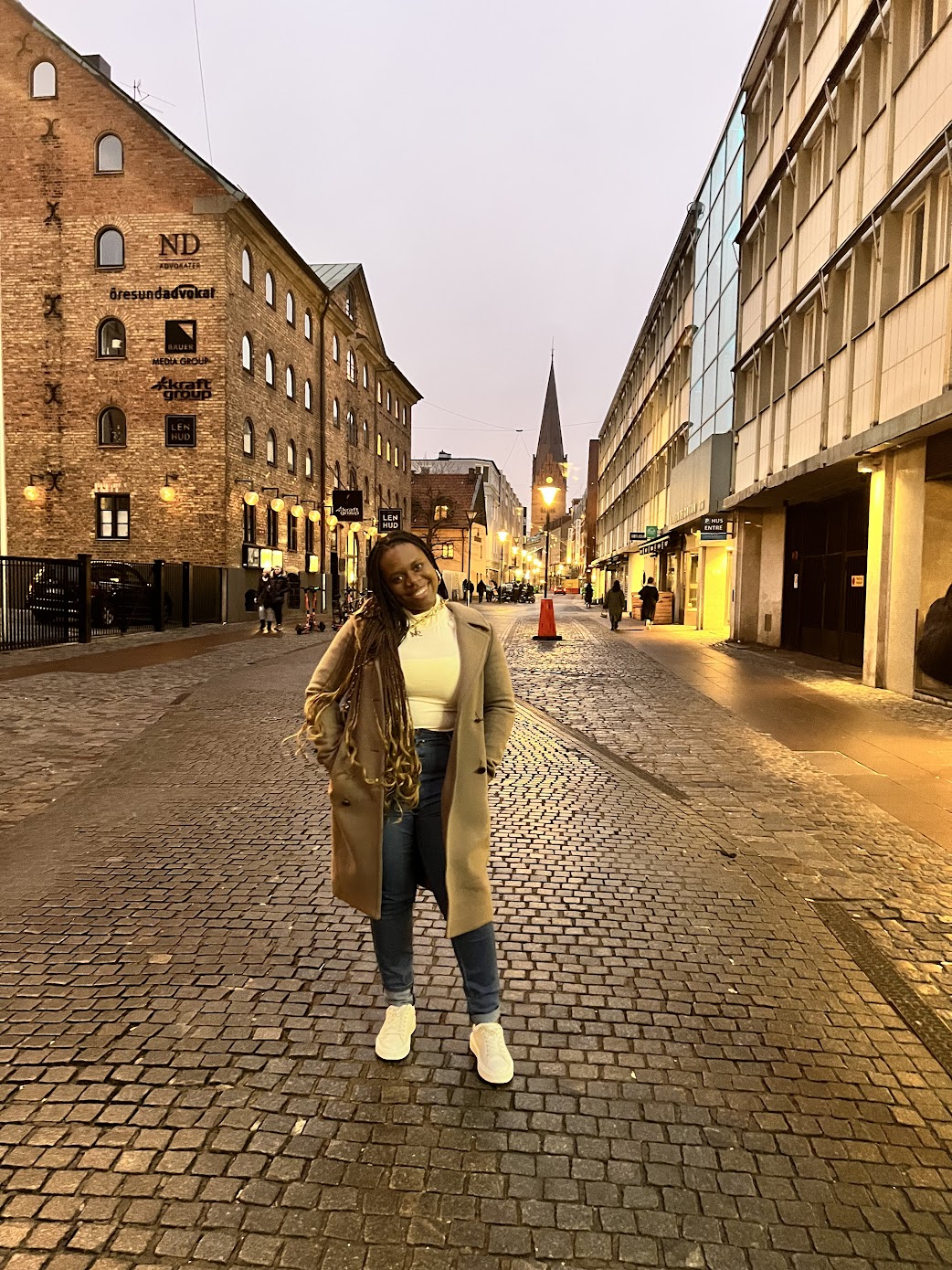 Mfon Diduff is a junior from Brooklyn, NY, majoring in biochemistry. Abroad for the Winter 2023 semester, Diduff is currently studying in Copenhagen, Denmark through DIS: Study Abroad in Scandinavia. 
What's an unexpected challenge you've faced while abroad?
"I would say just trying to mentally prepare myself; jumping across a whole continent is definitely not something that is easy. The challenge was trying to calm myself down mentally and assure myself that, ok, this is something that you've always wanted and understand that it's going to be okay. But, over time I've gotten adjusted to Copenhagen."
What was your first day in Denmark like?
"It was a bit of a shock to me. It was like I was still waking up. It was always a dream of mine to go to Europe and it was like, 'Oh wow, I'm finally here.' It was gloomy here at first; it was raining, so my first impression was pretty iffy. Overall, it was interesting to take a look at the landscape and everything. My first day in Denmark was pretty smooth."
What other impressions do you have about Denmark?
"Copenhagen is a lovely city. Anyone that wants to come and study here should definitely come and study here should take advantage of the beautiful sceneries, the museums, the galleries, even the boat rides are so amazing here. Denmark is a small country but it has so many things to offer."
Julia Jeong '24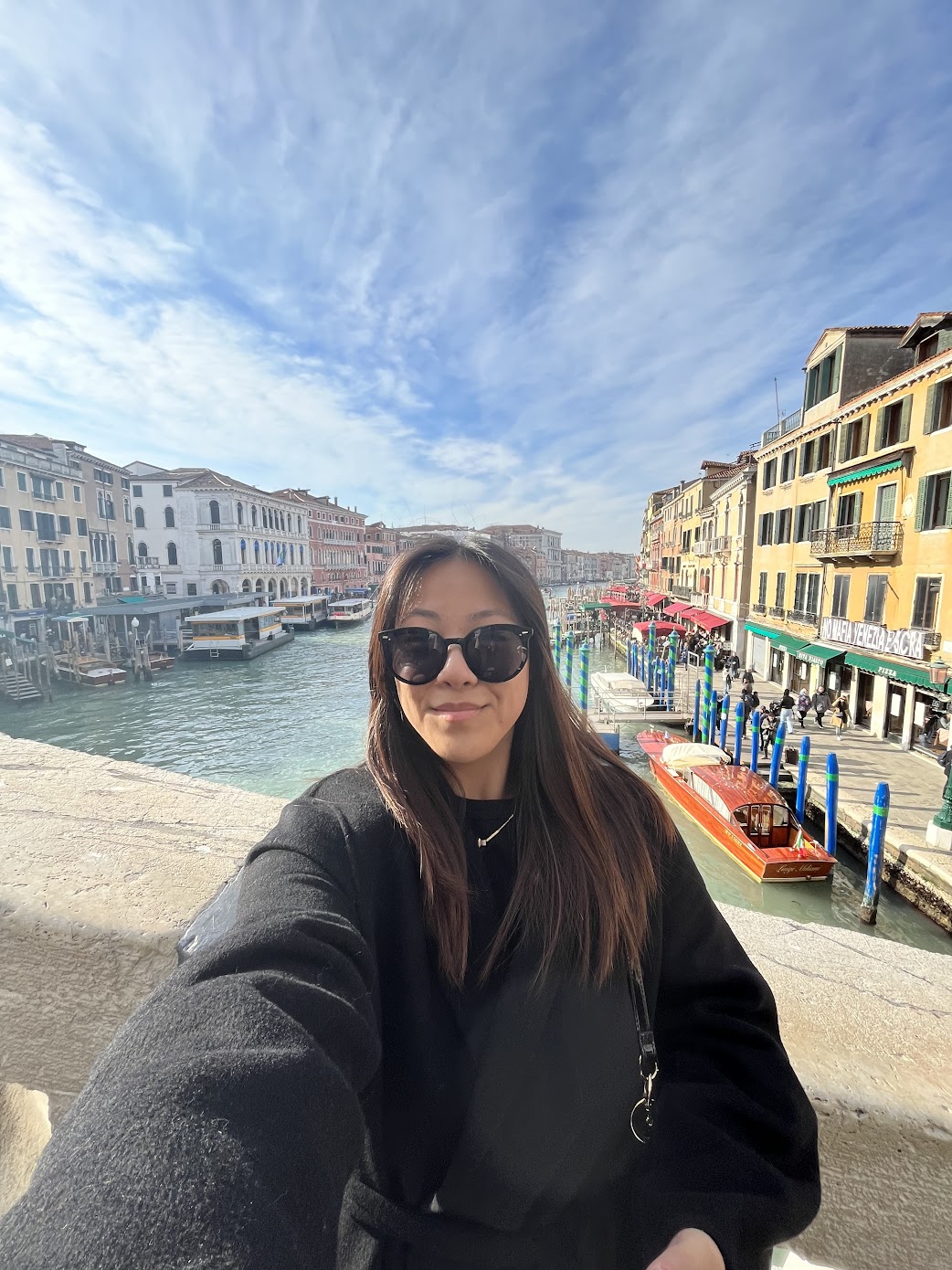 Julia Jeong is a junior currently studying abroad in Milan, Italy through the IES [International Education of Students] Abroad Milan- Italy Today Program. She is originally from Northern Virginia and majors in psychology.
What has the language adjustment been like?
"In the first two weeks, the language adjustment was very difficult. As soon as a local would ask me questions or simply ask me what I wanted to eat in Italian, I would go silent or I would continuously speak English. However, the first two weeks of the program were dedicated to taking an intensive Italian language course which taught us the basic necessities to navigate around the city. The course was very helpful as it gave some guidance on how to communicate with Italians and ask for basic needs."
What is something you didn't know about this place before you went?
"They eat their meals very late. Most of the restaurants close after lunch (3 p.m.) and open in time for dinner at 7:00-8:00 p.m. and go till 9:00-10:00 p.m. In addition, I discovered that, in Italy, it is totally normal to have alcoholic beverages starting from lunch, any day of the week, and that they have aperitivo (appetizers/drinks) before dinner too."
Do you have a specific story that comes to mind when you think about studying abroad/a standout day/experience that you'll remember for a long time?
"The first thing that comes to mind is the moment I arrived in Milan. I still remember the rush of nerves and anxious feelings just seeing my new surroundings and new faces in the airport. Those feelings continued throughout the week as I was meeting new people, eating new dishes, and trying to get familiar with the language/culture. It genuinely felt like freshman year all over again, where everyone is in a rush to make friends, discover different areas, and get accustomed to their new environment."
What's an unexpected challenge you've faced while abroad? Is there anything you expected would be more difficult than it was?
"An unexpected challenge I faced when coming to Italy is grocery shopping. When grocery shopping for basic necessities, it takes double the amount of time to find anything since everything is in Italian and packaged in a different way than in America. Everything I look at, I pull out my phone to translate it, and everything just takes longer to figure out. Also, living in a dorm that does not have food provided or a cafeteria, it has been difficult to cook every day and make my own meals. However, it is fun to be able to go grocery shopping and get creative with the meals I make throughout the week."
Caroline Cassell '24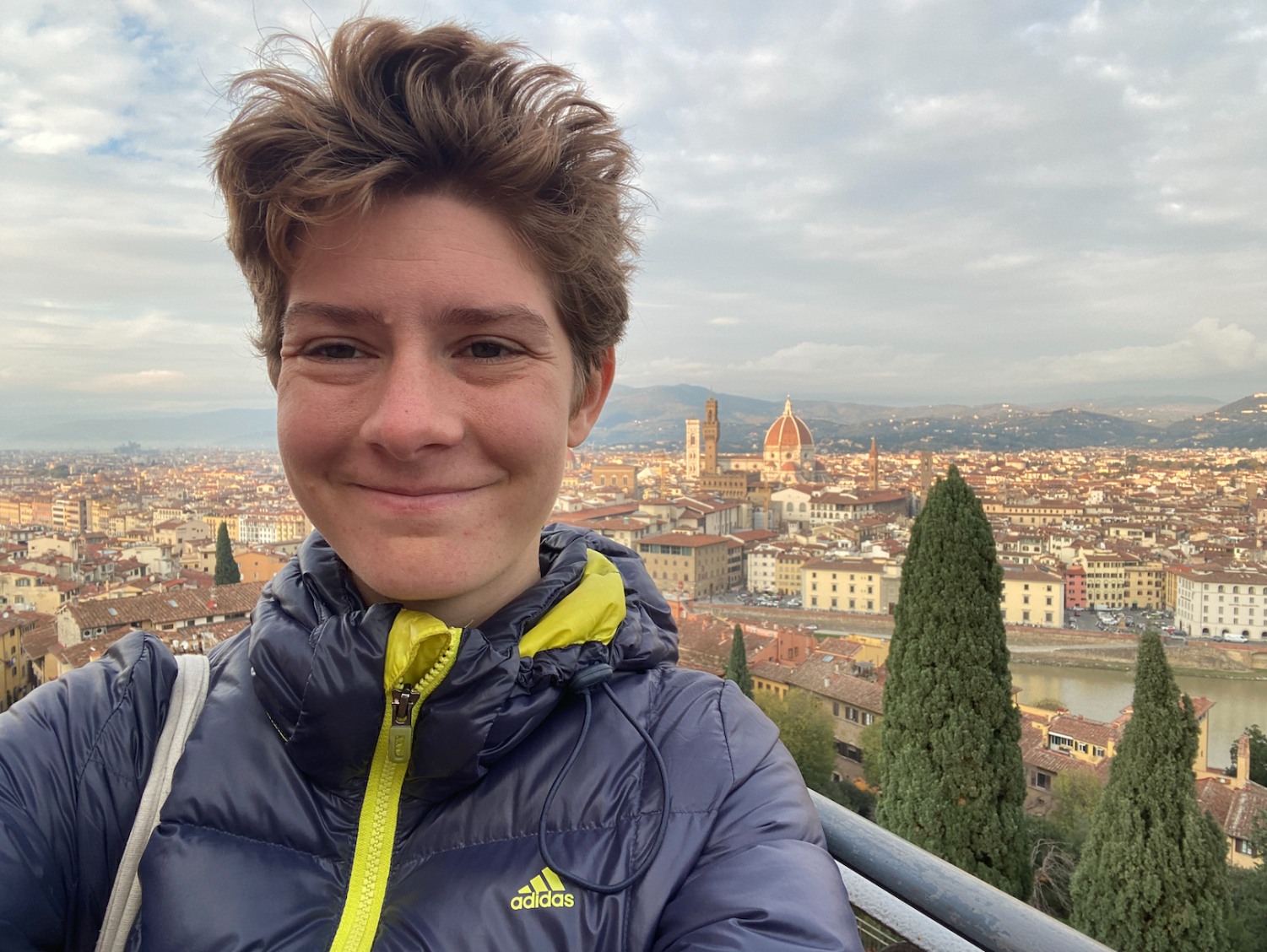 Caroline Cassell is a junior from Woodstock, VT majoring in sociology, gender and sexuality studies, and theater with a minor in education. Cassell spent the Fall 2022 semester abroad in Florence, Italy through the Syracuse Florence program. 
Tell us about your internship experience through your program.
"I was interning at a local bookstore called Alice Storyteller. I think that showed me a completely different part of Italian culture. My role was further connecting the American universities in Florence to the bookstore. That connection and being able to go to those events really helped me practice my Italian. It showed me a lot of the ins and outs of the Italian work culture, a perspective I did not get from my classes and homestay family."
What was your most valuable/unforgettable experience in your host country?
"I will never forget moments of connection and excitement with Italians whether they were conversations with my host family or playing chess with people at cafes. At our dinners, my host family and I would joke about translating words like Spiderman or Batman into Italian (Uomoragno!), ask each other to pronounce incredibly difficult words in each native language, or simply watch the world cup, cheering when our team scored. When playing chess, I learned the names of pieces in Italian and laughed every time I made a mistake or triumphantly said check or "scacco"! These experiences not only helped me practice my Italian, but also were incredible moments of connecting through play, and sometimes competition. They taught me that we have universal languages, such as laughter and smiles; I felt like part of a global community of joy." 
Did you pick up any habits in Italy that you'll continue?
"Everything in Florence was about an hour walk from my homestay. Because of that, and the fact that it was free, I was walking everywhere and enjoyed that so much. So, I've started to incorporate that love for walking and joy about walking by taking walks with my friends instead of getting a meal, and walking into Lewiston to do errands."
What advice would you give a student before they go abroad?
"Study abroad does not last forever, and while it may seem like a lot of time it will fly by. Don't forget to be fully present with the people and places you are in, you likely will miss them when it is time to leave. Also, be brave! Trying a new food, navigating an Italian conversation, or even living with unfamiliar people may very well be the best part of your experience. At the same time, you can not do it all, so be patient and kind with yourself. Take time to recharge and relax so you can truly appreciate where you are and what experience you are having."