Students Establish the Bates Historical Society to Shed Light on College History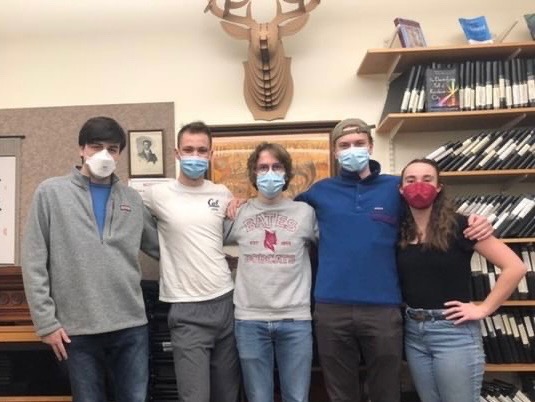 This year, a group of sophomores formed the Bates Historical Society (BHS). As stated by club leaders, the BHS aims to explore and uncover the college's history to foster an appreciation for Bates' collective past and inspire meaningful discussions on campus.
According to the history department, there have been previous efforts to create a historical society at Bates, but such a club was never successfully formed and maintained until this year. 
"I'm a history major, but history is also my hobby," said Sebastien Kleitman '24, the president of the Bates Historical Society.
Kleitman founded the club with John Price '24 and Grace Acton '24 in the fall of 2021, but they only began to expand the club and its activities at the start of the winter semester.
"We want to bring […] Bates history to the community and also have an environment where people who like history can come and talk about it. We want to create a more sustained conversation on campus," Kleitman said.
Society members search for information about Bates history in the Edmund S. Muskie Archives and Special Collections Library. The library is named after U. S. Senator Edmund S. Muskie '36, and it holds Bates College records, oral histories, manuscript collections and rare books.
The BHS brings to light information found in the Muskie Archives through discussions at their weekly meetings and with informational posts on their Instagram account. They said they welcome anyone who is curious about history as well as those who do not have history at the forefront of their minds.
"We want to include people who aren't necessarily aware of history, who don't necessarily care about it … have them come along and learn those different stories that we don't always talk about," said Kleitman.
Kleitman specifically pointed to the issue of Indigenous history and its place in discussions on campus.
"I don't think Bates is doing a good job addressing Indigenous history," he said. "I think there's a lot of work to be done trying to have a more inclusive history and introduce that to the Bates population."
Kleitman also spoke on the evolution of the physical campus and how that connects to campus life at Bates, mentioning the construction of new buildings like 280 College Street and the Bonney Science Center. 
"We want to highlight simple things; for example, 'How does campus life change when you have a building like 280?' Before, you had just a field in front of Mt. David. How does an individual's relationship to that place change as you have these new buildings? Perspectives, interactions, and spaces change over time," he said.
The BHS is currently planning to conduct a series of interviews with the class of 2022 to understand where Bates was before the COVID-19 pandemic in order to document the pandemic's effect on campus life.
Going forward, the BHS hopes to hold workshops and craft-focused activities that will bring together members of the Bates community. They also plan to reach a larger audience through their social media efforts.
"The world is so much more rich when you take the past into account," Kleitman said. "It makes Bates more interesting as a whole when you realize how deep the history goes."
The Bates Historical Society meets on Wednesdays from 8 to 9 p.m. in the History and Classics lounge in Pettengill Hall. They can be found on Instagram @bateshistoricalsociety.