Get to know the BCSG Presidential Candidates
Meet the candidates running for the 2021-2022 Bates College Student Government executive seats. Campus Life and the BCSG Committee Selection board is hosting the BCSG Presidential Debate over Zoom on Wednesday, April 14, at 8 p.m. You can view the debate here. 
Polls open this Friday, April 16 and close on Sunday, April 19 at 11:59 p.m. Students can vote online through Garnet Gateway. Learn more about the election here. 
The Bates Student reached out to the candidates to briefly introduce themselves and their platforms. Their responses, listed in alphabetical order by last name, are below. 
Co-Presidents Marcos Pacheco Soto '24 and Kush Sharma '23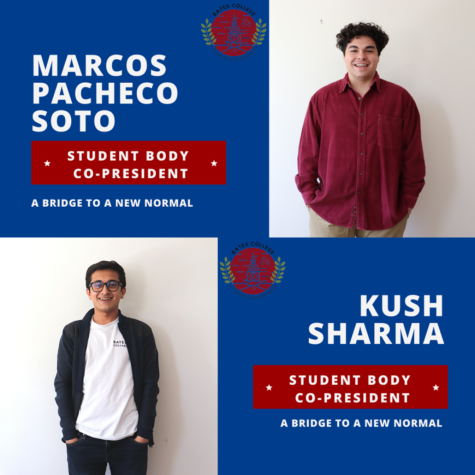 We are Marcos (he/him), a first-year from Chile, and Kush (he/him), a sophomore from India. Together, your co-presidents for the BCSG. Our motivation to run on this election relies on a growing passion for social justice that started when we were both youths. If pushing for sustainable environmental policy and decent public not-for-profit education has taught us something, is that organizing is crucial. As we grew up and emigrated from Chile and India, we have gained a tremendous sense of responsibility to belong and intervene in the enhancement of our new homes. Since our first day at Bates, the desire to make the college a fair representation of its constituents remains.
We have gotten involved in several projects to make this change happen. Marcos has worked at the Equity & Inclusion Peer Advisor team, serving in the Student Affairs Committee, participating in the International Club, Latinxs Unidxs, and more. Kush has been involved in a range of community service projects at the Harward Center, worked as a Junior Advisor, and served in the BCSG for two years as a class representative and as secretary. Our experiences in these roles have shaped our leadership but foremost made us truly internalize that our work doesn't matter if it doesn't serve the purpose of making Bates an equitable, sustainable, and socially conscious institution.
We are inclined to be a faithful representation of those who trusted Bates to lead their college education. This candidacy is constituted to radically open the BCSG and embrace the voices of every Bates student, especially those whose identities have been historically oppressed and marginalized.
Do you want to talk about our policies? DM us on Instagram @marcoskush4bates or email us at [email protected] and [email protected] . Let's build together a bridge to a new normal.
Co-Presidents Rachel Retana '22 and Sean Vaz '22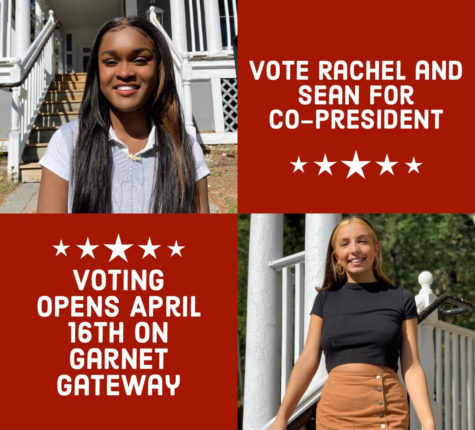 Our combined, extensive experience in various departments and offices on campus has exposed us to several ways we wish to expand outreach and support to students, especially during these unprecedented times. 
Rachel and I hope to contribute to the steps that have been made by the current Student Government to abolish Campus Safety and reallocate these funds towards more impactful student support services. Additionally, we would like to not only call for students to be given more opportunities to voice their concerns but to give these voices more power.
In addition we will continue to work towards the implementation of Critical Race Theory Requirement. This framework is crucial to how we, as an institution, talk about the impact of race, white supremacy, and intersectional identities. These conversations heavily influence how we address structural and systemic racism within our society. Privileging these conversations can lead the charge for how we honestly and earnestly discuss race at Bates College.
We have so many ideas we would love to share with students and hope with your support that we can further foster the growth of the Bates community.
Instagram: @seanandrachel2021
President Sobie Sobolewski '22 and Vice President Georgina Scoville '22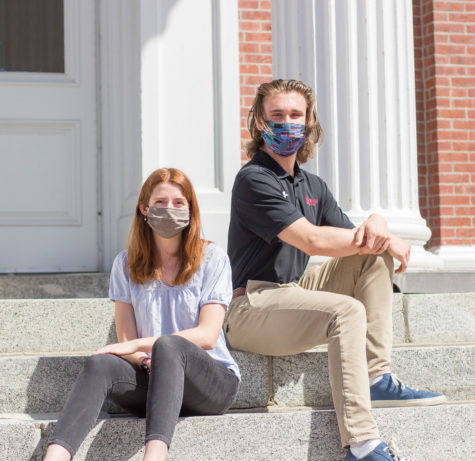 Sobie has had many valuable experiences serving the Bates community as a sophomore and junior class representative.  As a member of the athletics committee his sophomore year and its chair this year, he has enacted meaningful changes around the Bates campus by helping establish the Fem Folx Fitness nights every Saturday.  Also, by popular demand, Fem Folx Fitness nights have been added to Wednesday evenings.  He has also developed relationships with multiple Bates administrators through work in student government– a feat that started his sophomore year and will continue if elected. He is keenly aware of Bates' flaws pre-pandemic and during the pandemic and is focused on making Bates a welcoming institution for every student, faculty, staff, and community member.
Georgina has also been actively involved in various facets of the Bates community since her first year. She is the Vice President of Women in Economics, an organization that provides support for female-identifying students in a predominantly male field. She is also an editor and regular contributor to the Bates Student, which allows her to periodically attend faculty meetings, interview staff and students, and foster relationships with various Bates communities. As an international student who struggled to integrate socially her first year, and as a woman occupying historically male spaces, she is passionate about women's issues and the first-year experience. 
Our platform is based upon the current administration's work. Our primary goal is to work with the Bates administration, faculty, and students on incorporating the Critical Race Theory requirement starting the 2021-2022 academic year. We plan to include the Office of Intercultural Education (OIE) in these discussions, similar to how the Harward Center staff work closely with faculty to determine how their teaching objectives align with the needs of the community and Bates' local partners. We also seek to reform Campus Safety by removing them from the residential setting and replacing their role in the residential setting with individuals with experience in restorative justice. Redesigning Campus Safety's role on campus to act as a "last resort" if the situation exceeds the scope of restorative justice will help better align the campus culture with inclusive values.  Finally, we seek to include feminine hygiene products in every campus restroom and want to replace their coin-operated dispensers with dispensers that accept laundry cards.
Instagram: @Sobie_x_Georgina
Co-Presidents Huck Triggs '24 and Joseph Visconti '24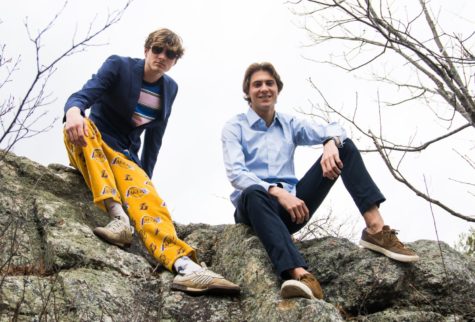 Huck and Joseph are both freshman members of the Bates College student body, they both bring a variety of new ideas and perspectives into their co-presidency.
Huck Triggs is a passionate photographer, surfer, and adventure seeker from Malibu, California. He went to High Mountain Institute, a school in Leadville, Colorado for a semester, and attended Crossroads High School in Santa Monica where he experimented with various extracurricular activities including JV basketball, theater, and Model UN. At Bates, Huck is a member of the Varsity rowing team and is currently pursuing a major in Environmental Studies.
Joseph Visconti is a first-generation college student from Juno Beach, Florida he is often spending his time in FL traversing the east coast looking for surf or sailing within the warm blue waters of the Atlantic ocean. Before Bates, Joseph attended Christ School in Asheville, NC where he was a dorm proctor, team captain of cross country, and 2x NC track state champion. At Bates, Joseph is a member of the varsity cross country and track teams and plans to double major in economics and physics. Our cause as co-presidents is to unite Bates College through meaningful policy that will push the status quo of BCSG and make the Bates college experience better for all students, faculty, and staff.
We plan to tackle inefficiencies within CAPS, campus safety relations, campus sustainability, and endowment management. We will create student and faculty councils that will deal with each proposed topic, through this we can effectively include everyone's voice in campus-wide decisions. Overall, Win or lose Huck and Joseph are grateful for the opportunity to call themselves bobcats and run to represent all who affiliate with Bates College. However, if we are allotted the opportunity to serve Bates College, we will fulfill our roles as co-presidents with rigorous work ethic, honor, and humility.
Instagram: @vtpresident