Love Advice from Cameron Hamilton: Take the "Leap of Faith"
Before he became a television star on Netflix's "Love is Blind" and a co-author of his upcoming book, "Leap of Faith," Cameron Hamilton '12 was just a Bates student who lived in Moulton House with friends. He enjoyed reading poetry, reading, and writing prose. He was also president of SEED Magazine, one of Bates' past literary magazines.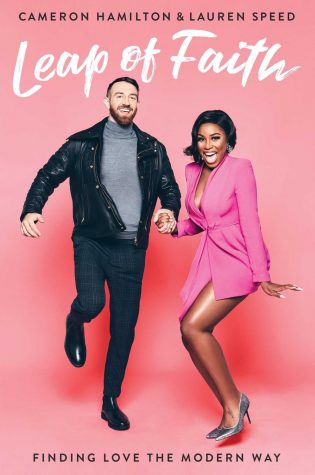 "Love is Blind" is a dating reality television series that first premiered on Netflix in February 2020. In the show, 15 single men and 15 single women interact in private pods separated by thin walls on "pod dates" with only ten days to get engaged, hoping to answer the titular question: is love blind? Can two people fall in love without seeing each other's appearances? 
Hamilton and Lauren Speed-Hamilton — his wife now — were the first to put a ring on it, just five days into the show. 
Hamilton's days on campus might be over, but he is still a Batesie at heart, working on new projects in his life with ardor and devotion. Ever since May 2020, Hamilton and Speed-Hamilton have been working on their book, "Leap of Faith," and it is set for release on June 15. The book takes readers to the early stages of their whirlwind romance, describing their story from the pods to the altar, as well as never-before-seen information about their lives before the show, behind-the-scenes moments in the pods, and lessons from their marriage.
In the book, the Hamiltons engage readers with stories and dating advice from personal experience. In the first part, through alternating points of view, Hamilton and Speed-Hamilton recount what led them to participate in "Love is Blind." The second part highlights some exclusive anecdotes from the show, and the third part focuses on their marriage and where they are headed.
In a Zoom interview with The Student, Hamilton explained why they were inclined to write the book. 
"It stemmed from a lot of people online who first were expressing how much they really cared about our love story," Hamilton said. "We've had a lot of people who've felt that they can relate to our relationship in some way, or that there's hope in love for them. After seeing that response from people, I felt a sense of duty and obligation to share what worked for me and Lauren to help other people find love."
While on the show, Hamilton was focused on making his relationship work and never thought about the impact their story would have on others. He did not expect that they would have fans sending love and positivity from all over the country, cheering the couple on through their projects, like the Hanging with the Hamiltons YouTube series. He wanted to give back by telling their story and motivating others to take their own leaps of faith.
Daring himself to be open to possibility and anticipating a wild two weeks, Hamilton signed up for the show. He did not think that he would find the love of his life, and neither did she. Their bravery inspired the book's title. 
"The title, 'Leap of Faith,' made the most sense because there were several leaps of faith that we had to take throughout the process, and life itself is just a series of leaps of faith," Hamilton said. "You can gather as much evidence that one decision is the best or not, but at the end of the day, you can't know for sure."
"
You can gather as much evidence that one decision is the best or not, but at the end of the day, you can't know for sure."
— Cameron Hamilton
As Hamilton and Speed-Hamilton have found, love is a conscious decision that one chooses to make every day. In quarantine, the couple have made their marriage work by being creative. Long walks and hikes in nature in general have kept the passion in their relationship.
Hamilton discussed the challenges of having an interracial relationship and how they have kept the romance going.
"I think the most important thing in an interracial relationship is to really listen to your partner: what challenges they have faced in the past, what challenges they currently face, and how their experience of the world is different from your own," Hamilton said. "Of course, it is not your partner's responsibility to educate you, so you also have to put in the hard work of learning more about systemic prejudice that still exists in our country as well as the history of your partner's culture."
Interracial relationships are not easy, but nothing is. All relationships require work. Everything worth having involves effort, care, and risk.
Hamilton recalled that near the end of the show, before walking to the altar, he told his mother, "I'm taking a leap of faith." In response, his mother reassured him that even the most sure thing is a leap of faith. This idea resonated with the couple, as it captures the messy process that is love — both finding it and maintaining it. 
On a different note, the writing process for the couple involved more organization. To begin, Hamilton and Speed-Hamilton had to nail down the structure of the book. They wrote their individual parts separately but made sure to sit down and bring their thoughts together for parts two and three, where they write in a combined voice. 
"Coming up with an idea of a before, during, and after, and what we wanted to talk about in each chapter made it so much easier to write, because we knew the topics we wanted to cover," Hamilton said. "Dividing the book into fragments and pieces in general made the task [of writing a book] a much more tangible thing to accomplish."
All in all, he enjoyed the writing process. He hopes that any Bates student who has aspirations to write a book knows that it is very much within the realm of possibility.
"I'm obviously very biased, but I think that Bates students are exceptional in so many ways — I know a lot of talented Bates students all over the world, so I have a lot of faith in them generally," he said. "Hopefully seeing a fellow Bates student write [a book] will inspire them."
During his time at Bates, he was inspired by his peers and his professors. For Hamilton, who grew up enjoying sci-fi books from authors such as Vernor Vinge, William Gibson, and Phillip K. Dick, his writing classes at Bates were a dream. He fondly remembers poetry classes with Professor Robert Farnsworth and an interesting seminar about Paradise Lost.
"
Ask your crush: do you want to go to the Den or somewhere out in Lewiston?" Hamilton said. "Instead of trying to meet up with someone at a party on Frye Street, actually make legitimate dates with them."
If he could go back in time, he would not change anything about his writing experience at Bates, but he would definitely give his past self some guidance about dating.
"Speaking for myself at Bates, I had so much to learn about dating," Hamilton said. "If I could go back, I'd be more direct and pursue the people that I was interested in at the time in a more straightforward, vulnerable, honest sort of way."
He understands that it is not easy. Most people are afraid of being rejected, especially on a small campus like Bates where rumors may spread fast. But, Hamilton argues, you have "so much more to lose by not taking that shot and asking if you can get to know someone better versus wishing and hoping that something's gonna come to fruition."
"Ask your crush: do you want to go to the Den or somewhere out in Lewiston?" Hamilton said. "Instead of trying to meet up with someone at a party on Frye Street, actually make legitimate dates with them."
The best way to approach dating may sound difficult, but it is time-efficient: be direct, be vulnerable, and be brave enough to say, "I really like you, would you like to go out on a date?" That is Hamilton's advice. Take it or leave it, but Hamilton has been there and walked the lonely streets of modern-day dating — his book just may be able to help your love life. 
Hamilton is a believer in the idea that there is someone for everyone. There is hope, he says. However, it takes work to find that special someone. Happy endings do not make themselves; people make them by going out, meeting others, making themselves vulnerable and being their most authentic selves. In other words, it might take a leap of faith.  
This book can be pre-ordered online from Barnes & Noble, Target, and Amazon.