Missing & Murdered Indigenous Women, Girls, Trans and Two-Spirit: Our Forgotten Sisters
On Sept. 21, 2020, the House of Representatives passed a bill that requires the Department of Justice (DOJ) to "review, revise, and develop law enforcement and justice protocols to address the missing or murdered Native American women and girls."  
The bill is named after Savanna LaFontaine-Greywind, a 22-year-old woman and a member of the Spirit Lake tribe from Fargo, N.D. who was murdered in August of 2017. LaFontaine-Greywind had her baby ripped from her body when she was eight months pregnant. After, the coroner could not tell if she died due to blood loss from the coerced birth or strangulation. Her body was recovered in the Red River eight days after she went missing. 
LaFontaine-Greywind was murdered by William Hoehn and Brooke Crews, her neighbors in the building she lived in. Crews conspired with Hoehn to murder Savanna LaFontaine-Greywind in order to take her baby. Both murderers were sentenced to life in prison; however, Hoehn's sentence was reduced to 20 years just one year later. This story is one of many tragic experiences in which there are no consequences for the perpetrators. 
The bill, called the Savanna Act, was first introduced by Senator Heidi Heitkamp, a Democrat from Nevada, on Oct. 5, 2017. The bill was then held at desk in the House on Dec. 10, 2018. The bill was stalled by Representative Bob Goodlatte, a Republican from Virginia . As  "chairman of the Judiciary Committee, [he] declined to bring it up for a vote." His reasoning for not supporting the bill was because the bill "would give preference to certain law enforcement agencies in applying for grants from the Justice Department." Goodlatte received his bachelor's degree in government from Bates College in 1974. 
On Jan. 25, 2019, it was introduced again by Senator Lisa Murkowksi, a Republican from Alaska. Now, over a year later it has successfully passed both the Senate and House of Representatives. Trump has yet to sign off on the final approval.  
The bill requires the DOJ to do several actions. One is to provide training to law enforcement agencies about how to record tribal enrollment for victims in federal databases. Another is to develop and implement a strategy to educate the public on the National Missing and Unidentified Persons System, and report statistics on missing or murdered Native Americans. The bill also hopes to take a closer consideration to how tribal communities and outside law enforcement can work together, offer more resources to the victims and their families, and provide mental health services to survivors.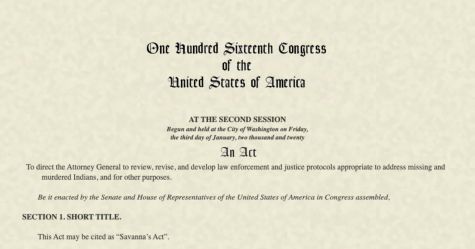 Indigenous women, girls, and two-spirits have been disappearing for generations. There is nothing new or mysterious about the murders and missing cases that go unsolved for years. 
Sexual assault and violence against Indigenous women is ten times higher than the national average. Ninety-seven percent of the violence against Indigenous women, girls, and two-sprits is done by a perpetrator of a different race. 
However, in Oliphant v. Suquamish Indian Tribe (1978), the U.S. Supreme Court ruled "that tribes did not have criminal jurisdiction over non-Indian perpetrators." This meant that even federally recognized tribes could not criminally prosecute non-Indian offenders, even if they were committed in Indian Country. 
The Violence Against Women Reauthorization Act of 2013 partially corrected this problem since it provided federally recognized tribes with "special domestic violence criminal jurisdiction. This allows tribes that meet certain conditions to prosecute certain cases involving non-Indian offenders."
According to the Urban Indian Health Institute (UIHI), which published a Missing and Murdered Indigenous Women and Girls Report, the National Crime Information Center reported that, in 2016, there were 5,712 reports of missing American Indian and Alaska Native women and girls. However, they note that the DOJ's federal missing persons database, NamUs only logged 116 cases. 
The UIHI reports that the reasons for inferior data are due to "underreporting, racial misclassification, poor relationships between law enforcement and American Indian and Alaska Native communities, poor record-keeping protocols, institutional racism in the media, and a lack of substantive relationships between journalists and American Indian and Alaska Native communities."
The UIHI had difficulty getting statistics regarding missing or murdered indigenous people. A representative from the Santa Fe police wrote to them that, "[Many] Native Americans adopted Hispanic names back during colonial times…Our crime systems are not flexible enough to pick out Native Americans from others in the system…it would be impossible to compile any statistically relevant information for [them]."  
In order to remember the many lives lost and forgotten, communities have used a red hand print or red attire to honor victims, survivors, and their families. May 5 has been declared the National Day of Awareness for Missing and Murdered Indigenous women, girls, two-spirit, trans, and non-binary people.
This epidemic has been most common on reservations and tribal lands where oil companies hire workers to build the pipelines. These workers then assault the women in these communities, where relationships between tribal officials and outside jurisdiction are already strained. 
Many hope that Savanna's Act will lead to more responsibility and accountability from the federal government, offering some form of justice to these victims, survivors, and their families. Nevertheless, the new bill cannot absolve the pain and trauma that these people feel. 
Oct. 12 is Indigenous People's Day. Bates College will have a zoom session from 6-7:45 p.m. discussing land acknowledgements.