"Change is the Name of the Game": Many Leave, some Stay at the Hampton Inn 
One of the biggest changes implemented at Bates this semester has been the addition of new, off-campus living. Faced with the task of providing housing to juniors who planned on studying abroad this fall, Bates Residence Life has looked to the Hampton Inn to house students. 
Bates decided to partner with the Hampton Inn in mid-July, according to Assistant Dean of Students for Residence Life and Health Education, Molly Newton '11. The college came to the conclusion after reviewing the intent to return surveys they sent out to students at the start of July. 
The Hampton Inn is located in downtown Lewiston and is within a ten-minute shuttle ride from campus. Currently, shuttle buses run in a continuous loop from the hotel to campus from 6:45 a.m.-5 p.m., Monday-Friday. The Bobcat Express also offers service from 5-11 p.m. on weekdays and from 8:30 a.m.-10 p.m. on weekends. 
Although off-campus, the hotel offers amenities such as private bathrooms, queen-sized beds, guaranteed air conditioning units, a swimming pool, and a small gym. Students also have a free laundry service provided by the hotel. Their laundry is picked up on Sunday, washed, folded, and returned to students on Thursday each week. They also have access to the hotel's gym. 
The hotel is mainly meant for juniors that were supposed to study abroad but is also home to a few others. Students placed in this housing have brought mixed levels of enthusiasm to their new home.
Insha Afsar '22 was originally going to study abroad in Jordan this fall but has chosen to defer until the winter semester. When she learned that she was placed in the hotel, her initial reaction was to study remotely. Afsar changed course when she discovered that there were other people she knew living in the hotel. She decided to give it a try. 
Despite being on a floor with other Bates students, Afsar worried about "feeling isolated from campus," and was concerned that other, non-Bates guests would be staying there. 
Newton confirmed that there are regular guests at the hotel but told The Student that Bates has "exclusive access" to the second and third floors. She also emphasized that all guests are required to follow health protocols. 
"All hotel guests are subject to regulations put in place by Maine CDC, including demonstrating a negative test result or participating in self-quarantine prior to checking into a hotel," she said.
The summer housing process was quite different this year and caused plenty of stress for both juniors supposed to study abroad and the Residence Life staff trying to find spaces for them. Normally, Residence Life only deals with a small number of housing changes during the summer, Newton said. However, this year they saw an unprecedented number of changes. 
"From juniors who were not able to study abroad to students who chose to study remotely, change has been the name of the game this summer," she said.
Jesse Hagy '22, who was originally supposed to study abroad in Beijing, China, is also currently living in the hotel. He was "a little bit bummed" when he was first placed in the hotel but said, "once I found out a lot of my friends were going to be here too, I felt more optimistic." 
The move-in process wasn't much different from the usual move-in experience, he said, and the amenities provided by the Hampton Inn have been an added bonus for Hagy. "My favorite part has been the room itself since it came with a TV, fridge, microwave, and private bathroom," he said. "I never had [those] in my rooms before."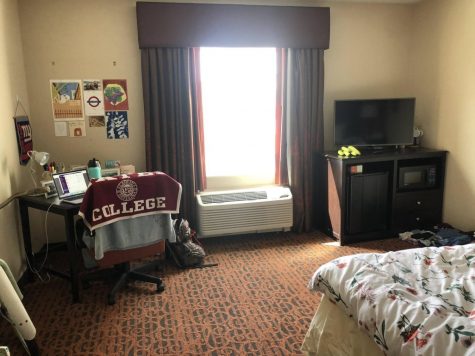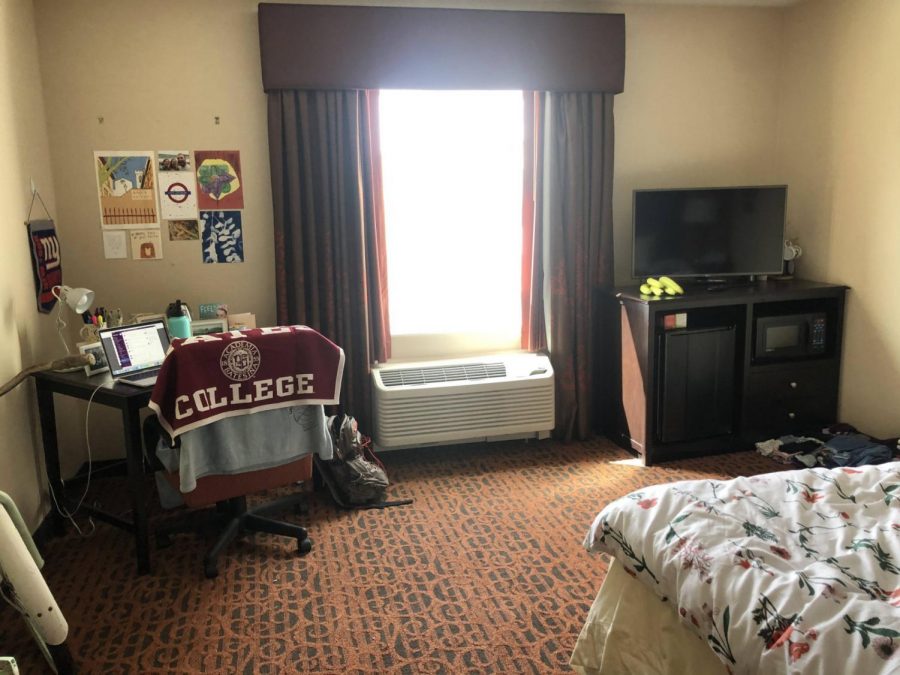 Although pleased with the extra perks, Hagy still misses being on campus. "It still feels very weird having to take a shuttle back to where I live rather than being able to walk back to my room," he said. "This is also bad for time in between classes because I don't really have anywhere to go on campus, but I also don't have enough time to go back to the hotel, either."
After having experience in both the hotel and a regular dorm room, Hagy said he much prefers living on campus. "I would rather live in a dorm mainly because I would prefer to be on campus," he said. "If the hotel was closer, then maybe I would prefer [it] but it's not and it's a pain to get to campus. If I forget something I can't just walk back to my room and grab it."
Students living on campus have noticed plenty of empty rooms in their dorms, prompting confusion about why some juniors have to live in the Hampton Inn at all. There have been reports of empty rooms in dorms such as Page, Cheney, and Chu, among others. According to Newton, some students assigned to the Hampton Inn have since been able to move into empty rooms on campus. 
"Every semester we run a room change process that allows sophomores, juniors, and seniors who are unhappy with their living situation to move to an open space elsewhere on campus," she said. "Students assigned to the Hampton Inn who have moved back to campus have [done] so as part of this process." 
The room change process has always functioned with seniority in mind, but this year, students in the Inn have precedence over other, on-campus residents. Additionally, Newton said that some students have really enjoyed living in the Hampton Inn and have decided to remain there. She emphasized that "all students who wanted to move back on campus have been offered a space."
John Everett '22 was originally living in the Hampton Inn but decided to move back on campus when he had the opportunity to. "My initial reaction to being placed in the hotel was that I felt as though I had become isolated from the school," he said. "No one really knew what to expect as students moved back onto campus so there wasn't much I could do except remain in the hotel and remind myself that there were plenty of worse ways this semester could have turned out."
Though he enjoyed having access to a TV, a full-sized bed, and his own bathroom, Everett was upset that he had a roommate. Once he decided to move back on campus, the housing process was easier than he anticipated. "Surprisingly, the school had a variety of options for me to choose from as there were many students who decided at the last minute not to go for one reason or another," he said. "Moving into the dorm was nice because it was great to be back on campus."
The Hampton Inn could not be reached for a comment at this time.