New Major Dances into College Curriculum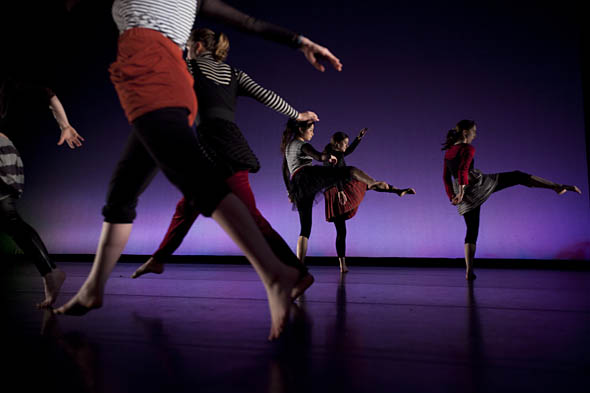 In a unanimous vote on March 7th, the Bates faculty approved the creation of a dance major, which will be the first new major since 1997 and the first major devoted to dance in Maine. This exciting victory for the dance department is the result of a seven-year long push from Director of Dance Carol Dilley. The dance department received administrative support from the Dean of Faculty and Vice President of Academic Affairs Jill Reich.
The approval of the major shows that dance has evolved from an extracurricular activity to an academic pursuit. "The campus community has accepted dance on the same level as any other area of study," said Acting Director of Dance Rachel Boggia.
Zoe Fahy '13 hopes that the major will lend more legitimacy to the efforts of students who devote themselves to dance as an academic pursuit. "I know that many times, involvement in dance history, theory and studio classes is trumped by other academic subjects because there is a sense of illegitimacy, and in turn, a sense of guilt in using your precious credits for dance when they could be used to fulfill your major requirements," explained Fahy, who is now planning to upgrade from a dance minor to major.
Anyone with an open mind and willingness to explore is encouraged to major in dance, even if he or she is not an experienced dancer and is not devoted to pursuing dance after college, according to Boggia. "[The Dance Major] allows students to understand the body in a deep way that can connect to many fields," said Boggia. Majoring in dance has academic implications which can carry over to multiple disciplines such as writing and medicine, she said. "Learning how to generate movement in response to ideas or interpret choreographic systems theoretically can have a transformative effect on a person's sense that he can marry ideas and meaningful action," Boggia explained.
The economic environment in which the major was approved makes it all the more momentous, according to the dance department. "This is a time when schools are cutting arts programs, and so, for this community to make this decision at this financial moment, is a resounding endorsement of dance," Boggia noted. The introduction of the major means that the dance department will add another tenure track position for a total of two full-time dance professors and one additional adjunct faculty member. Boggia will remain on staff as a visiting professor for next year while a search is conducted for the new full-time position.
The major requirements expand on the minor requirements, including dance theory, technique, the creative process, production, an elective arts credit and thesis. In addition, one Bates Dance Festival Short Term and performance participation in four department-sponsored dance productions are required. Bates has a strong history of involvement in dance. Every summer, the College hosts the Bates Dance Festival, which attracts internationally renowned choreographers to campus to create new works with dancers from all over the country. "The major is a bridge between that offering during the summers and the academic program during the year," Dilley said. The creation of the major may also serve to attract young festival attendees to apply to Bates, leading to a greater diversity of the student population, she suggested.
Currently, many students who entered Bates intending to minor in dance are upgrading to the major, and others pursuing the dance General Education Concentration (GEC) are considering the minor. Dilley hopes that the sense of academic legitimacy the major brings to dance on campus will inspire more to take advantage of the expanded dance program and the rich experience it offers. "It is very exciting to have achieved this vital milestone so that we can begin a new chapter in dance at Bates College," Dilley said.