The Rise of Tik Tok: Trends, Controversies, and What Bates Students Think
If you are like me and decided to download Tik Tok, chances are you have lost MANY hours scrolling through the popular video-sharing app since then. I commonly hear from my friends that they downloaded Tik Tok as a joke or out of temporary curiosity and have now become thoroughly invested in the app, checking it multiple times a day. For those of you unfamiliar with the app, you may be wondering what "Tik Tok" is and how it has become a global platform among multiple age groups.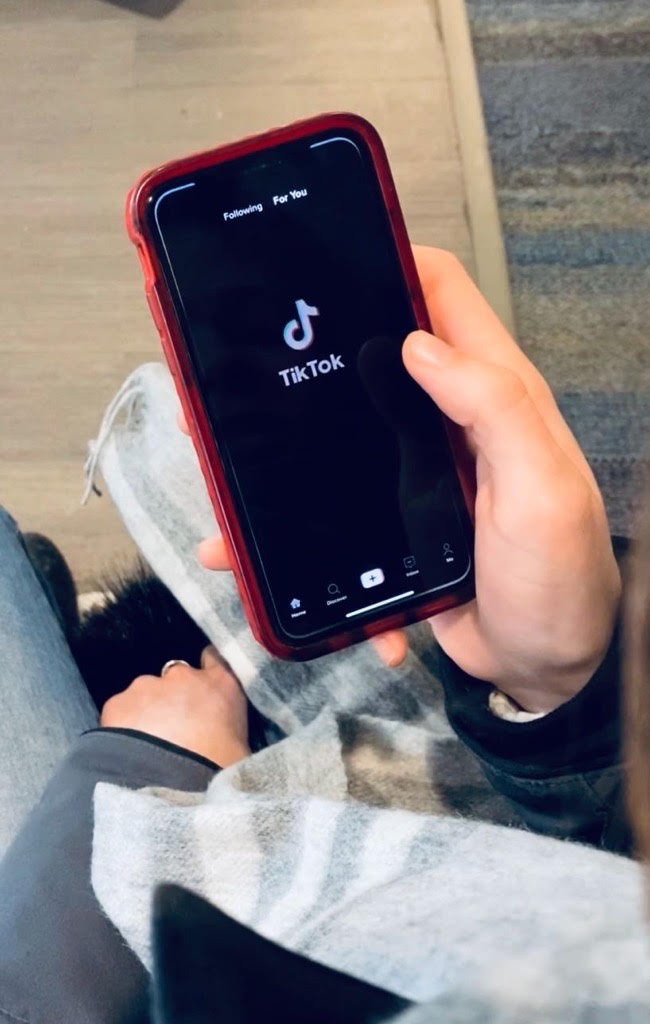 In August 2018, the Beijing-based company ByteDance bought the video-sharing app Musical.ly and transferred all its contents to Tik Tok. While Tik Tok and Musical.ly share some similarities, Tik Tok's videos offer a wide selection of sounds, special effects, and other features that were not available on Musical.ly.
Unlike Musical.ly, Tik Tok has become a platform for a variety of videos ranging from dance trends to political satire and dark humor to recipes and life hacks. Many users aspire for Tik Tok fame, which in some respects is not an unattainable goal.
If your Tik Tok profile is public, your videos can easily end up on the "For You" page after enough views and likes. Teens and young adults around the globe have created names for themselves by consistently creating viral Tik Tok content. Some of the most famous Tik Tok users are even hosting 'meet and greets' in which they invite fans to appear in Tik Toks with them. 
Many celebrities, news reporters, and even political candidates have found themselves on Tik Tok as well. Scrolling through my "For You" page, I've seen videos from the Jonas Brothers, Post Malone, Reese Witherspoon, the Washington Post, Jimmy Fallon, and more. Tik Tok has become integrated into popular culture as it spreads choreographed dance challenges, songs that end up on Spotify's top charts, and memes that we talk about all the time.
Anyone can become involved in this Tik Tok movement; there have even been physicians and gynecologists who have gone viral on Tik Tok for their videos on medical advice or tips for teens. It is clear that this is now an acknowledged space for outreach with over 500 million users worldwide.
An important aspect of Tik Tok is the very nature of its "For You" page, which is catered to your preferences and continues to show you videos along the lines of what you want to see. Tik Tok has a formula for tracking the types of videos that you like or spend a significant amount of time watching, so your "For You" page may look noticeably different than your friends' pages.
Tik Tok also collects information about your location, so when travelling, you may start to see some new content. For example, since coming back to Bates from break, I've seen many videos centered around "fun things to do in Maine" or "Maine check" or "small liberal arts college check."
While it sometimes feels intrusive and even creepy, Tik Tok is successful in presenting a feed of videos that I find myself relating to.
Tik Tok certainly has a presence at Bates, especially after this past summer. Several students that I interviewed explained that they had downloaded Tik Tok just prior to or upon arriving to campus in September. For some students, making Tik Tok videos is just a fun pastime or a chance to bond with friends.
"I think Tik Tok connects people in our generation. It has become a new 'thing' to do when hanging out," Courtney Tally '23 noted.
Additionally, students have pointed out that Tik Tok differs from other forms of social media today because there is much less emphasis on what your profile looks like, how many followers you have, and how many likes you get.
As Mia Gates '22 articulated, "I think Tik Tok is a lot less structured than other social media apps. I care a lot less about my own profile on Tik Tok than I do on Instagram. I like that about Tik Tok– it feels less individual and more just about enjoyment."
While Instagram and Snapchat motivate teens to edit, filter, and hide their authentic selves, Tik Tok users are celebrated for sharing their weirdest stories and revealing awkwardness.

However, other students turn to Tik Tok for the community conversation:
"I use the app to cope with the precarious state of our world because my feed is full of political commentary and satire. And I deal with fear by making life a joke," Julia Raboy '22 said.
In a world of violence, racism, environmental collapse, and hatred in so many forms, teens and young adults who are struggling with current events have started to use Tik Tok as an outlet. On Tik Tok, they can receive validation for their fears and engage with peers around the world who are grappling with similar questions.
Notably, during the recent crisis with Iran, many people turned to Tik Tok to create memes and satire about the possibility of an impending "World War 3" and what a draft could entail. Similarly, the fires in Australia have prompted significant content regarding climate change and outrage with the lack of political response to these events. 
Still, the reputation of Tik Tok has become increasingly controversial despite its ever-growing appeal to Gen Z. In November 2019, the United States opened a national security review after U.S. lawmakers expressed concerns about the app's censorship.
Some Tik Toks with political themes, specifically the protests in Hong Kong, had been removed by Tik Tok moderators. Additionally, other lawmakers worry that ByteDance is collecting personal data through Tik Tok that may be accessible to foreign governments. However, ByteDance has taken steps to prove that all data is safely stored and is publicizing its efforts to assure the online security of children, modifying some of its policies. 
Amid these controversies, several investigations have been launched to look into the potential vulnerabilities of Tik Tok's current design. The U.S. Army has also issued statements of warning regarding hacking. Ultimately, it is always important to be cautious and read the terms of agreement on social media apps like Tik Tok.
We live in a digital world where our personal data is of interest to all kinds of companies, governments, and entities. Tik Tok is primarily a platform for comedy, creativity, and global connection, but make sure you are being careful with your information and what you put out there!  
Sources:
Schwedel, Heather. "A Guide to Tik Tok for Anyone Who Isn't a Teen" Slate.com, September 4th, 2018.
"What is TikTok? What you need to know about the new Musical.ly" InfluencerMarketingHub.com.
Mohsin, Maryam "10 TikTok Statistics That You Need to Know in 2020" Oberlo.com, November 22 2019.
"TikTok: the most exciting, and controversial, social media app on the planet" Vox News.
Nicas, Jack, Issac, Mike, Swanson, Ana "TikTok Said to Be Unter National Security Review" The New York Times. Nov 1 2019.
Bergman, Ronen, Frenkel Sheera, Zhong, Raymond "Mayjor TikTok Security Flaws Found" The New York Times. Jan 10 2020.
Ali, Idrees, Culliford, Elizabeth "Army examines TikTok security concerns after Schumer's data warning" Reuters. November 21 2019.