Arrival of Assistant Coach Jacob Ellis Marks Start of New Era for Men's Track and Field
Ellis, a three-time All-American in the 800 meter, comes to Bates from southern Vermont. He ran cross country and track and field for Bowdoin College for four years and coached for a boarding school in Bath, Maine after graduating in 2016.
"By my junior year of college, I had a feeling I would want to coach cross country and track and field for a college team," Ellis says. "Last spring, I just found out through the grapevine that a position opened up at Bates and because I already knew the coaches and athletes from previous competitions that we were at together it seemed like a good fit."
"Jacob came to our attention pretty early in the process," Fereshetian remembers. "As I narrowed my pool of applicants down, based upon individual statements of coaching philosophy and mock programs, the pool got stronger, but so did Jacob's qualifications."
Having run since he was eight years old, and having competed at the NCAA meet numerous times throughout his college career, Ellis is a highly esteemed athlete, but more importantly, genuinely loves the sport. While he definitely knows that this year will be a "year of experimentation," he can already tell that there is a huge desire for the men on the team to be the best that they can be and is excited to channel this energy during the fall, winter,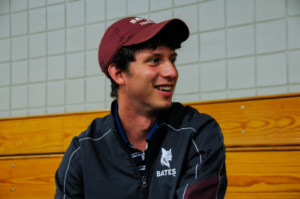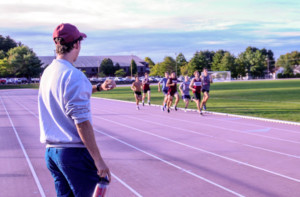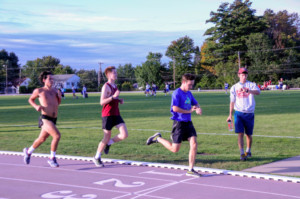 spring, and moving forward.
"I know that I have always done the best, and my friends and teammates have always been the most successful just when they are excited to come to practice, have fun, are working with their friends and pushing each other to be the best in a really positive, low stress way," Ellis says. "Some people really thrive on the pressure. I was one of those athletes and I know that some of my best friends, who were equally as strong competitors, really flourished when there was no stress and no expectation. They just went out there and had some fun. I think trying to get to know the athletes here will be key."
A huge part of Ellis' job as an assistant coach will be to work closely with Coach Fereshetian during cross country and then translate the strengths and weaknesses that he sees and fine-tune them into some pretty strong performances on the track. While Ellis is very close in age to some of the athletes, some of which he even overlapped with as a competitor, everybody on the team respects him and is excited to see what they are going to be able to accomplish together.
"Jacob is going to be tremendously involved with everything that our team is doing. The athletes that are on the team, that are aware of him, or have had a chance to see him run or compete, know exactly the quality of individual that we have," Fereshetian says. "It is fun to watch Jacob engage with the athletes because they are responding very well to him."
In fact, Coach Fereshetian and his athletes were even able to celebrate with him after they broke the school record for the distance medley relay, with a time of 9:49.74, on February 11th, 2017 at Boston University.
"We are huddled, we are celebrating, we are talking about all those race kind of things, and Jacob Ellis comes running over and jumps in the middle of our huddle. He was genuinely very happy for us," Fereshetian remembers. "There wasn't even any thought of a coaching position at that point. He is just a fan of the sport and loves to see excellence. Those are qualities that I want to see in a coach."