Commons cups get eco-friendly makeover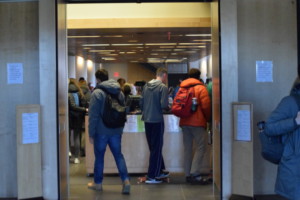 Bates Dining Services has announced that starting this Short Term, there will be no more paper cups in Commons. The 7.5 ounce plastic cold beverage cups will be replaced with 12 ounce cups, reusable 12 ounce hot-beverage mugs will be made available for in-Commons use, and each student will be given a mug for taking beverages out of Commons.
During the last week of February, a link to a survey was emailed to all members of the Student body, was promoted on the Bates Today and was made available in-person in Commons. Students were invited to choose which mug they preferred out of two stainless steel hot/cold reusable containers, one of which will eventually be distributed. About 1200 students responded.
Following the results, which will be published during 2017 final exam week, every student will be given the mug for which the majority voted. If students prefer a different mug, they can elect to receive a voucher for any mug in the school store valued at the same price. If the item the student wants to purchase costs more than the Commons-issued mug, the student will have to pay the difference.
In response to the reasons leading to the Commons cup changes, Christine Schwartz, Assistant Vice President for Dining, Conferences, and Campus Events, pinpoints two concurring events that took place last fall. Firstly, Dining Services found out that Commons paper cups could no longer be recycled and that it would be more cost-effective to create new cups than to recycle old ones. At the same time, the Committee on Environmental Responsibility was reviewing the Campus Green Initiative Grants and found that four of the proposed initiatives concerned elimination of paper cups in Commons.
To devise solutions to these environmental and monetary concerns about Commons paper cups, a Mug Committee was created, comprised of five students, along with Cheryl Lacey, Director of Dining, Schwartz, and Tom Twist, the Environmental Coordinator.
These new initiatives will have drastically positive environmental impacts. About 750,000 paper cups, which since last fall have been sent to the landfill instead of being recycled, will be eliminated from the Common's waste stream. This will significantly decrease Bates' carbon footprint. While this is a great first step in making Bates a greener campus, there are always further improvements that can be made to further reduce our carbon footprint.
Madeline McGonagle '18, a member of the EcoReps, a group of students working on similar campus-wide sustainability projects under the direction of Twist, reminds students to "be conscious of energy usage" and to also keep in mind "food/other waste production."
McGonagle advises students, and the general public, to always turn off lights when they are not needed, close windows when heat or air conditioning is on, and to pay attention to not only what one consumes but also to what one wastes.
To find out more about or to get involved with other sustainability initiatives on campus, read the monthly EcoReps newsletter either posted around campus or delivered through email by contacting [email protected]. Anyone can also attend events hosted by EcoReps such as those in the current Sustainable Ethics Week, held March 14-18, 2017.