Maine ACLU asks US Dept. of Justice to investigate voter suppression effort at Bates College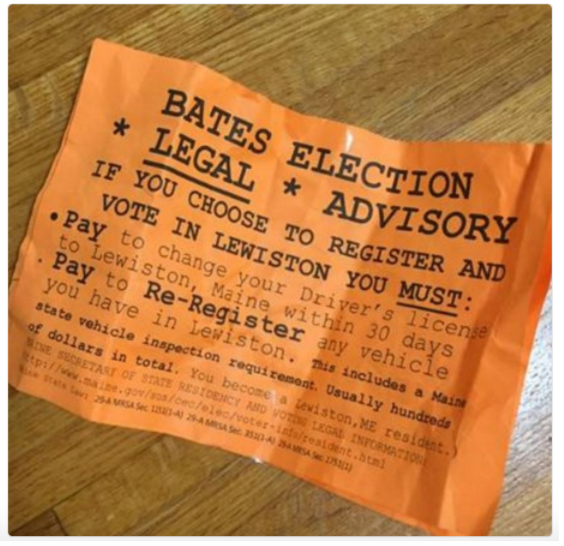 Sunday morning students encountered bright orange leaflets reading "BATES ELECTION LEGAL ADVISORY." The word 'legal' was underlined and had stars around it to add emphasis. Below that were two categorically false statements. First, students wanting to vote must change their driver's licenses to a Maine license and second that vehicles must be re-registered, with a note stating that this often costs hundreds of dollars. The leaflets were immediately removed from Commons and dorm buildings, and a suspect was identified in the Lewiston Sun Journal as a tall blonde man.
Less than two weeks ago, Federal and State officials along with the ACLU of Maine published a press release on election fraud claims. U.S. Attorney Thomas E. Delahanty II said in the press release, "Every citizen must be able to vote without interference or discrimination and to have that vote counted without it being stolen because of fraud. The Department of Justice will act promptly and aggressively to protect the integrity of the election process."
A Maine Assistant United States Attorney said he could not yet comment on the specifics of the case, and directed The Student to the FBI. At this time, the FBI was unavailable for comment. Legal Director at the ACLU of Maine Zachary Heiden spoke with The Student, saying, "The Voting Rights Act of 1965 prevents any person from threatening or intimidating or coercing or attempting to threaten or attempting to intimidate a person to interfere with their right to vote. And it seemed to me, given the timing of the letter (just before an election), and the target audience (student voters), that the only reasonable purpose of such a letter would be to scare students into not voting."
Heiden also noted, "Intent is not the only important question under the Voting Rights Act, so even if the people who sent these fliers or the Governor did not intend to coerce, threaten, or intimidate, if the letters had the likely effect of doing that, they would still violate the law. So another part of the investigation would be to figure out what was the effect; were people intimidated? Were people scared? Were people made to feel that they would be subject to unwelcome government attention if they decided to exercise their fundamental rights?"
Governor Paul LePage had his own take on the matter, saying in a statement on his website that Democrats "have encouraged college students from out of state to vote in Maine" and college students are allowed to vote "as long as they follow all laws that regulate voting, motor vehicles and taxes." Of course, citizens are not required to own a vehicle to vote, nor are voters required to have a driver's license.
Heiden said that, in addition to investigating the incident at Bates, the ACLU is "looking into comments made by the Governor today that also target student voting, and we have called on the US Department of Justice to investigate."
According to Heiden, "the Voting Rights Act of 1965 makes this a civil offense. But the National Voter Registration Act [of 1993] makes it, intentionally, a criminal offense. There are both criminal and civil penalties associated with this."
President Clayton Spencer spoke of the event to the Sun Journal, saying it was "clearly a deliberate attempt at voter suppression," and released a statement on the Bates website saying: "Many Bates students are eligible to register and vote in the City of Lewiston. Any unofficial communications that suggest otherwise are contrary to the ideals of American democracy."
This voter suppression effort has mobilized the Bates student body. On the evening of November 7, Bates students staged a student demonstration, organized by Bates Student Action and Bates Democrats, decrying Republican nominee Donald Trump and his problematic tactics throughout his campaign. Meghan Lynch '17, election co-lead of Bates Student Action, said before the demonstration, "We are now incorporating the voter suppression signs. We will be distributing replicates of the original signs with actual information about the voter registration process during the demonstration."
"We planned the demonstration so as to send a sense of urgency to students about the value of our vote in this contested district," Lynch said. "Bates students will have a huge effect on whether or not Trump gets the 2nd district's elector, and the presidency could come down to a few electors. Bates students could 'tip the scale' towards Clinton, as will be demonstrated by the banner."
With robust efforts on campus to get out the vote, canvass for ballot initiatives, early voting transport, and registering students, Bates College is gearing up for the 2016 Presidential Election. And it doesn't appear that these orange leaflets are about to dissuade any Bobcats from exercising their Constitutional right and civic duty.
Lynch concluded, "I just think it is incredibly ironic that while these voter suppression signs were being distributed on campus, we had over 40 Bates students canvassing off campus, encouraging other Lewiston residents to vote."