Blue Nile Café offers a taste of culture
A sign hanging on the sunshine-colored walls of the Blue Nile Cafe says, "A nation's culture resides in the hearts and minds of its people." I'd argue that culture can be found in a nation's food, as well.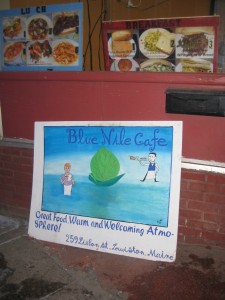 Owned by a Somali family that moved to the U.S. eight years ago, this charming restaurant offers a delicious and flavorful alternative to Commons fare. I was unsurprised to learn that the Matan family had previously run a restaurant while living in Kenya. After just a bite of the food, I recognized that I was eating the product of an experienced chef.
Whether you order roasted goat meat (as I did) or something less adventurous (pasta sans meat for my vegetarian friend), Blue Nile's richly flavored cuisine is the antithesis of bland. "Expect a taste that isn't watered down," explains first-year Will Bryer. We were given grapes and bananas once we finished eating, which served as a perfect palate cleanser after such a lively meal.
But excellent food isn't the only reason to visit Blue Nile Cafe. Eating at this restaurant allowed me to better appreciate the diversity that Lewiston is so lucky to have. It was only less than a year ago, after all, that Lewiston's current mayor, Bob McDonald, told the Somali immigrant community to "leave your culture at the door."
If this were to happen, it would certainly be Lewiston's loss. We, as Bates students, wouldn't have the opportunity to eat authentic East African cuisine over seven thousand miles away from its original source.
More significantly, we wouldn't have the opportunity to appreciate and learn from our Somali immigrant neighbors. First-year Mary Anne Bodnar recognizes this. "I don't think anyone will establish a stronger sense of place than when coming to this restaurant," she said.
While at the establishment, I had an excellent discussion with Ibrahim, a member of the Matan family who is a Blue Nile host and a local high school sophomore. We also made sure to personally thank Halima, who cooked our delicious meal. Our conversations were just as rich and meaningful as our food.
It's very easy to get to the Blue Nile Cafe—simply take the Bates shuttle to the intersection of Lisbon Street with Chestnut Street. The cafe is open daily from 8 a.m. to 7 p.m., and Bates students can receive 20 percent off their order by presenting a valid student I.D.
I strongly recommend every Bates student to gain a better appreciation for Lewiston's unique diversity by supporting Somali or Somali-Bantu-owned enterprises, such as Blue Nile Cafe. You may find, as I did, that eating there gives you as much of a distinct Bates identity as doing Puddle Jump.