Exploring Maine Hiking and Searching for the Fire Tower
At Bates, we are lucky to be surrounded by endless hiking trails and other outdoor opportunities. If you can get off campus, I highly recommend exploring the nature around us. Hiking acts as a great mental escape from any academic or social stress on campus while also providing you with the opportunity to be in nature and move your body. 
 Last weekend, I felt stuck on campus and wanted to try something new. I decided to browse hiking trails on the app AllTrails and found a short one nearby. With over 200,000 trails with maps and detailed reviews, AllTrails is a great platform to use to find the hiking trail that's right for you. (AllTrails also has trails for other activities including mountain biking, climbing and snow sports.)
When searching for a hike, I was interested in a medium-length trail with a view that wasn't too hard. On the app, I was able to use the difficulty, length and attractions filters to find a hike that aligned with my criteria. The hike that I found is called the Tower and Blueberry Trail near Winthrop, Maine. Although I didn't know much about the hike, one of the reviews described that from the trail, I'd be able to hike to a fire tower with amazing views. I was immediately sold, as I'm a sucker for good views.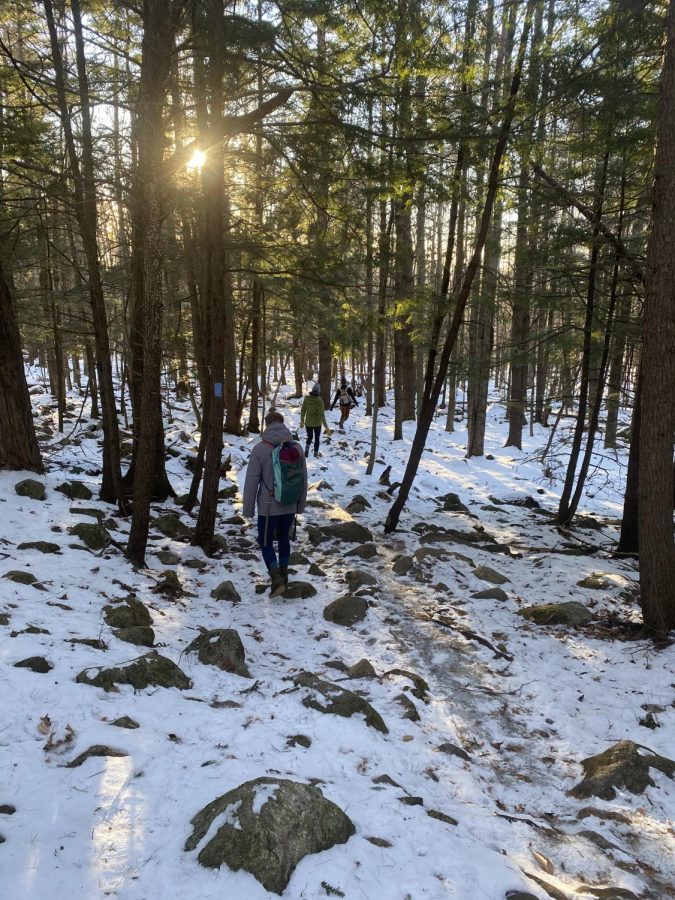 The hike began with a steep uphill, but eventually leveled out to a flat, packed down wooded path. About a mile or so into the hike, my friends and I reached a clearing and the fire tower stood in the center. Tentative but excited, we climbed the steep rickety stairs of the tower, nervously placing our feet.
When we reached the top, we were met with 360-degree views of the surrounding Maine terrain. We could see everything from the mountains in the east to the ocean in the west. The view was breathtaking. It reminded me how small I am compared to the world around me. Being in nature at that high altitude was both grounding and calming. It allowed me to destress and refocus. The hike also allowed me to form deeper connections with my friends, as we all had a new shared experience.
About a 30-minute drive from campus, the Tower and Blueberry Trail is easily accessible for any Bates student with a bike or car. It also has a good-sized parking lot right next to the trailhead, so you should be able to find a place close by to leave your bike or car. The loop is about two and a half miles and it is moderately trafficked.
"
The view was breathtaking. It reminded me how small I am compared to the world around me."
Although I hiked the trail in the winter, it's best used from April until September and features beautiful wildflowers in the summer. However, I do enjoy winter hiking because the snow absorbs sound, making the hike feel extra peaceful. It can be icy though, so wear hiking boots or shoes with strong grips. I would also recommend layering up in the winter because it can get chilly in the woods.
If you're looking for a hike nearby but don't know where to start, I highly recommend trying the Tower and Blueberry Trail, as it's relatively easy, short and has amazing views. You can also try browsing AllTrails or even walk to the Thorncrag Nature Sanctuary closer to campus for different trails to try out.
Regardless of the hike you choose, being in nature by yourself or with friends will leave you with a clearer mind and a happier soul. So get off campus and immerse yourself in the diverse terrain that Maine has to offer.
Leave a Comment