"Dune": Don't Expect To Be Satisfied, but Prepare To Be Dazzled
Since the announcement of its production, the immeasurable hype for "Dune" has been unreal. With strong source material, an accomplished director and a star-studded cast, "Dune" has easily been the most anticipated movie of the year (excluding the superhero films that dominate pop culture). The filming delay due to COVID-19 only increased the film's publicity as obsessed fans excitedly awaited its release.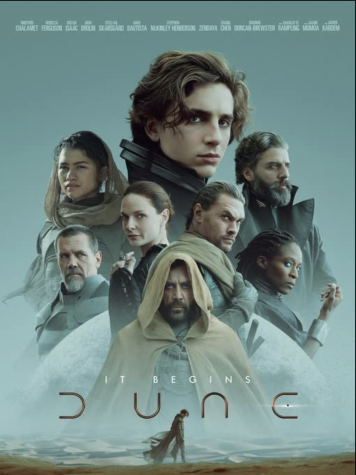 Paul Atreides, played by Timothée Chalamet, is our hero in this triumphant epic. Paul is the gifted son of Duke Leto I of House Atreides, played by Oscar Isaac, who serves as the ruler of the desert planet Arrakis. When conflict erupts over the planet's limited supply of spice, the most valuable resource in existence, Paul must discover his destiny as he navigates malevolent forces and his own fear in a fight for survival.
The film is adapted from the widely influential science fiction novel of the same name. Published in 1965 by American author Frank Herbert, the book was critically acclaimed upon release, racking up awards such as the Hugo Award and the inaugural Nebula Award for Best Novel. George Lucas owes his successful Star Wars movies (ever heard of them?) to Herbert's vision. 
"Dune" adaptations to the screen have notoriously struggled to honor the source material. In the '70s, Alejandro Jodorowsky's proposed adaptation failed to hit the big screen due to an increasing budget. In 1984, David Lynch successfully released an adaptation, but the results were atrocious; Lynch lacked a strong hold on the complicated narrative, which didn't pair well with the film's inconsistent pacing, dull tone and campy performances. 
Lynch does not hide his regret and stated that his infamous adaptation was a "huge sadness in [his] life…it wouldn't be fair to say it was a total nightmare, but it was maybe 75% a nightmare." 
A film version of "Dune" is an ambitious undertaking, evidenced by the failed attempts in the past. But, Denis Villeneuve, the director, screenwriter and producer of today's "Dune," has shown that he has the chops to make Herbert proud.
As the man behind masterpieces like "Arrival" and "Blade Runner 2049," Villeneuve's resume shows that he's one of the hottest directors in Hollywood. "Dune" continues his hot streak — even if it doesn't precisely meet the standards of his past films.
Villeneuve avoids a potentially convoluted narrative by limiting pointless side-stories, one of the many downfalls in Lynch's "Dune." Instead, he narrows the focus on Paul's journey and everything in relation to him to leave room for plot-driving scenes with Stellan Skarsgård's masterful portrayal of the villainous Emperor. In doing so, Villeneuve carefully fleshes out each faction to simplify the chaos ensuing the planet.
Villeneuve also draws out fine performances from his strong cast, which includes Jason Momoa, Josh Brolin, Rebecca Ferguson, Dave Bautista and Javier Bardem. Momoa plays the typical charismatic badass as Duncan, and Ferguson shines as Paul's mother and mentor, Lady Jessica.
"Dune" also boasts two of the most popular young actors in Hollywood: Chalamet and Zendaya. Coming off of an Emmy win for her performance in the teen drama "Euphoria," Zendaya has been the face of "Dune" marketing, despite only being on screen for at most 10 minutes of the film's 2-hour-and-35-minute runtime (sorry, Zendaya fans).
Chalamet reaffirms his status as the best young male actor today when he showcases his massive range in the powerful box scene, giving a masterclass of conveying pain. Viewers saw his ability to portray the agony of heartbreak in the devastating final scene of "Call Me By Your Name," but Chalamet expresses a different type of suffering in "Dune" when the box unveils Paul's deepest, darkest demons that haunt him in the past, present and future.
Sadly, Villeneuve does not give Chalamet many opportunities beyond this to present his main actor's capabilities, so I am looking forward to the proposed sequel where the plot will revolve around Paul's obstacles rather than world-building.
The film sounds and looks stunning. The gorgeous wide shots are complemented by beautiful cinematography, cementing the otherworldly backdrop of the story. Hans Zimmer's score amplifies the intensity and stakes of the film as the planet breaks out in civil war. 
Villeneuve scrupulously focuses on the world-building of "Dune" with visionary skill and creativity, avoiding a watered-down exposition by providing meticulous and digestible detail through voice over and dialogue. As important as world-building is for a gigantic science fiction universe, this intense focus results in a slow-build to action. This works when there is a powerful payoff, but unfortunately, this one feels slightly incomplete. It feels like a television episode rather than a movie.
"Dune" is part one of a two-part narrative. In its opening weekend, "Dune" nabbed $40.1 million at the North American box office. Unsurprisingly, Legendary and Warner Bros. have greenlit part two, which will be released in October 2023.
The film is gorgeous visually and musically. The acting is great across the board. The world is believable. The stakes are high — once built up. The ending will leave viewers begging for more. But as an independent film standing on its own, it is not perfect. Had the film bombed at the box office and, therefore, ruined the chances of a future installment, "Dune" would be a fundamentally flawed film. 
Instead, many are calling this project the next "The Lord of the Rings." Is this true? Well, part one was merely world-building, and readers of the novel know that more action is in store for us viewers in part two. If Villeneuve honors the author's vision while continuing his flare for inventiveness, then I feel confident in answering "yes."
Leave a Comment
About the Writer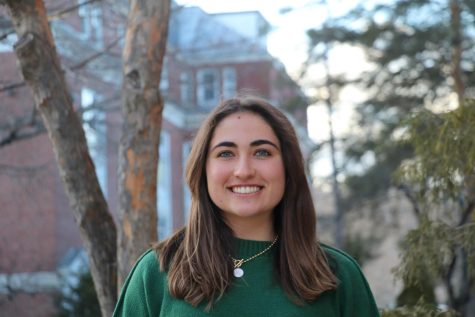 Ana Fowler, Managing Arts & Leisure Editor
Ana is a senior from Westfield, NJ double-majoring in English and Politics. In her free time, Ana enjoys singing with her a cappella group, photosynthesizing...