Fall Fashion: What Are Bates Students Wearing These Days?
No longer confined to their dorm rooms for online classes amidst pandemic restrictions, Bates students are out and about sporting a variety of styles that deserve some attention. As the air gets colder, Alumni Walk has become a runway for fall fashion. Students seem to be relishing the opportunity to sport some snazzy outfits before they're covered up by down jackets and fleece-lined layers. There's a stereotype that college students live in sweatpants, and while that casual look definitely has a home here, Bates students have been acing the fashion game lately. Having been inspired by a variety of different fall styles that I've seen around campus, I set out on an exhibition to catalog some especially chic 'fits.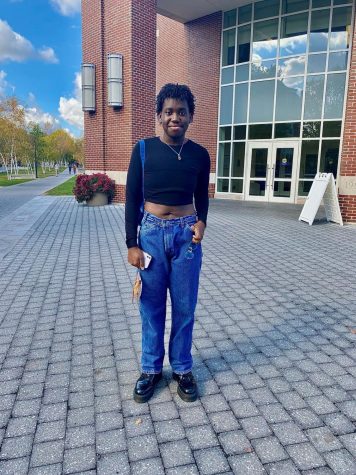 Sam Jean-Francois '23 
I won't lie, while he's not one of my close acquaintances, I'd been eying Junior Sam Jean-Francois' outfits for some time now. I had continuously spotted him in Commons wearing trendy sweaters, the occasional floral skirt and other 'fits that had caught my eye. After (finally) catching him in front of Pgill Hall, he gladly talked to me about his outfit and let me take his picture. On this mild October morning, Sam was wearing a long sleeve black crop top from H&M, blue jeans thrifted from the Lewiston Goodwill and high-shine platform Doc Martens. Completing his look was a thrifted mini blue backpack slung over his right shoulder and a silver glass pendant necklace, a gift from one of his friends.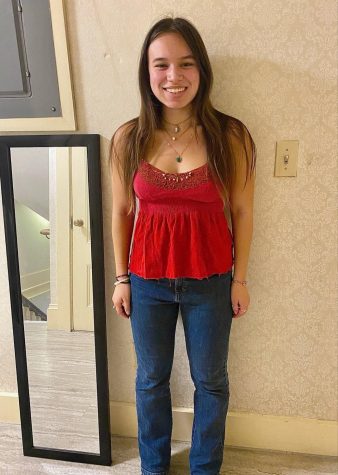 Quinn Simmons '24
Sophomore Quinn Simmons was another fashionista I was resolved to track down. Coincidentally a resident of the same house as me, I had bumped into her on numerous occasions and was impressed by her sense of style every time. On this unseasonably warm October afternoon, Quinn was wearing an embroidered red flare tank top that she was borrowing from her roommate's sister who thrifted it. She was also wearing thrifted blue jeans and smooth leather platform Doc Martens (not pictured). Adding some spice to Quinn's look was her jewelry. She bought her gold necklace with a green heart pendant at a fashion festival, while her other necklaces, bracelets and rings were from either her mom or her aunt.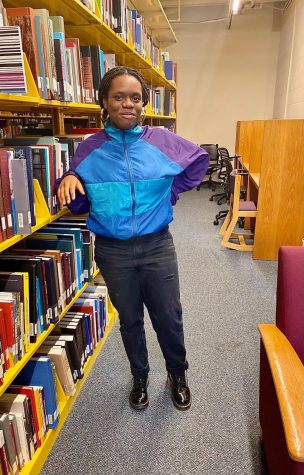 Mfon Diduff  '24 
I spotted Sophomore Mfon Diduff on a rainy October afternoon while she was chatting with some friends in the library. I was immediately drawn to her color block zip-up jacket, displaying some much-needed color on an especially dreary day. Mfon happily chatted with me about her outfit. She bought her jacket with slant pockets and raglan sleeves from Shein. Also from
Shein were her gold hoop earrings and black jeans. Topping off her outfit were some classy high-shine Doc Martens. 
Leave a Comment