Bringing New Voices to Children
A Bates Panel Discussion on Ashley Bryan
While searching through documents about slavery, thinking about history, and wondering how to celebrate the humanity within us all, children's book artist and illustrator Ashley Bryan saw a world waiting to be seen. The task at hand, he knew, was to write African-American tales in a way that would reach across time and space.
"[Bryan would] go to the library and take out books and would look and read voraciously, but there was nobody who ever looked like him," said Dan Mills, director at the Bates College Museum of Art. "He really has made it his life's work to change that for future generations of children."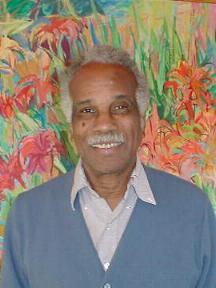 Mills facilitated a lively Zoom discussion last Wednesday about the relevance and influence of Bryan's career as an artist and author. He was joined by Anthony Shostak, the museum's education curator; Krista Aronson, associate dean of faculty, professor of psychology, and the director and founder of the Diverse BookFinder; and Márçia and Daniel Minter, co-founders of the Indigo Arts Alliance. 
For almost ten decades now, Bryan has let his imagination lead the way through his painting and drawing. Even as a boy, he loved poetry, folktales, and fairytales; as an adult, his focus has been to write and illustrate stories to young people through his books. 
Bryan's story, in its entirety, is a testament to the power of believing in oneself. In high school, at age 16, Bryan applied for scholarships to art schools with an impressive portfolio, but his applications were denied on the basis of race. He enrolled instead at the Cooper Union School of Art and Engineering in New York City, where more emphasis was placed on his portfolio. 
At age forty, in 1962, Bryan became the first African American to publish a children's book as an author and illustrator. From 1974 to 1988, he joined the faculty at Dartmouth College, and eventually became the head of the arts department. Wherever he went, no matter where that was, he broke barriers about race, gender and art.
Aronson spoke first about the Diverse BookFinder and how it works. She explained that her children and her experience with parenting influenced her to get involved with this type of work. Her oldest daughter, now 18, used to come home with "interesting questions," like whether she was Somali, and why there was tension between the Somali and non-Somali kids at her school.
"I really started to think, 'How might I contribute and participate in this conversation with the children and also with the adults that are guiding them?'" Aronson said. "How can I meet my community where they are and help them move to a different place?"
She looked around for potential interventions, which led her to picture books. Hoping to "carry change forward," she started collecting them, thinking about their messages and the impact they might have on children from a psychological perspective. This inspired the idea for the Diverse BookFinder, which gathers picture books published since 2002 that feature Black, Indigenous, and characters of color.
Aronson encouraged listeners to check out the Diverse BookFinder. After asking Mrs. Minter to speak about the Indigo Arts Alliance and Mr. Minter to speak about his career as an illustrator and artist, Mills directed the conversation back to Ashley Bryan. 
Mills invited Mrs. Minter to speak about Bryan's influence from her point of view as an artist, illustrator, and role model for Black artists in Maine. 
"I would say that the most impactful quality about Ashley is that he's a humanitarian," she said. "[He] has utilized every possible creative skill that he has to reflect back to us his story — his multiple stories — in terms of his life, what he's experienced in his life, what he envisions, what he sees with his eyes, and then how he interprets that, whether that's through his paintings, his sketches, through his own writing, or children's books."
The fact that he has been able to live for almost ten decades, working in that way, has shaped him to be the humanitarian that he is, she said. He lives from his heart, recognizing his relationship to other human beings, deeply valuing children and their perspectives.
"That magic, that pure love, is something that we all aspire to, no matter who we are," she added. "And the fact that he is a black man, for us, as children of the African diaspora who really understand intimately what he has had to live through, what has had to work through to be and do and live the life that he has, is just pure inspiration."
Mills asked Mr. Minter if Bryan has been a mentor to him in his development as an artist. Mr. Minter responded by saying that Bryan has become "Uncle Ashley" to him.
It is not simply Bryan's art that fascinates Mr. Minter; it is his way of existing and being himself. Bryan once lived on a tiny island in Maine, but he was a "world." Wherever he went, the world would travel along with him.
"You walk into his house, and the world is there," Mr. Minter said. "You walk out on the beach with him, and the world is there, and he is absorbing it all and reflecting it all, and that way of being fully yourself, not making yourself small, not containing your creativity but letting it go out and sharing it selflessly every moment — that's an inspiration."
Those who are interested may watch the full recording of the event here.