2021 Bates Winter Arts Festival Takes on the Virtual Stage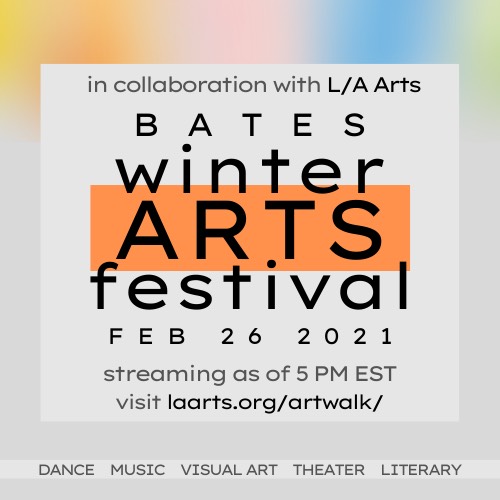 In a Zoom-dominated world, Bates students may be looking for an entertaining virtual event — the Bates Winter Arts Festival promises art, beauty, and connection. 
The festival, known for celebrating the Bates arts scene, will be different this year. Last year, the event took place in the Olin Arts Center, and people moved between classrooms, art studios, and the theater, almost like an indoor carnival. This year's festival will be virtual and in collaboration with L/A Arts' monthly Art Walk L/A program.
Students and art groups were invited to submit videos for the February Art Walk LA YouTube playlist on the LA Art channel. Multiple videos will be uploaded into a playlist, all separate, and will be available for viewing after 5 p.m. on Feb. 26. 
"For the first time in the history of our festival, Lewiston-Auburn artists will be sharing the same stage as Bates artists — the virtual stage," Kush Sharma '23, a co-coordinator for the festival, said. 
The virtual stage is just one aspect of the festival that has changed over time. According to festival co-coordinator Anna Greenspan '22, who's in charge of the graphic designs, the festival has evolved to be student-run, but has always had a focus on Bates artists across all mediums.  
"We have a wide range of students that are compelled to create something on their own time and share it with peers and the community, from all different mediums," Greenspan said. "Their work pretty much captures most of the creative corners on campus."

Caitlin Patton, Assistant Education Curator at the Bates College Museum of Art and the festival's facilitator, said that the submissions they have received so far include reading excerpts from books, vocal and violin performances, several choreographed dance performances, slideshows, visual art pieces, and spoken word poetry.
"
We hope people will find a bit of relief — a little bit of rain — by engaging with this festival in some way.
The virtual format likely inspired this wide variety of submissions, since performances can easily be recorded and uploaded. Greenspan noted that, although she will miss sharing in-person creative space with others, she is pleased that this format will be much broader and wide reaching.
"It has allowed for more participation from Bates students than ever," Darby Ray, a member of the L/A Arts executive committee, said. "One of the silver linings with COVID in terms of Art Walk is that because it's digital, we've had huge Bates participation."
Both Greenspan and Sharma emphasized why they love the festival: it brings the entire community together, inspiring participation from students and the L/A community. 
A performance by the Crosstones, Bates' oldest co-ed acapella group, is one highly-anticipated component of the festival. 
"A cappella groups, like the Crosstones, have huge fan followings in Lewiston-Auburn," Sharma said. "They have the kind of effect that would definitely bring people to come for this festival."
Greenspan agreed, describing how she and Sharma have been collaborating with artist groups.
"The Crosstones produced their work with a special recording software, so we can get the full a capella experience, and we can see all their faces!" Greenspan said. "We also worked with the Bates Arts Society, thinking of ways to compile their work in a video, with voice overs or a text description of the work with accompanying images."
The coordinators have been working on this project in conjunction with their faculty adviser, Professor Michael Reidy, since the end of November. Bates students from all class years were invited to participate. They hope students will enjoy the arts, express themselves, and leave with a smile.
"My biggest hope for this event is that it helps students get the recognition that they deserve for all of the hard work they put in for whatever type of art they make," Patton said. "Whether you're a professional artist or you do it for fun, it requires a lot of skill and passion and they deserve to be recognized and applauded for it. I hope this brings students joy and connection."
The coordinators are excited to showcase what students have been up to, sharing their hard work with others. It boils down to a simple, yet important, concept: connection. Festival coordinators want student artists to connect with each other and the Bates community, but they also want people in the L/A community to feel connected to the Bates community. 
"I know that we have missed the Lewiston-Auburn community just as much as they have missed us," Sharma said. "It's like rain. Tiny raindrops falling on a very scorched land: the pandemic. We hope people will find a bit of relief — a little bit of rain — by engaging with this festival in some way."