Hayes Searches for the Unexpected
Tricia Crimmins, managing Arts & Leisure editor
November 28, 2018
As we chatted outside the lobby of Schaeffer theatre, senior and dance major Johanna Hayes greeted fellow dancers as they rushed to and from rehearsal. She reflected on choreographing her thesis, which was "a huge experiment."
"If it was successful or not, I'm not really sure yet," she confessed.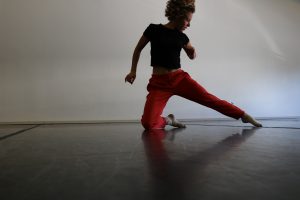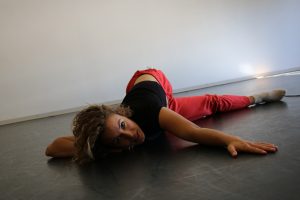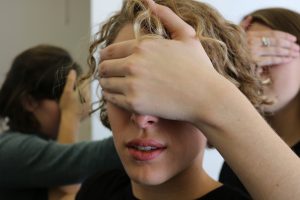 Hayes' senior dance thesis, "Words into Action: An investigation of dance practice as tool to implement social theory" is partially fulfilled by "The Set of Circumstances," which was performed Nov. 14 and 15 in Gannett Theatre. The performance featured Sydney Anderson '20, Helen Carr '21, Esme Goldfinger '21, Flannery Black-Ingersoll '19, Rebecca Howard '19, Elizabeth Wellington '20, and Hayes herself. In her program note, Hayes introduced her work as a piece that "is about and also that is." When we spoke, she described that the "main driving force" of her thesis was a technique Hayes learned in Spain this past summer from performer and dance-maker Laura Aris.
Hayes is a recipient of the Phillips Fellowship, a program centered around offering Bates students unique opportunities and experiences in global learning. Throughout her Phillips Fellowship experience, Hayes traveled across Europe to attend and dance with four different programs in Germany, Spain, and Austria. Reminiscing on her summer, she explained that the experience taught her that "there's so much going on in the dance world…Dance is seen as a vehicle for so many different things."
It was in Spain that Hayes encountered Aris' "mechanics plus situation" movement structure. Hayes described the concept as a two-step process: "you define a physical mechanic and then you add a situation to it." A particular mechanic in dance might be pouring one's weight onto a fellow dancer; a corresponding situation might be that the two dancers interacting have a caring and loving relationship. Or, the corresponding situation might be a relationship defined by discomfort, or even malice. The richness of the structure is seeing how different situations affect the initial mechanic. Prior to performing her thesis, Hayes and the cast illustrated the structure for audience members.
In choreographing "The Set of Circumstances," Hayes was interested in exploring physical risk and emotion in "real time." "How can we create situations that happen onstage that aren't choreographed?" The choreographer further explained that she strives to incorporate tasks that one can "fail at" to discover the subsequent consequences of real time risk through movement exploration.
Hayes explained that her experimental and unfettered choreographic structure is a departure from some of the pieces she created as a teenager. "Music is a motivating force for a lot of young dancers." Now, the dance-maker said that when choreographing, she delves into questions regarding the power of the body and, in relation to Aris' technique, the motivation of movement.
Hayes' work and experimentation absolutely paid off: "The Set of Circumstances" was effortlessly dynamic. The connection among the seven dancers felt authentic; they moved in sync amidst seemingly unplanned physical and audible interruptions. Hayes' desired themes were quite clear, her choreography as manifested by the cast explored the relationship between community and the individual and challenged audience members to evaluate collective experience.
Hayes' presence within the group also added to the piece's truthfulness. "The Set of Circumstances" was much more than a performance; it was a milestone in Hayes' dance career. "There's no way I could isolate myself from my whole life of dancing. Everywhere I've been has lead up to this moment; every little bit of training is in my body somehow."
When I asked Hayes about the storyline or message she hopes to send through the work, she explained "there's a narrative there, but it's unspoken."
"Dance is a lot like a song," she continued. The meaning is ever-changing, but regardless of its dynamism, "it makes you feel."