A College Student's Guide to Westwood, Los Angeles
Home to the UCLA Bruins, Westwood, Los Angeles, is a buzzy SoCal area located in between Santa Monica and West Hollywood. When visiting friends at UCLA or even USC, you'll be spending time dining in the area's restaurants, visiting its museums, shopping, and experiencing the nightlife in perpetually buoyant Westwood. Thanks to the five sun-and-smoothie-bowl-filled days I spent visiting friends in this upscale college town over fall break, here's a guide to the top hits of Westwood.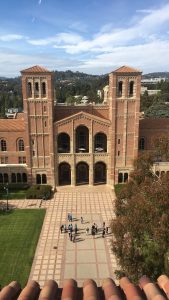 Food
After carefully watching and analyzing many a "Keeping Up with the Kardashians" episode, I knew that cold-press juices and salad bowls were going to be a key component to my culinary endeavors in Los Angeles. Westwood far exceeded my expectations and introduced me to In-N-Out (which made me reconsider the need for all those salads and grain bowls in the first place).
For lunch or dinner, stop by Emporium Thai. The restaurant is a Westwood institution home to fresh, flavorful, and unique Thai dishes. Try the lime, mango, and coconut "Akon" salad, a favorite its namesake: the "Smack That" singer himself.
Make sure to keep an eye out for celebs at Il Pastaio, a bougie Italian restaurant perfect for a trendy dinner with friends. Given Il Pastaio's reputation for casual celebrity sightings, I was extremely aware of my surroundings throughout a delicious meal of rigatoni bolognese. While dining, I successfully identified a man who was *not* Bradley Cooper, but did look very much like him.
After dinner, swing by Saffron & Rose, a Persian ice cream shop famous for their uniquely delicious flavors. Beloved choices include white rose or guava. Or, if you're feeling more traditional, check our Diddy Reise, a UCLA favorite known for their incredible (and super affordable) ice cream sandwiches.
Culture & Nightlife
Westwood's downtown hosts a number of different stores satisfying basically every need. The variety of shopping attractions is so extraordinary that I wondered why anyone would ever leave Westwood: a massive costume store prepares the area's students for year-round theme parties and an amazing LF outlet has every weird trendy item you never knew you needed.
To play in the big leagues, head on over to Westfield Century City Mall, which is less like a mall and more like a cool outdoor club that also has stores. Walk through the beautiful miniature gardens and lounge areas while shopping for everything from face masks to artisanal gelato. And, if you're not into shopping, go for the incredible restaurants!
Another must-visit is The Hammer, a UCLA-acquired art museum founded by oil tycoon and philanthropist Armond Hammer. Fun fact: the museum's owner is great-grandfather to actor Armie Hammer! Currently on exhibit is an amazing retrospective of contemporary artist Adrian Piper, featuring over 270 works of photography, drawing, video, performance, and sculpture. Luckily, the museum itself is super close to campus and perfect for sparking some intellectual conversation.
Finally, when you're ready to let loose, Barney's Beanery, Rocco's, and Sepi's are ideal for cheap drinks and dancing for the 21+ crowd. Afterward, do as the Bruins do and end your night at In and Out (even though you'll be dreaming of the far-superior fries from Shake Shack here on the east coast).